Foreseeing the immense opportunity that the hinterland has on offer, way back in 2009, JSW Infrastructure had commissioned a port at Jaigarh, and now it has set sight onto become the leading port operator in India with a formidable presence in India and beyond tapping opportunities in portled development, connectivity and infrastructure sectors.
The western coast owing to its proximity to the Gulf of Aden has been at the forefront of port-led activities. While Gujarat with a coastline of 1,600 kms is dotted with multiple full-fledged operational ports, but its immediate neighboring state of Maharashtra on the contrary for long time relied heavily on ports off Mumbai coast and other states. With the state economy estimated to have grown at 9.4 per cent, and manufacturing and industry growth at 8.4 per cent and 6.7 per cent, respectively in 2016- 17, Maharashtra needs some serious infrastructure upgradation to keep pace with the economic growth. Being the financial nerve centre of the country, and with a diversified economy consisting of agricultural, industrial, and EXIM trade, the state was in want of a modern, free-flowing and scalable port with enough draft to accommodate not only the existing ultra large cargo carriers but also be future ready to meet demands of trade growth. In later part of last decade a port with similar specification took shape at Jaigarh in Ratnagiri district. Located at around 131 nautical miles south of Mumbai and its choke a block population density, yet close enough to move cargo without any hindrance using single or multi-modal mode of transportation. Jaigarh's proximity to Mormugao Port in Goa and the state of Karnataka gives it added advantage of extended hinterland and of course rest of Maharashtra and other neighboring states.
The key to successful of Port projects lies in the ability of developers to complete the project on time to keep check on interest outflow, and acquiring cargo at the earliest helps to maintain healthy operational cost. Jaigarh Port being part of JSW Infrastructure has a number of factors going in its favor. Since JSW put its years of experience in logistics infrastructure sector to erect the port within 20 months and the port was up and running without any wait for cargo as it has to fulfill demand for importing thermal coal for group company JSW Energy. With assured thermal coal movement, now it was time for JSW Jaigarh Port to scale up. It opened two frontiers of future growth strategy by ramping up port infrastructure to handle varied cargo and on the other hand it worked on improving landside connectivity with road and rail infrastructure up gradation to tap cargo in the deeper hinterland of central, northern and southern parts of mainland. In a bid to tap multi-modal transportation, it worked on improving vessel and inland waterways connectivity. Moreover as part of the promoter group's broader strategy to become a major port operator in India and beyond the shores of the country, JSW Infrastructure has taken up port project in Fujairah in the UAE. There are reports of JSW's envisaged interest in Chabahar Port and eyeing acquisition of port in Gujarat from a major multi-national port and terminal operator. The JSW Infrastructure has five port projects in India and is scouting for green field and brown field port development and acquisition opportunities.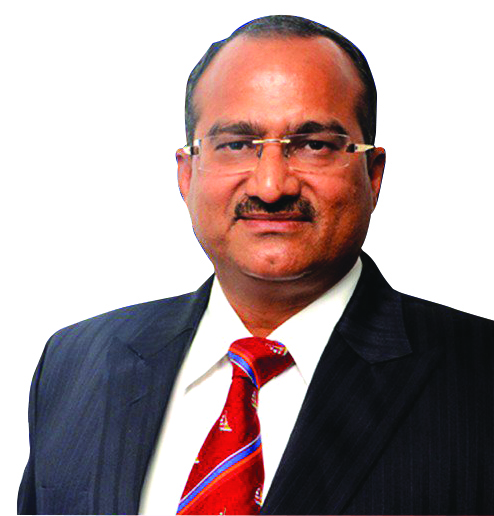 Capt. BVJK Sharma Jt. MD & CEO JSW Infrastructure
"JSW Infrastructure is aggressively pursuing capacity expansion plans. We are working with the Government and Manufacturing Sector to develop Port based industries in the hinterland of our Ports. Our plans of creating 200 MTPA capacity by 2020 put us well on our path to become the leading player in the Infrastructure sector in India."
Aiming big
In port business size does matter, be it the size of port infrastructure, cargo volume and rate of discharge or the size of vessels that a port is able to handle. At a time when JSW Infrastructure aims to build a capacity of 200 MTPA by FY2020, Jaigarh has a key role to play to achieve the feat. Highlighting the strategy chalked out for the port and its current infrastructure, Capt. Sriram Ravi Chander, said, "With existing facility, four cape size vessels can berth at the port with ease." JSW Port aims to make it big in the sector, and it has already set some high standards for the industry by anchoring MV China Enterprise, also classified as Newcastlemax, the largest dry bulk carrier to have berthed at any Indian port till date. Now it has set sight to handle Valemax, the largest bulk carrier in the world and it will put Jaigarh Port among the elite list of handful ports in the world to be able to do so. The port aims to achieve similar feat in container, liquid and other cargo segments as well. Located at Damankul Bay, off the cliff of Sahyadri mountain range of Western Ghats and bestowed with a deep basin on Konkan coast, it would be an easy sailing for the port as it has nature's advantage of deep draft.
JSW Infrastructure has indicated its intensions for greenfield and brownfield expansions, acquisitions and to leverage inorganic growth opportunities. The company has also been reported to be looking at taking over APM Terminals Mumbai, and it also has been evaluating to acquire Gangavaram Port. The company is also scouting for acquisition in the overseas market as well.

Capt. Sriram Ravi Chander, VP & Unit Head, JSW Jaigarh Port, talking about overseas expansion, said that Chabahar Port could open gateway to a vast market extended upto Central Europe and Russia. In Fujairah, the company will be able to handle about 1-2million tonne of international cargo per month. Over a period of time JSW Group has diversified its business beyond steel, energy and infrastructure, and has big plans for cement production, apart from other segments like paints. The group has large volume of captive cargo movement within India and globally as well. Hence, entering into Port sector is a logical step to meet the supply chain of needs of the group. Even in case of overseas projects such as Fujairah, JSW looks to use the facility to move limestone for captive use. Most of the port assets owned by JSW has got the initial momentum of cargo flow from the group's captive cargo and the strategy helps JSW ports to gain the traction, an advantage which many other ports in distress didn't had in their initial days of start resulting them to turn red. As the captive cargo allows JSW ports a healthy utilization of infrastructure and being fully operational ports with the basic ecosystem in place such as Customs, CHA, regular vessel calls, etc. give confidence to third party users to use JSW port. It seems in the long run JSW Group aims to build JSW Infrastructure, backed by a strong port-based portfolio a formidable part of the group like its other entities such as Steel and Energy. The company in March 2017 had already announced JSW Infrastructure's IPO plans for sometime in 2019-20 to raise capital for investment in port sector.
The move will help JSW to strengthen its presence in port sector and secondly to venture into infrastructure sector where JSW Group companies have a strategic interest.
Scalability on demand
Capt. Sriram Ravi Chander further adds that Jaigarh Port is looking forward to commission its LNG facility in May 2018, which will be the first berth in India to have a FSRU alongside, and can handle Q-Max LNG carriers. A containerized cargo handling berth is under construction which can accommodate Triple E-class container ships, and it is expected to be commissioned sometime in FY2018-19. The port is open to long-term partnership opportunities with major shipping lines. A VLCC berthing facility is also on the card to tap crude oil business, and as part of this project subsequently the port channel will be deepened upto 25 meters. The company is also in talk with IOCL to start bunkering operation at Jaigarh.
The developers of Jaigarh while choosing the remote location on the southern-west part of Maharashtra far away from any major human habitat had the broader picture in mind to scale up the port with addition of humongous capacity, mechanized cargo handling and port-based industrial development. The port promoters also aim to gain from Jaigarh's proximity to transshipment hubs of Gulf such as Port of Salalah and Jebel Ali. Furthermore, the port has a multi-modal and transshipment model in execution and to aide its strategy, JSW has acquired some of the largest river sea vessels in India, which are currently under trial sailing. Initially, two 8,000 DWT capacity vessels will exclusively sail between Jaigarh Port and Mumbai. In mid-2018 two more coastal cargo serving vessels will be pressed into service, and subsequently there are plans to add a fleet of 30 vessels. Capt. Sriram Ravi Chander is confident of the coastal cargo movement and transshipment model to be a success for Jaigarh Port and help the port to be positioned as a major transshipment port, rather than a gateway port. In fact Jaigarh has a readily available transshipment cargo of about 10-30 million tonne offered by Group company JSW Steel located at Dolvi. Jaigarh Port officials are confident that with little more effort they can gain many more third party users who would find transshipping from Jaigarh a competitively priced viable business model. One such user is Deepak Fertiliser who prefers Jaigarh over Mumbai as port charges are lower in terms of cargo handling, storage and congestion-free movement, apart from the flexibility of services in the form of moving even port's export cargo basket consists of bauxite, fly ash, molasses, sugar, and container while import products are largely coal, coke, project cargo, lime stone, fertilizer, coated pipes, rock phosphate, sulfur, sugar and maize to name a few. ICDs at Miraj and Pune are the closest ICDs to Jaigarh. The company is also open to JV and longterm partnership opportunities such as it has with H-Energy, HPCL and importers of molasses and edible oil.
Simplified connectivity in a tough terrain
The Western ghats which itself act as a protective barrier for the port during harsh weather is also a challenge to the land movement of cargo. In a bid to overcome it, JSW Infrastructure has constructed a widened 42 km road linking the port to national highway grid. Additionally, a 34 km rail line connecting Jaigad to Digni on the Konkan Railway route is also under implementation. Moreover, a rail project by Indian Railway connecting Chiplun and Karad on the Deccan Plateau, will further boost cargo movement. Jaigarh Port has gradually started to tap shippers in regions such as Kolhapur, Sangli, Meruj, and other parts of Maharashtra, who are using Mumbai as gateway port and were in search of a congestion free alternative, and also the cement and other industries based in north Karnataka come under its hinterland. For land side movement of cargo, the port is dependent on road carrier and the upcoming rail line is likely to further bolster surface cargo movement. With the commissioning of the railway lines, Jaigarh Port looks to tap cargo from deeper hinterland such as Nagpur, Hyderabad, Vidarbha, among others, which could further boost agricultural product and fertilizer movement at Jaigarh.
Among the major industrial regions in the vicinity, Chiplun is a hub of chemicals which require large tank-based storage facilities. Another major project that is going to benefit the port is the pipeline project by H-Energy, part of real estate major Hiranandani Group. The pipeline project will be extended upto Dabhol and further upto Bengaluru. The project is estimated to provide 2.5 million tones of cargo to Jaigarh which is likely to grow to 10 million tonne. The port is also planning to serve HPCL which has a demand to meet its large distribution network in the region for LPG, which will add cargo of 0.6-0.8 million tonnes and gradually the number could touch 2 million tonnes. Being a coastal region, a large volume of marine food products are exported through reefer containers. Moreover, Maharashtra has the fame of exporting large volumes of horticulture crops such as grapes, mango, pomegranate, orange and banana, apart from onion and flowers. In fact the volume of fruits and other horticulture crop export from Maharashtra was 14,63,550 tonnes in FY2016-17. In fact about 20- 30% of Maharashtra grape production takes place in and around Ratnagiri district and the famed Ratnagiri mangoes is a produce of the region. The immediate vicinity of the port has the ability to generate an estimated 10,000 teus per month, and with improved connectivity the number could double up. There are many other cargo which moves in bulk form such as fly ash shipment to the US can be converted into containerized mode. The Port's coastal vessels could help save cost equivalent to about 200 km of road movement for shippers, which could be a good insentive for container exporters to contemplate Jaigarh for transshipment.
Future Outlook
Jaigarh being a young port has many examples before it of how to do it right to stay at the top of the game. From the onset, it seems to be moving in the right direction and equipped with a strategy to align its infrastructure to suit the market demand, it is ideally positioned to grow by serving a vast region. The port has carved a niche for itself due to timely and diligent execution of infrastructure, and much of its success in future will lie on its ability to scale up in a time bound manner. Amid all the port assets of JSW Infrastructure, what make Jaigarh an unique asset is the immense ability to scale up vertically and horizontally, and the company aims to position itself as a model port where other nearby ports can act as feeder. It has also many avenues to diversify as with the scenic, serene and sublime beaches of Konkan, going forward it wouldn't be surprising if the port comes on the map of cruise tourism as well.