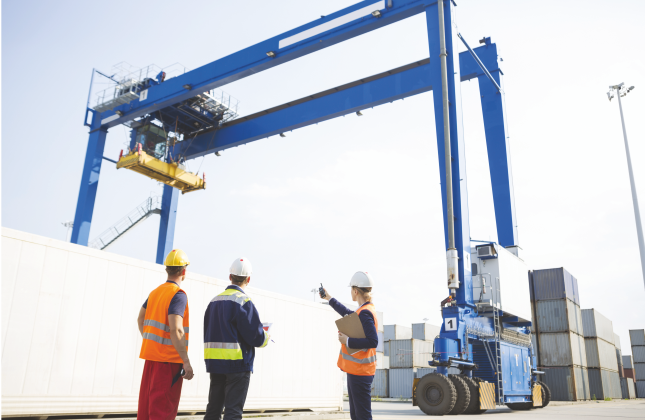 Allcargo Logistics, India's largest end-to-end logistics player, to oversee the operations, maintenance and management of India's first MSDC in maritime logistics
The Center to provide skills training and placement to over 1000 students every year in the Port and Maritime sector

Allcargo Logistics Limited, India's largest logistics player, will play a key role in overseeing the operations, maintenance and management of the country's first Multi-Skill Development Center (MSDC) in maritime logistics which was launched by Hon Shri Nitin Gadkari, Minister of Shipping, Road Transport and Highways, Water Resources and Ganga Rejuvenation, on March 8th at Bokadveera, Uran near JNPT, over video-conference from New Delhi.

The MSDC, a collaborative initiative of the Ministry of Shipping (MoS) and Ministry of Skill Development and Entrepreneurship (MSDE), has been set up under the Pradhan Mantri Kaushal Kendra (PMKK) program of MSDE to boost the efficiencies of maritime logistics in the country.

"The youth living in the vicinity of ports need to be imparted with specific skill sets to boost their employment prospects in the country's maritime trade sector. The MSDC is a reiteration of the government's commitment to boost maritime logistics in the country under the ambitious Sagarmala Program," stated Hon Shri Nitin Gadkari ji.

The state of the art facility is a G plus two structure built on plot area of over 4000 square metres. It is equipped with computer lab, classrooms, staff rooms, experienced faculties and, a huge open area for training and practicing of heavy commercial vehicles. Training of an all-women batch in warehousing management has already started. Over 250 students have already been mobilized for admissions in the skill development centre.

"The logistics sector in the country is growing at an exponential pace and will require highly skilled manpower to run operations across key supply chain verticals. Allcargo is privileged to be associated with the MSDC initiative of the government and remains firmly committed to building the skill competencies of the youth and steering the country's maritime logistics sector on a higher growth curve," stated Mr Shashi Kiran Shetty, Chairman, Allcargo Logistics Limited.

Students will be provided skills training across domain specialities like warehouse management, EXIM trade documentation, inventory management, consignment and tracking. JNPT and CIDCO have provided the physical infrastructure for the MSDC.