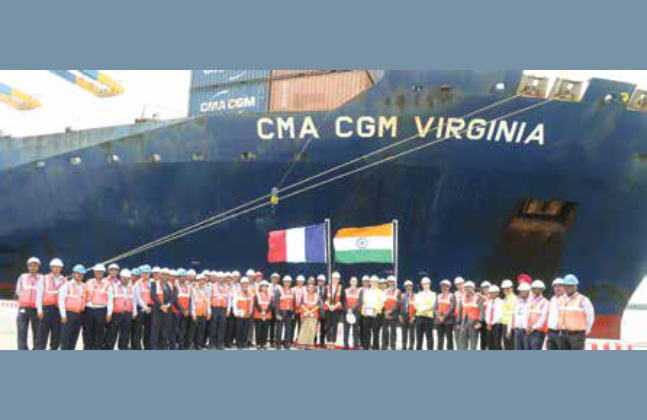 INDIAMED service is an endeavour to utilize good connectivity and road map for more services to add which will be beneficial to the trade in the north Indian hinterland, as it will save considerable time and cost in moving cargo
Mundra has just moved one step closer to become the Number one container hub on the west coast. Adani CMA Mundra Terminal Pvt Ltd, a joint venture between Adani Ports & Special Economic Zone (APSEZ), India's leading port infrastructure developer and CMA Terminals (CMAT) – part of France's CMA CGM Group has launched 'INDIAMED,' a new service linking the east Mediterranean region to India, Pakistan, Arabian Gulf and Djibouti.
The launch was marked with the maiden call of m/v CMA CGM Virginia. This milestone is an endeavour to utilize good connectivity and road map for more services to add which will be beneficial to Mundra, as it will save considerable time for trade and is closer to the National Capital Region in north India. It will serve as a game changer as the goods will reach their destination in less than 24 hours, giving an added boost to trade.
To commemorate the launch of this service, a function was held on board the vessel, graced by Audrey Dolhen, MD, CMA CGM, India, Ennarasu Karunesan, CEO, Mundra & Tuna Ports; Avinash Rai, COO, Rakshit Shah, ED, Capt. Kumar Paritosh, Terminal Head ACMTPL; Cherian Abraham, Terminal Head AICTPL, Jagdish Patel, Terminal Head AMCT, Paulson Joseph, CT Planning Head, Capt. Swaminathan, Commercial Director, Michel Azrak, Regional Director APL, Ajay Kumar KJ, Commercial Director APL.
The launch of this new service highlights the importance of North Indian hinterland for the CMA CGM Group. The service will comprise 5 x 4,250 teu vessels operating on fixed day weekly rotation, as follows: Khor Fakkan – Karachi – Mundra – Nhava Sheva – Djibouti – Jeddah – Damietta – Piraeus – Malta – Aliaga – Mersin – Port Said West – Khor Fakkan.
CMA CGM gathered its customers in Gandhidham for a meeting, where INDIAMED service was presented and also highlighted the growth plans with the launch of the CIMEX 2X service in mid-July, connecting Mundra, Hazira and Nhava Sheva to North Asia and other world-wide destinations. Earlier on July 5th, CMA-CGM had launched the new INDIAMED service to Mumbai as well when CMA CGM Virginia made its debut call at APM Terminals Mumbai. The service, linking South Asia with ports in the Arabian Gulf and Mediterranean, was officially introduced on July 2nd, operating with vessels provided by CMA-CGM, its APL subsidiary, and Alliance partner COSCO.
The weekly INDIAMED service provides the fastest transit times between India and CMA CGM hub ports in the Mediterranean and Arabian Gulf, and expands the transhipment network through the MEGEM (East Mediterranean to/from Middle East destinations) and MEDEX (West Mediterranean to/from Middle East and Indian Sub-Continent) services.
"We are excited to welcome this new service that expands India's markets into key ports of Mediterranean. We stay committed to CMA CGM and India's trade with our reliable and productive terminal services" stated APM Terminals Mumbai, COO, Ravi Gaitonde. The service rotation: Khor Fakkan, in the UAE; Karachi, Pakistan; Nhava Sheva (Mumbai), and Mundra, in India; Djibouti, on the Horn of Africa; Jeddah, Saudi Arabia; Damietta, Egypt; Piraeus, Greece; Malta; Aliaga and Mersin, in Turkey and Port Said West, Egypt.