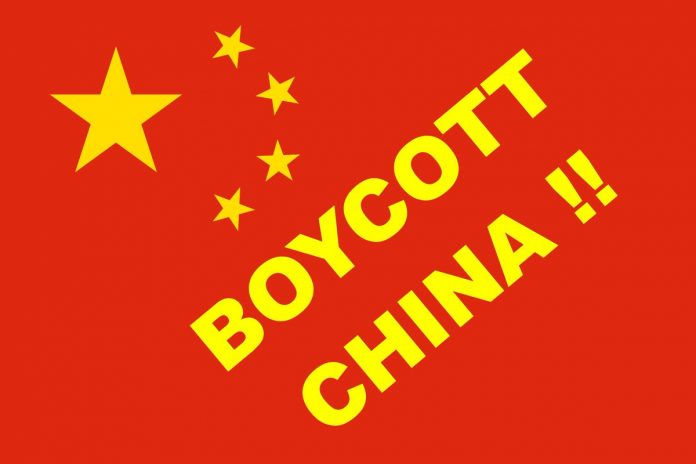 Made-in-China equipment are so deeply entrenched into Indian products that any break-up in trade will hurt India more than China
Following the power play in Galwan valley of Ladakh there is a growing sentiment to boycott Chinese exports to India. But this seems to be easily said than done. China accounts for about 14 per cent of India's imports and is a major supplier for sectors like mobiles, telecom, power, plastic toys and critical pharma ingredients. During April 2019-February 2020, India imported goods worth $62.4 billion, while exports to the dragon nation stood at $15.5 billion.
China is India's largest source of imports. In 2018-'19, India imported goods worth $88 billion from China (including Hong Kong). This was more than 17% of India's total imports, and is more than double of what India imports from the United States, which is at the second place with goods worth $36 billion. India, on the other hand, only exports around $30 billion worth of goods to China (2018-'19).
What worsens this balance of power is the type of goods India exports to China versus what is imported. "We export mostly raw material and low value items to China, but we import value added items," explained Rakesh Mohan Joshi, Chairperson of the Indian Institute of Foreign Trade. To get a hint of how deep Chinese equipment are entrenched into Indian system, a report by Brookings estimates that three in four power plants in India use Chinese equipment.
Where China's grip is most visible to the average Indian is in its dominance in consumer goods. The Indian smartphone market, for example, is completely dominated by China. Four out of five top smartphone sellers – Xiamoi, Oppo, Vivo and Realme – in India are Chinese.  Ultimately it turns out that three out of every four phones sold in India in Q1, 2020 were made in China.
The situation in the Smart TV market is no different, where Xiamo is the leader in Indian market, commanding a massive 27% share. This domination extends across industries, as China dominates rural consumer purchases too. As much as 45% of diammonium phosphate fertiliser and 13% of urea is imported from China. Any effort to boycott China in this sphere will drill a hole into the pocket of the Indian farmer.
Crisil in its research clearly highlights that any disruption in trade with China will severely hamper supply chains for Indian manufacturers. As much as 67% of electronic components are imported from China. This means that even if one were to buy an Indian electronics item, a large amount of the item's value would still find its way back to China.
Bulk drugs is one sector highly dependent on China with as much as 69% imported from the country, specifies CRISIL. Of specific concern is antibiotics, where dependency is as high as 90%. "If China decides to pull the plug on supply [of antibiotic], it will lead to a huge public health crisis in India," explained Sandeep Narula, Associate Professor & Assistant Dean, School of Pharmaceutical Management, IIHMR University, Jaipur.
Coming to the current scenario
Several industries that depended on inputs from the dragon nation are facing delay in getting their supplies as the goods are held up at ports and airports and are being subjected to stricter Customs scrutiny. Industry bodies, from apparel to electronics, have written to the government urging faster Customs clearance as delays might affect the manufacturing process. The Apparel Exporters Promotion Councils has reported that delay in clearances of goods was adding to the crisis for the industry that was gearing up to get back to the normal after easing of lockdown in India and other countries. "Lately, Customs authorities at several ports are doing 100 per cent examination of goods originating from China, Hong Kong and Taiwan. It has created undue delay in clearance of imported inputs meant for production of garments for exports," AEPC Chairman A. Sakthivel noted.
The India Cellular and Electronics Association (ICEA) said the "adverse" action by the Customs would impact over 200 mobile and electronic manufacturing units, set up following the "Make in India", "Digital India" and "Phased Manufacturing Programme" initiatives. "There was refusal to clear, followed by delays. And now, about 100 per cent examination. The logistics of seamless movement is in total disarray," clarifies ICEA Chairman Pankaj Mohindroo.
Even importers certified as AEO are also stuck in the process. "We understand the step of thorough inspection of containers was being taken to safeguard India's interests. In such a case, as an industry we suggest importers with AEO status, also called Green Chanel Importers, be excluded from it as they are GOI-validated entities," said George Paul, CEO, MAIT.
China pulls the strings on Indian exports
A retaliatory reaction at the Chinese ports was obvious. Exporters have raised concerns over consignments being held back by Hong Kong and Chinese Customs in response to a similar action allegedly being taken by Indian authorities.
FIEO, President, S K Saraf, has urged the Commerce Ministry to take up the matter with CBIC to see whether any official communication has been sent to Indian Customs regarding scrutiny of Chinese consignments here. If no such instructions have been given, a denial may be issued by CBIC so that the matter may be communicated to our importers in China and Hong Kong to suitably take up with their customs explaining our stand.
Where does India stand vs China in trade with Southeast Asia?
In the last two decades, China has emerged as a major trade partner of the South Asian nations. China has made inroads into Bangladesh becoming its top trading partner in 2015, and bolstering trade and investment with Nepal, Afghanistan, the Maldives, Sri Lanka and not to forget Pakistan. The trade relations mainly strengthen the Belt and Road Initiative (BRI).
Until 2005, India and China were close in their overall trade volume with South Asia. However, after 2005, China consistently increased its trade with South Asia. In 2014, China's trade reached a high of $60.41 billion, whereas India traded approximately a third of the amount — $24.70 billion. Following the peak in 2014, both countries saw a decline in trade with South Asia in 2015 and 2016. The gap between India's and China's trade with South Asia in 2018 is relatively low at $12.87 billion.
China's trade with the N8 neighbours is mainly export-driven, making it a top source of goods. Despite regional and bilateral free-trade agreements, India's trade volume with its neighbours has remained below in value to that of China, which has only one FTA in the region.
"Eventually, experts argue that given the nature of the India-China relationship, any calls to break off economic ties will hurt India more than China – a point made even more tricky given India's poor economic condition at the moment. A trade break-off with China will hurt our manufacturers by denying them materials, it will hurt our consumers by denying them cheap, quality products. We could not change this dependence on China when our economy was relatively better. How will you do it now during Covid-19 when purchasing power has fallen rapidly?" asks Rakesh Mohan Joshi, chairperson of the Indian Institute of Foreign Trade.