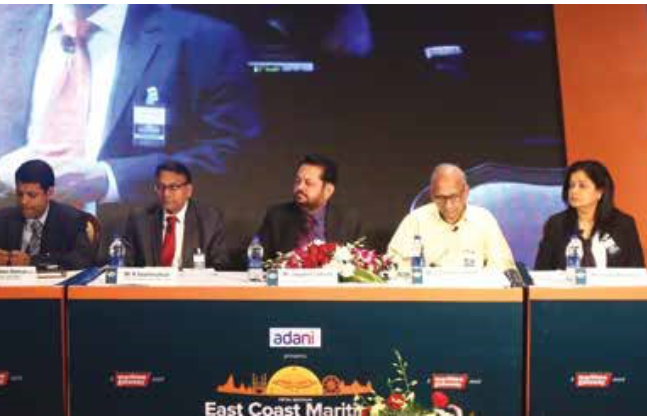 Changing cargo mix at ports, India transforming into a consumerist economy, key exim commodities at the east coast ports and hinterland hotspots were the key topics of discussion. The session brought to the fore untapped opportunities for the ports and strategies to survive in the changing business environment
India's economic growth in the coming 15-20 years is going to be commodity intensive. There is going to be much more commodity consumption but much less commodity production," announced G Chandrashekhar, Economic Advisor and Director, IMERTF, Indian Merchant Chambers. In the global trade scenario India will be more important as an importer than being an exporter. The import of crude oil is going to drastically increase over the years. Today India's exim of oil stands at 200 million tonnes, but down the lane this is going to increase by 5-6 per cent. Similarly, Indian coal imports have drastically risen in the past 10 years and pegged at 160 million tonnes in 2014. The initiatives of Coal India Ltd have temporarily made a small dent in imports but India will continue to import more coal in the future. Among agri commodities, India imports every year 13-14 million tonnes of edible oil, 5 million tonnes of pulses, 3 million tonnes of wheat. About 8-10 million tonnes of rice is exported annually. India is a major exporter of iron ore, exporting about 100 million tonnes of the commodity annually. Granite, minerals, automotive and petroleum products are another big ticket export commodities. Major imports include rubber, coal, fertiliser, chemicals, cement, newsprint, plastic raw material and crude oil. Imports of these commodities are only going to expand in the coming years as there is strong correlation between economic growth and commodity consumption, opined Chandrashekhar.
P L Haranadh, IRTS, Deputy Chairman, Visakhapatnam Port Trust, spoke about the changing cargo mix at ports and their strategy to survive in the changing business environment. The cargo mix handled at ports is going through a sea change. In the recent years, the domestic coal production has increased and Coal India Ltd has set a target of producing 1.5 billion tonnes by 2020. India's demand for steam coal is around one billion tonnes annually. By 2020, the domestic coal requirement will be met internally. Coal-based power generation will also come down from 60 per cent currently to 40 per cent by 2040 and use of solar energy will increase. So ports need to diversify their cargo mix to sustain in the changing market.
For the first time in the past five years, Visakhapatnam Port has posted growth of 8-9 per cent despite drop in coal imports as it is substituted by growth in iron ore, containers and other minerals. "The ports should note that because of increased connectivity the hinterlands are no more defined by geographic location. The manufactured cargo especially can move longer distances. So a port that will handle variety of cargo and provide efficient logistics will survive in the future." Today Vizag Port has a capacity of 98 million tonnes but it can handle 68 million tonnes due to poor connectivity to the hinterland. In the future as the industrial corridors come up the connectivity will improve and productivity of the ports will also get a boost. Here coastal shipping can also play a major role in improving port connectivity.
India's dependence on imports of crude oil and gas is going to increase in the coming years, opined Jayyannt Lapsiaa, President, All India Liquid Bulk Importers and Exporters Association. But India needs to improve its infrastructure to meet the growing imports. The pressure will be more on private ports as government ports are not equipped to handle this huge rise in cargo. At government ports, the port is first developed then the infrastructure is created which leads to a disaster in operations. But private ports first develop infrastructure and then the port. Major ports are saturated and lack the evacuation facilities for moving cargo, so the private ports can benefit with the rising bulk imports in future. Ports like Krishnapatnam, Hazira and Mundra have a well-defined vision to cater to the increase in volumes in the coming 5-6 years. They have huge land banks to install storage infrastructure for liquid bulk, dry bulk or gas. India needs to develop infrastructure for storing liquid bulk as there is acute shortage of the same throughout the country. Import of edible oil and chemicals is more on the west coast, but since the western ports are saturated there is huge potential for the ports on the east coast to attract oil imports.
Chandrashekhar supported Lapsiaa's views as he pointed at around 9 million tonnes of palm oil imports coming from Indonesia and Malaysia which can be the potential cargo for the east coast ports. Taking the lead, Krishnapatnam Port is currently handling about 2.5 million tonnes of edible oil with 10 oil plants installed just outside the gate of the port and dedicated berths are provided for oil imports with direct pipeline from jetty to the tanks.
Shashibhushan Upadhyay, Chief Resident Representative, Jindal Stainless Steel, gave a sneak peek into the export/import scenario and industrialisation in Odisha. Kalinganagar was envisaged to be the steel hub of the country, producing 32 million tonnes of steel annually and many steel plants have come up in Kalinganagar, but many small plants are also on the verge of closure, he revealed. Odisha government is keen to develop Paradip as a port city focusing mainly on petroleum products. Going forward, ferrochrome, steel, stainless steel and sea food products will be the major exim cargo for Odisha.
Coming to Andhra Pradesh, Automotives, foodparks, pharma and chemicals will be the major cargo drivers for ports in Andhra Pradesh, revealed Vinita Venkatesh, Director, Krishnapatnam Port Container Terminal. To tap these upcoming cargo, Krishnapatnam has teamed up with Concor to connect with the ICDs in the cargo origin and destination centres of Bengaluru and Hyderabad. Bengaluru cargo that earlier moved to Chennai is now moving to Krishnapatnam Port, as KPCL along with Concor established a rail line connecting ICD whitefield to Krishnapatnam Port. Chennai Port has more liner connectivity and lesser rail freight compared to Krishnapatnam but still 40 per cent of Bengaluru cargo is coming to the port because it takes 3-5 days for cargo to move from Bengaluru and get loaded on a vessel in Chennai Port, but the same activity at Krishnapatnam Port happens in 48 hours. As Vinita concluded she said, "Today the customer looks for more transparency and certainty for its cargo to reach destination in the expected time. And the port that provides punctual services will win more cargo."
Detailing on the container movement in the eastern region, Syed Abdul Rahman, IRTS, Regional Head, Eastern Region, Concor, said, based on the data collected in the past 10 years there are four trends emerging in container movement in the eastern region. The first trend is that the entire movement has become exim-related. So Concor has stepped up from serving the domestic market to meeting the needs of the EXIM community. In 2007-08 domestic cargo constituted 60 per cent of the total volumes moved by Concor. Now it has come down to 40 per cent, whereas exim cargo has risen from 32 per cent in 2007-08 to 60 per cent currently. The second trend is, in the past five years, the eastern region is seeing more flow of exim containers. In the December to March period, there is rise in demand for containers by agri commodity and the empty exim containers can be used for the purpose.
In the domestic sector as well there has been a change in the load to empty ratio. There is more movement of empty containers now and movement of loaded containers out of eastern region has actually reduced and movement of loaded containers into the eastern region has increased. The third trend is change in commodity profile of Concor in the eastern region. Semi-finished steel products earlier accounted for one-third of entire volume handled by Concor, but recently this ratio has increased to 50 per cent. The eastern region lacks capacity to handle surge in peak demand. In the December to March period there is so much demand for paddy and rice that even Concor is unable to meet the logistics requirements. As a result, a lot of agri cargo takes to the road for reaching the ports.products earlier accounted for one-third of entire volume handled by Concor, but recently this ratio has increased to 50 per cent. The eastern region lacks capacity to handle surge in peak demand. In the December to March period there is so much demand for paddy and rice that even Concor is unable to meet the logistics requirements. As a result, a lot of agri cargo takes to the road for reaching the ports.
The cargo volume from Middle East to India is showing an increasing trend, revealed Capt S R Patnaik, Director & CEO, International Shipping and Logistics FZE. Cargo moving from Middle East to the east coast include limestone, Gypsum (from Oman and Iran). Barites is exported from Chennai to Middle East. A decade back when FZE did chartering services the most preferred ship size was the handy size, but when these vessels came to Chennai Port to discharge they used to take anywhere between 10 days to one month to complete discharge. But today the ship sizes have increased and so have the parcel sizes. Meeting this demand, the port efficiency has also increased resulting in freight savings. In 2007-08 the freight rate for urea from Middle East to east coast was $35, but today it has come down to $8.
K Swaminathan, Director (Service Business), Balmer Lawrie & Co explained the changing business model of CFS. In the past 3-4 years there has been a major change in the way CFS is operated. The containerisation level has not improved much in the past few years and so the CFS are not experiencing the growth that they saw in the 2005- 06 period. As the profits in the initial years were high the sector saw many new entrants, resulting in competition, tariff wars and unremunerative prices. Considering all these aspects Balmer & Lawrie has decided to enter into a multimodal logistic hub in Vizag. Today most of the CFS have the same level of competencies, so improving performance and efficiencies to stand apart from the crowd and maintaining relationship with the customers is a must to survive, remarked Swaminathan.
Prakash S Karki, President, Nepal Freight Forwarders Association, gave a snapshot of the exim infrastructure in Nepal and the areas that need improvement. India is the largest trade partner for Nepal and also the gateway for trade with the third world. Nepal cargo mostly moves through Kolkata and Haldia Ports, and recently the Vizag Port has been opened. The transit treaty between India and Nepal was inked in 1991 and is valid till 2020. The entire transit cargo is moved through Kolkata and Haldia. Nepal traders confront a lot of challenges while moving goods through Indian ports, such as lack of adequate infrastructure and obsolete machines used at the ports, delays in berthing, time consuming process of vessel unloading which is mostly manual, congestion at the port yard, CFS levy huge charges if cargo is not moved from their facility within 10 days, lot of red tape and cumbersome documentation procedures at Customs and border clearance. Transit cargo is moved under bond which ensures CHAs involvement, while the freight forwarders are the actual movers of cargo but are not involved in documents.
Currently there are four ICDs located at Indo-Nepal border points including Birgunj, Biratnagar, Bhairava and kakarvitta. An ICD at Kathmandu is also planned and land acquisition is in progress. Another ICD at Larcha near China border is under construction. These ICDs will be equipped with container stacking yard, covered goods shed, reachstackers and forklifts, container repair facility and laboratory for testing edible cargo. Indo-Nepal trade treaty provides duty free quota for majority of goods being exported to India. Nepal shares border with six Indian states but due to lack of policy and strategy Nepal has not been able to reap the benefits.
Karki proposed certain areas that need improvement including port infrastructure, preferential treatment to landlocked countries, railway links at six Indo-Nepal custom points should be extended, monitoring systems should be installed to check pilferage, effective risk management and dispute settlement system should be developed.
Elaborating on the service, Vizag Port is offering to Nepal trade, P L Haranadh, IRTS, Deputy Chairman, Visakhapatnam Port Trust, explained that Visakhapatnam Port has been opened as the second gateway to Nepal and an agreement for moving containers by rail to Nepal has been signed in December last year. Geographically Vizag is at a greater distance than Kolkata to Nepal, but the total package offered by Vizag Port to Nepal cargo is much less than what Kolkata Port is currently charging. With these incentives, Vizag expects to attract atleast 30 per cent of Nepal bound cargo.