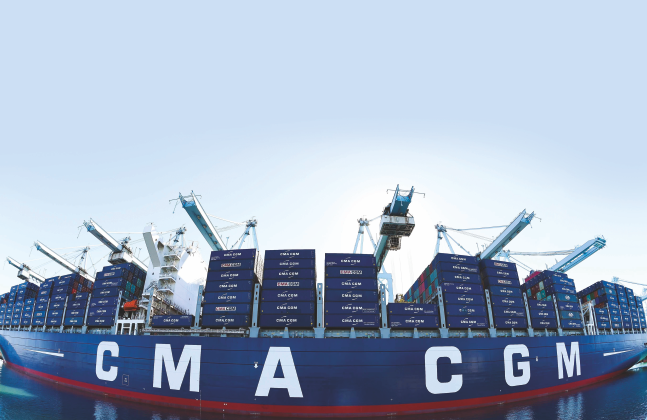 In the spring of 2017, when Rodolphe SAADE the new Chief Executive Officer of CMA CGM Group walked in to his Mumbai office , he set a strategic course with four priorities for the group. It was every country head's mandate to ship for the future. With abundant zeal, a fool proof plan and an ambitious team, Audrey Dolhen and her agency are making India future ready for her ship.

KEEPING IN MIND CUSTOMER REQUIREMENTS, WE HAVE REDRAFTED OUR STRATEGY TO INCLUDE FOUR KEY AREAS OF FOCUS, VIZ. CUSTOMER CENTRICITY, BEING AN END TO END PLAYER, REJIGGING OUR ORGANISATION AND DIGITALISATION TO GIVE ALL THE AREAS A GREATER THRUST.
Given that 90 per cent of the world's trade moves by sea, shipping lines are by far one of the oldest industry houses globally. And so, for corporations that have been in trade for many decades, being conservative is a natural trait. Change comes slowly.
However, many a line today, led by the bigger ones are making waves in international and interregional trade by taking big strides offering more services in other segments as a natural extension to their main line businesses. Slowly, but surely, carriers such as CMA CGM are moving with considered aggression to expand their products and services inland much as they introduce new ports of call to different destinations.
What do you think prompted this change? Several factors. For quite a few years after the financial blitzkrieg in 2008, shipping lines tried to stay afloat by cutting costs and capacity, attempting slow steaming and reworking their routes. Despite making these amends, the trade's recovery was spotty because every attempt from the carriers' side was met with redoubled efforts by corporate customers to control costs. With consolidation amongst liners from all over and of all sizes, most lines ran out of premium products and differentiating services. So, clearly, market economics is one reason to move shoreward. The second influencing factor is government policy. With many neo economic powers such as India and China focussing on improving their global logistics index and rank in the ease of doing business chart, policies such as Direct Port Delivery and Goods and Services Tax have impelled lines to consider the curious case of investing greatly in inland services. Lastly, but most significantly, the Big C has been the biggest harbinger of change. Changing needs of the customers has prompted CMA CGM among others to plunge in to making the first and last mile connectivity as seamless as the main leg.
Audrey Dolhen, Managing Director, CMA CGM Agencies India said, "Keeping in mind customer requirements, we have redrafted our strategy to include four key areas of focus, viz. customer centricity, being an end to end player, rejigging our organisation and digitalisation to give all the areas a greater thrust." While these focus areas outline the mission of the French carrier, significant work in this direction began almost two years ago when CMA CGM acquired a majority stake in India's LCL Logistix.
Through its logistics arm CMA CGM Logistics, the shipping line opted to grow inorganically in many markets including the United States, Canada and East Africa to accelerate its development. France's top shipping line also increased its investment in Traxens, a firm that develops innovative containers monitoring, geolocation and multimodal coordination systems. This would help the firm not just introduce big data in to the industry but also offer unique followup solutions to its clients in collecting real time data on container transporter movement. Thanks to this acquisition in India, the logistics arm expands both its product offering and its geographic coverage in the country where logistics solutions demand is high.
"WE ARE OPEN TO BOTH OPTIONS ESTABLISHING ALL UNITS AROUND PORTS TO RESEMBLE A MULTIMODAL LOGISTICS PARK OR ADDING A FEW FROM THE BASKET OF SERVICES IN AREAS WHERE CMA CGM HAS ITS OWN CONTAINER FREIGHT STATIONS AND DRY PORTS"
The scope of services will be complementary to maritime services and will include multimodal transport, custom clearance, warehousing, cold storage and distribution. The logistics arm will both create and run these services through its own and partner owned offices across the country.
"We are open to both options establishing all of these units around ports to resemble a multimodal logistics park or adding a few from the basket of services in areas where CMA CGM has its own container freight stations and dry ports," said Vibhu Prakash, Regional Head, Inland Services. Currently, the group, runs five container stations, and one inland container depot in India. To enable these services in a harmonious manner, a new business development team is being formed to look at new avenues, both on the land and sea sides.
 Even as various options are being considered, the group will deepen its presence by opening new offices in the country as required. The line has close to 30 independent locations from where shippers are offered services. Servicing the customer's hinterland will perhaps be a starting point for CMA CGM's land side operations. While the call for end to end services to be handled by one player has been a shipper's demand for long, direct port delivery has validated the need for service providers to consolidate offering the first and last mile services.
"The need to offer the entire band of services is a great way in commanding the loyalty of shippers over a protracted period." said Vibhu Prakash.
Shipping lines today are ready to take on the smaller players across the enterprise, in commercial, operations, and network and fleet activities as they see the inland side as opportunities to improve performance. This line has its work cut out for the year 2017 even on the sea side with two new services India – Asia CIMEX 2 X and India – East Mediterranean Indiamed services- being introduced from India. This increased attention to India is on account of the country's promising performance in the last few years adding significantly to the group's revenues. With more than 4,000 people working in India, the country will be key to CMA CGM's global performance because the line plans to heighten its market share in the high seas. With a double digit volume growth in cargoes to and from the United States during the last two years, and its acquisition of the container operations of APL, the French ocean carrier expects to jump ahead of industry leaders MSC and Maersk Line in the U.S. trade lanes. New services to the United States and Europe are part of the game plan too.
Together, the lines (including ANL & APL) have been able to consolidate their position helping CMA CGM Group command the top position in the key export from India, namely the USA and Oceania trade lanes
France's top container shipping company has as many as 450 vessels at its disposal carrying 20 and 40 footers across the globe. CMA CGM 's constant research for high-valued innovative solutions motivated the group's decision to reinforce its investment in India on both the land side and shores. Even if the line accomplishes a little bit here and a little bit there, it would be a great start to the full program of initiatives laid out to tap the hidden potential and can boost earnings. Carriers that embrace change will be better prepared than their rivals to make the best of the current business cycle and to thrive in the next one. CMA CGM has already made the first step in this direction.