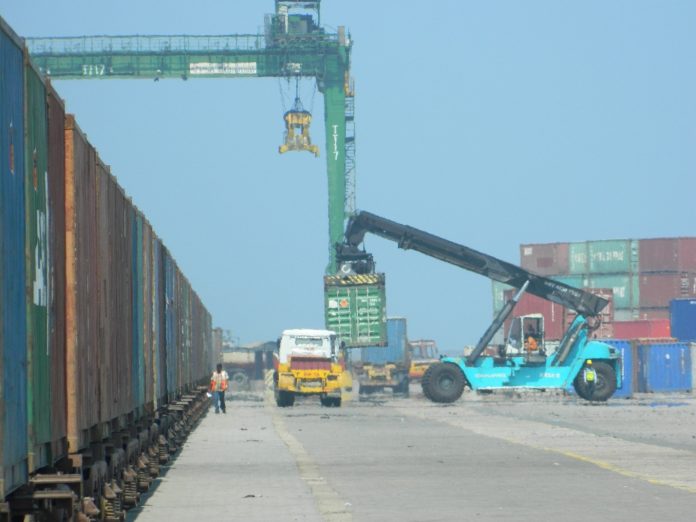 As part of a drive to increase rail utilization, Chennai International Terminals Pvt Ltd ("CITPL") has successfully loaded 169 twenty-foot containers of high value hazardous cargo moving by rail, from Concor's Tondiarpet ICD (TNPM) in Chennai, to CITPL's on-dock rail siding. In the space of seven hours, all 169 containers travelled via two dedicated trains from TNPM to CITPL. They were then loaded onto the "M.V Industrial Challenger". The operation  showcased not only the close cooperation between CITPL, Concor, Chennai Port Trust and many other agencies, but also the significant benefits to shippers utilizing rail transfers via CITPL's on-dock siding.
The consignment, categorized under the DG class 1.1 & 1.4G, was exported under the contract between Ordnance Factory Board (OFB), Ministry of Defence, India and Ministry of Defence, UAE Government. Due to the high security and safety requirements of the cargo, the authorities had decided to utilize the rail connectivity between TNPM and CITPL.
Two trains were placed at CITPL:  the challenging task of direct loading onto the vessel from the on-dock rail siding took place in coordination with Chennai Port Trust's Railway department, Concor, Balmer Lawrie, Chennai Port's Fire department together with other National Security Agencies.  In a testament to the close and effective cooperation between CITPL, Concor and all the participating agencies, the activities at CITPL were completed in less than 3 hours.
CITPL, Concor and Chennai Port Trust are continuing to work very closely to increase the proportion of rail cargo handled at CITPL.