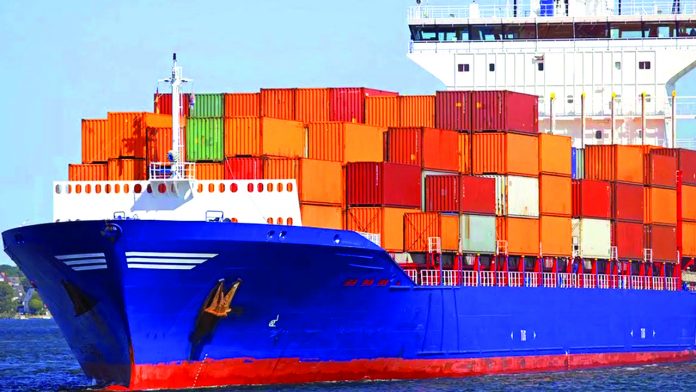 The outbreak of Corona virus in the world's second largest economy has jolted the global supply chain
Recently, China has been in the news for all the wrong reasons. The dragon nation was about to breathe a sigh of relief as the tariff war with the US was just called off, but Xi Jinping just had an even more grievous problem gazing right into his eyes – the unexpected breakout of the Corona Virus. The impact on global trade and supply chain is evident as industrial activity in China came to a grinding halt, while countries restricted their ships and airplanes from entering the world's second largest economy. India being a major trade partner and the neighbour next door is sure to feel the heat. China is a big global supplier of television panels, LED chips, compressors for refrigerators and air-conditioners, motors etc. Since China runs a trade surplus against major economies—like US and India—it is bound to have a larger impact on both trade and domestic industry. India's exports to China stood at $16.8 billion for FY19, while imports stood at $70.3 billion indicating the impact that coronavirus will have on Indian industry. Indian industries like pharmaceuticals, electronics and automobile rely heavily on raw material imports from China, so the supply chain disruption is inevitable.
The credit rating agency Moody, however predicts that Indian ports will have least impact of the virus due to low China-related throughput they handle. The share of China-linked container cargo is less than 5 per cent by volume for the Indian ports. Further Moody expects manufacturers will likely seek alternative sources of supply for components to the extent that supply chain disruptions in China persists.
Roadshows for stake sale of SCI cancelled
The Department of Investment and Public Asset Management, responsible for asset sales, is trying to set up meetings with investors in Hong Kong and Singapore through video conferencing as people are sceptical of traveling for conducting roadshows. The government intends to sell the entire 63.8 per cent stake in Shipping Corporation of India and wrap up the deal in the new financial year.
The outbreak is credit negative for Asia-Pacific's port operators as it is disrupting domestic and global supply chains and lowering discretionary consumer spending, which will reduce the throughput growth of Asia-Pacific's ports in 2020, the agency added. Extended factory shutdowns in China and containment measures in Asia-Pacific countries have hit manufacturing and logistics sectors in China because of shortage of workers and manufacturing parts, creating knock-on effects for global supply chains, it explained.
China accounts for 23 per cent of global seaborne crude imports, 35 per cent of seaborne dry bulk imports, around 30 per cent of seaborne container exports, 18 per cent of seaborne gas imports and Chinese terminals handle 13 per cent of all port calls in GT terms. "China's industrial activity is severely impacted and operating at reduced rates to say the least. Construction activity, steel production, logistical chains and imports are suffering, and this is evident in freight rates that are hovering at record lows across asset classes and geographies," informed Breakwave Advisors. Even though the Ministry of Transport has directed the ports to keep ships moving, lack of stevedores and truck drivers has slowed down vessel turnaround times and storage yards have clogged up.
Chinese shipyards are turning away vessels from scheduled dry docks citing labour shortages, and the normally busy deliveries of new buildings in any given January had slowed down. Meanwhile, scrubber retrofits – already taking far longer than planned – slipped further behind schedule. It is reported that around 40 box ships in China are now falling behind their redelivery schedules from having scrubbers installed.
Global car shipments are also likely to be massively effected with a number of international auto manufacturers shuttering production in China and Hyundai Motor halting work at one of its production lines in Ulsan, Korea as it was unable to source necessary parts from China. Other automotive plants in Asia are understood to be preparing to scale back production as parts run thin.
On the flip side, the catastrophe has also opened an opportunity for India as buyers of textiles and home furnishing items from China may turn to India. Recently Indian manufacturers in the said sectors have received increasing number of inquiries mostly from US and European Union.
Crew movement
Crew movement onboard ships has been caught into the stir as thousands of exasperated seafarers are unable to return home on time and crew travel desks are struggling to get crews onto ships across locations. Ships are having to deviate course to change crew and get supplies. Most of the ship managers have suspended all crew changes at Chinese ports. Ports in Singapore, Hong Kong, Taiwan and Philippines have added their own limitations on crew change on ships that have called China as their last port of call.
Bjorn Hojgaard, CEO, Anglo-Eastern, Hong Kong's largest ship manager says, in order to avoid delay to signing off crew for ships bound for China his company is trying to arrange relief in an earlier port or even diverting the ship to another suitable port to relieve the crew. "For ships which are outbound from China, we will wait at least 14 days after departure of the vessel, to arrange the crew change. If suitable ports are not available after 14 days, then we are planning to divert the ships on case by case basis, to arrange the crew changes," Hojgaard said. Australia, India, Indonesia, Iraq, Israel, Japan, Malaysia, Myanmar, New Zealand, Russia, Singapore, South Korea, Sri Lanka, Taiwan and Thailand have imposed visa restrictions and mandatory quarantines for Chinese seafarers. In a recent incident involving a seafarer arriving back in his home country was being given an automatic 30-day quarantine, because the local authority deemed it necessary.
Cyber threat 
Cybercriminals have been fast to lay traps for those who are jittery and might fall prey often in desperation and panic. Cybersecurity firm Proofpoint has reported emails are being sent by hijackers with the subject line 'Coronavirus – Brief note for the shipping industry.'
Lost revenues to shipping lines
While the virus continues to play havoc, Sea-Intelligence reports that coronavirus has been costing liners up to $350 million in lost revenues every week. The box shortfall from the virus is up to 350,000 teu per week, getting to the $350 million figure based on average rate levels of around $1,000 per teu.  Liners have upped the amount of blank sailings in recent weeks, with Sea-Intelligence noting there are a total of 21 sailings being blanked due to the coronavirus on the transpacific, taking 198,500 teu out of action. This is on top of the 61 sailings already blanked due to Chinese New Year, bringing the total number of blank sailings to 82. For Asia-Europe 10 sailings have been blanked thanks to the virus, removing 151,500 teu from the market, bringing the total number of blank sailings to 54, across North Europe and the Mediterranean.
Another cascading effect to supply chains worldwide concerns back-haul shippers who will need to plan for a very likely contingency, where they will experience capacity shortages and sharply escalating freight rates in March and April. Alphaliner has warned container cargo volumes at Chinese ports – including Hong Kong – will reduce by over 6 million teu in the first quarter of 2020. This volume contraction is expected to reduce global container throughput growth by at least 0.7 per cent for the full year. Data collected on weekly container vessel calls at key Chinese ports already shows a reduction of over 20 per cent since 20 January, reveals Alphaliner.
Construction projects stalled in Sri Lanka
Major construction projects have stalled in Sri Lanka as Chinese workers who went home for the Chinese New Year celebrations are unable to return. Sri Lankan workers are also refusing to show up for work for fear of contacting the virus, informed Nissanka N. Wijeratne, Secretary General, Sri Lankan Chamber of Construction. According to official figures there had been around 15,000 Chinese construction workers in Sri Lanka before the outbreak, but unofficial estimates are much higher at close to 100,000.
Raw material imports delayed in Bangladesh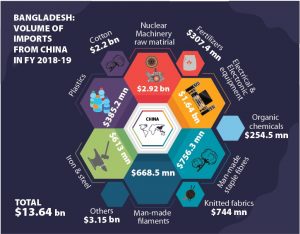 Bangladeshi entrepreneurs will suffer for the next few months as the supply system is hampered. At present, China sends 26.1% of the total $56 billion worth of goods Bangladesh imports from around the world. The clothing industry imports about half of its raw material from China and import of raw materials and commercial items from China has been delayed into Bangladesh, impacting the exports scheduled in April and May. For instance, MV Knit Fashion in Narayanganj was supposed to export RMG products for women to the UK at the end of this month. Accessories for manufacturing were supposed to be shipped from Shanghai port on 2-3 February, but the shipments are still stuck in China.
In the fiscal 2018-19, RMG products worth over $34 billion were exported while raw materials worth $12.17 billion had arrived from China. The country imported textiles and other raw materials from China worth $5.02 billion during fiscal year 2018-19, according to Bangladesh Garment Manufacturers and Exporters Association, or BGMEA. About 40 per cent of the capital machinery and spare parts for the textile and garment industry comes from China.
Besides, major portion of accessories for garments factories raw materials of leather and pharmaceuticals also come from China. Centre for Policy Dialogue (CPD) distinguished fellow Mustafizur Rahman said, "We have to look for alternative sources for raw materials. But we must consider the price and shipment time of items to be imported."
Of the impacts, one that is already visible is the prices of daily commodities, including onion, garlic and ginger, going up in the markets of Dhaka and Chittagong, threatening to push up the inflation. The Wuhan province of China is renowned for motorcycle accessories and Bangladeshi importers of motorcycle accessories who import from that particular province will have to find alternative suppliers or wait.
A significant number of Chinese nationals are working on several mega projects including Padma Bridge and Payra Power Plant in Bangladesh, while the commercial commissioning of Payra Power Plant in Patuakhali has already been impeded.