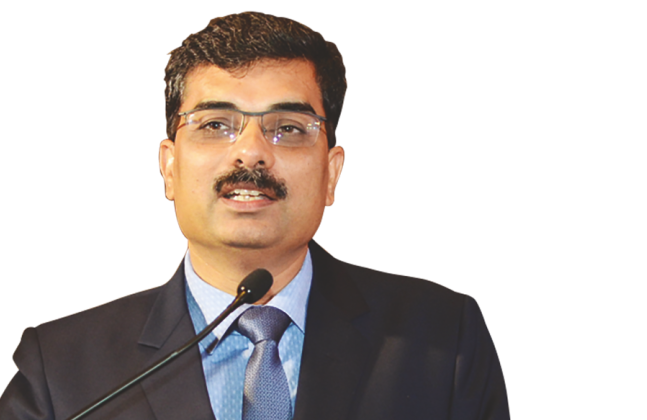 "Being located amidst the bustling city of joy and positioned right in the heart of the hinterland is our biggest strength. Our ability to reach out to customers across the hinterlands covering the neighbouring countries of Nepal, Bhutan and Bangladesh has been our USP," shares Vinit Kumar, Chairman, Kolkata Port Trust
In 2018, Kolkata Port is said to have achieved the highest ever traffic. What has contributed to the rise in traffic?
Kolkata Port Trust (KoPT) has witnessed 10 per cent growth in its traffic in financial year 2018-19 recording highest ever throughput of 63.7 million Tonnes. KoPT is ranked 5th among all major ports in terms of cargo handled, improving its position from 6th earlier. In the previous year (FY18) we had done around 58 million tonnes. Further it is the highest ever growth for both Kolkata Dock System (KDS) and Haldia Dock Complex (HDC). KoPT is handling cape size vessels at Sandheads. Additionally a new anchorage point has been set up at Sagar.
Tell us about the efforts to increase the number of rakes handled per day?
At Netaji Subhas Dock container terminal at Kolkata Dock, we are increasing the container rake handling capacity to 5 rakes per day by making the existing siding capable of handling 2 full rakes at a time. Another additional half rake siding has been revamped at the terminal. In HDC doubling of rail line from HDC to Durgachak will be completed by December 2019. Kolkata Dock handles about 55,000 teus of EXIM container traffic by rail presently. Nepal's import and export boxes from major aluminium industries in Odisha are handled here. The present siding is a half rake siding and only either of the two i.e. import or export rakes can be taken at a time. With the capability to handle two full rakes inside the terminal, this constraint will be eliminated.
How will the Ro-Ro service planned from Bhoot-Ghat to Sankhrail benefit the shippers?
A large part of the truck traffic of the port is from outside the city limits on the other side of River Hooghly towards Howrah and beyond. Hence, KoPT is starting a Ro-Ro service for ferrying trucks from Kolkata to Howrah and return. Bhoot Ghat Jetty is situated within the docks and the trucks after loading can be ferried across the river to the other bank to Sankhrail so that they need not encounter the city traffic.
How have the services provided by the port to Nepal cargo movement improved?
Nepal rail containers enjoy 20 days rent free time and Nepal road boxes are given 10 days rent free time at the port. Additional discount of 10 per cent is given on handling for Nepal containers at Kolkata. For Nepal bulk shipments, 7 days rent free period is offered. Recently, a special cell for addressing Nepal's grievances has been set up. Kolkata Port Trust as a whole has handled 8.3 lakh teus of containers and the share of Nepal containers is 82,037 teus, i.e. about 10 per cent. In overall tonnage Nepal traffic accounts for 2.5 million tonnes, both Haldia and Kolkata combined. The CAGR for Nepal traffic at KoPT over the last 5 years has been an impressive 24 per cent.
Under the new ECTS mechanism how does the trader in Nepal benefit?
The new transhipment procedure under ECTS for movement of containers to Nepal greatly cuts down the documentation at Kolkata for the third country cargo. The containers that are discharged can immediately be moved to Nepal without waiting for original documents to arrive from the importers in Nepal. Hence, the importer saves significantly on detention costs. In the old system, the box used to be delivered at Kolkata and then taken to Nepal under the cost and responsibility of the importer. The new procedure is largely an end-toend delivery mechanism where the shipping lines takes the onus to deliver the box from the overseas shipper till ICD Birgunj and returns the empty box after destuffing to Kolkata without engaging any middlemen. This is an upgraded product and hence the cost realised by shipping lines is inclusive of ocean freight, inland haulage and empty box. Right now, about 7 major shipping lines have offered transhipment to Nepal at Kolkata.
What is the status of coastal cargo movement at the port?
At Kolkata Dock we have had 168 coastal calls by container vessels from and to the upcoming transhipment hubs in Eastern Ports and Bangladesh. About 47 calls were to Bangladesh which are also extended coastal status. We have developed a new container handling facility at Khidderpore Docks with stackyard of 6000 sq.m and 24 reefer plugs to specifically cater to the coastal and Bangladesh traffic. First full container coastal vessel from Kattupalli carrying construction materials called at KPD on 4th July 2019. This shall be a regular weekly service henceforth.
How is the liquid cargo movement at the port?
A liquid cargo handling terminal "Outer Terminal –II" is proposed to be set up on river Hooghly by early next year, adding about 2 million tonnes of liquid cargo capacity comprising edible oil, Paraxylene etc. A liquid cargo jetty is proposed to be set up at Shalukhali, for handling Paraxylene, POL, edible oil & chemical, LPG/ LNG with capacity of 2.5 million tonnes. The growth in LPG at KoPT has been 39 per cent in 2018-19 from 2017-18 with Haldia Dock handling 3.5 million tonnes in the last FY. With the development of outer terminals Haldia Dock Complex aims to handle 5 million LPG per annum. Already, 11.5 acres have been allotted for setting up of first phase of LNG handling facilities.
How are the transloading operations at your port?
Kolkata Port Trust from mid 2018-19 started catering to Cape, Mini Cape and Fully Loaded Panamax vessels which are unloaded at Sandheads. A new deep draft anchorage is available for Cape vessels without tugs with a 9.5 m draft above Sandheads which reduces the Pilotage of the vessel by over 150km. At Sagar we get a higher draft of 1.5 meters, which takes it to around 10 meters. Thus, we can get a higher parcel load there. KoPT is also in process to have similar facility at Diamond Harbour anchorages.
What are the recent initiatives and infrastructure upgrades that happened at Kolkata Port?
At KDS about 40,000 sq. meters of additional hard standing area was added in last FY, which takes the total area of container terminal to 1.45 lakh sq.m. Another 45,000 sq. meters is to be redeveloped this FY. A 140 plug reefer park will be coming up soon at KDS taking total number of reefer plugs in the terminal to 300.
Reconstruction and maintenance of all major roads around the port will be completed by 2019-20. Parking lots with over 400 truck capacity within dock area are operational. Works for mechanization of berth No 3 at HDC is to be awarded soon. This will augment the capacity there by another 3 million tonnes. To cater to coal and coke handling additional 1.5 lakh sq.m hardstand for staking of cargo at HDC is under construction. Flyover at Raichak for greater access to HDC is expected to be completed by the end of this year. A land parcel of about 61 acres at Haldia is being developed for multimodal hub with 4 jetties (investment of 550 crores) by IWAI.
The efficiency of lock gate at Haldia Dock is increased to 12 ship movements a day and very shortly will be increased to 14. To keep up with the expansion, 694 acres of land has been identified for industrial purposes at HDC. Looking at long term projects, we are setting an extending gate facility at Balagarh located upstream of Kolkata on NW-1. An external consultancy has been engaged for increasing the capacity of both KDS and HDC to 90 million tonnes in near future from 65 million presently.