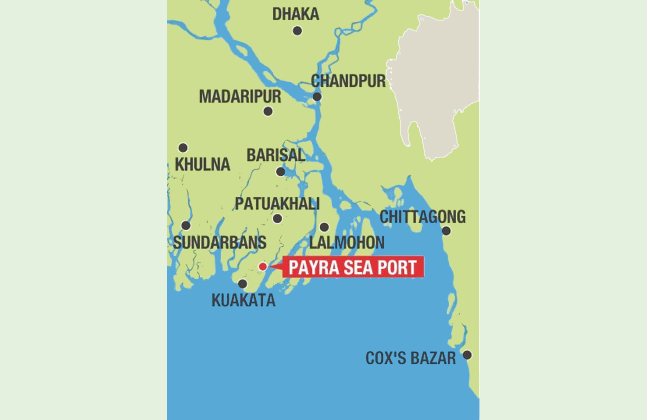 Payra deep sea port is being developed to enable Bangladesh to accommodate large draught vessels directly rather than requiring transshipment from Singapore or Colombo, which can deliver major savings in transit times and costs for both import and export
At the time of its formation Bangladesh had two ports – Chittagong and Mongla which carry most of the international maritime trade. Over the years, the country has felt the need to have a deep-sea port, as its current ports are too shallow for handling large container ships.
Thus the development of Payra deep-sea port has been initiated on the west bank of Rabnabad Channel. This project is part of the Bangladesh- China-India-Myanmar Economic Corridor (BCIM-EC), which was initially put forth under China's Belt and Road Initiative. However, India, which has not signed on to the BRI, has financed the development of Payra Port.
Payra deep sea port will accommodate large draught vessels directly rather than requiring transshipment from Singapore or Colombo, which can deliver major savings in transit times and costs for shippers.
The port is expected to handle 75, 000 containers a year when it becomes fully operational. The port is partially constructed and began basic operations in August 2016. The full port construction project will have 19 separate components, 13 of which will be implemented under foreign direct investment, and six of which will be financed through government-to government deals. The total cost of the port is estimated to be between $11 billion and $15 billion. In November 2015, the government had sanctioned Taka 1,128 crore ($143.37 million) to begin construction of the port.
The port is being developed in three stages. The port will have a 16 meter channel, all terminals would be constructed, and associated facilities including an EEZ, airport, port city, dockyard/shipyard, and eco-tourism facilities would be in place. The port will also have strong rail, road and waterway links to the capital Dhaka. A coal-based power plant is also being constructed to power the port and port city.
In December 2016, the China Harbour Engineering Company and China State Engineering and Construction Company (CSCEC) were awarded contracts worth $600 million to develop two of the 19 components. CHEC will construct the main port infrastructure including terminals, and CSECC will be responsible for riparian aspects, the construction of housing, healthcare and education facilities around the port.
The first phase of the Payra green field port development involves capital dredging works, which will be carried out by Belgium's Jan De Nul Group's subsidiary Payra Dredging Company Limited (PDCL) under a PPP framework agreement. It is estimated that about 94 lakh cubic metre dredging works to be carried out to sustain navigability of the port.
DP Rail, a UK-based company, will design, finance, build, operate and maintain the rail link between Dhaka and Payra Port. Consultancy firm Royal Haskoning DHV, together with Bangladesh University of Engineering and Technology (BUET), have been selected to develop a detailed master plan, and design for the port.
In April 2019, the government has entered into agreement with joint venture of three Korean companies including Kunhwa Engineering and Consulting Co Ltd, Daeyong Engineering Company and Hareem Architect and Planners Company Ltd to appoint a consultant for Payra Port's first terminal construction. The three companies will work as the main supervisor while Bangladeshi company Symbiotic Architect will work as sub-supervisor.
The development of a deep seaport at Payra has the potential to turn Bangladesh into a regional hub of trade and connectivity, as it can link north-eastern states in India and landlocked Himalayan nations Nepal and Bhutan.