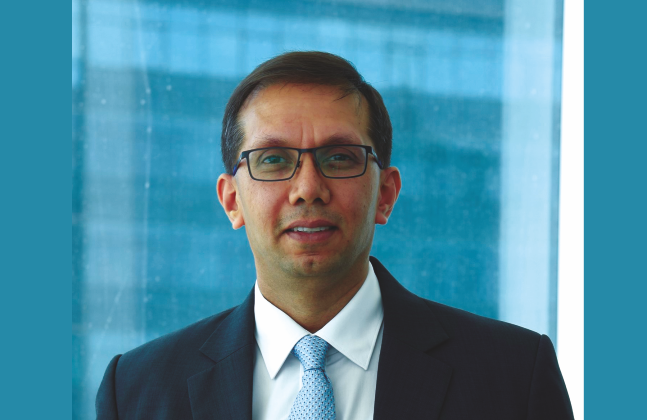 Delivering deep into the hinterlands
Be it in the middle of the Thar Desert or a village in the interiors of Tamil Nadu, delivering into the deep pockets of the Indian hinterland has been the forte of APM Terminals Inland service. Ajit Venkataraman, Managing Director, APM Terminals Inland Services South Asia, details on their impeccable services backed by high-tech infrastructure and robust technology
Q How has been the business of APM Terminals in South Asia in 2018? Which of the regions have been the star performers and major revenue contributors?
2018 has been a landmark year for APM Terminals Inland Services South Asia with the creation of an opportunity to service India's high potential agriculture, seafood, pharmaceuticals and chemical industries. South India's first integrated CFS and Cold Chain solutions facility based in Chennai was inaugurated this year and delivers services of global standards.
Broadly, APM Terminals Inland Services has performed in line with the market trend where the west region and the northern part of India have seen shipment and cargo growth. Being fairly new facilities, our business in Mundra and Tuticorin has shown an impressive pick up in volumes. Pune too is delivering on its promise of being the one-stop solution for various manufacturers in the vicinity and neighbouring regions. The receipt of AEO Certification has also helped add value to the customers' supply chains. Our Container Services Division's performance has been significant this year backed mainly by its leading expertise in refrigerated containers maintenance and repair, and thoughtful Garment-on-Hanger fabrication solutions.
Q What have been the major trends witnessed in 2018?
Broadly, for India, 2018 has been a year of identifying gaps and inefficiencies across the logistics and supply chain industry, developing solutions, and executing. While DPD, aimed at making the supply chain more efficient is the right way forward, approximately 60 per cent of the containers are still sent to CFSs that are transforming themselves and identifying avenues to add value to the supply chain. Simultaneously, larger automated warehouses closer to manufacturing and consumption centres are replacing traditional ones.
ICDs have found an increasingly significant role to play in developing the hinterland of India – an increasing number of ICDs with better road and rail connectivity have been set up. The DFCs and Industrial corridors are the focal points around which most of the infrastructure and strategies are being developed. The cold chain industry witnessed customers showing preference for single service providers for transportation and storage.
Q In India which are the hinterlands served by APM Terminals and how is the inland connectivity?
We have five facilities in Western India – two CFSs in Nhava Sheva, a dedicated reefer services facility in Dighode, an integrated ICD and warehousing facility in Chakan, Pune and a CFS in Mundra. These facilities connect the entire western region and enable connectivity between the northern and southern hinterland.
In the North, our ICD at Dadri specializes in customized solutions for retail apparel industry including – Garment on Hanger (GOH) fabrication of containers, GOHon- wheel facility and specialized warehousing at standards conducive for global retail apparel brands. Through the two facilities in Chennai (CFS and Cold Chain) and Tuticorin – located close to the East coast, it is able to cater to the requirements of south India and beyond.
Serving deep pockets of India, APM Terminals Inland Services has made solar deliveries across states like Rajasthan, Tamil Nadu, Andhra Pradesh, Karnataka, Madhya Pradesh, other regions in Central India and even in the middle of Thar dessert. These deliveries have been made from the ports of Chennai, Mundra, Vizag and Krishnapatnam.
Q Tell us about your last mile connectivity in India?
We have increasingly worked on developing our Store Door or end- toend supply chain solutions capability and it has become our forte today. Receiving the cargo at the Port, to delivering at the customer's doorstep, and everything in between; we have been offering services across the Indian hinterland – right from an interior village in Tamil Nadu to the Thar desert. Our cold chain facility in Chennai has already delivered on last mile distribution for aquaculture feed market apart from cargo pick up from source for consolidation and laden container movement for export.
Another perfect example of last mile deliveries is our service offering at the ICD cum warehouse at Chakan, Pune. The deliveries to the customer's manufacturing unit, Just-In-Time is made possible by the location and the solutions developed to address requirements of raw material/ components.
Q How is APM Terminals embracing technology?
We have constantly taken lead in introducing technology to make business easier for customers and enhance efficiencies and speed. Enterprise resource planning, supply chain management, GPS, realtime empty container management software, token management system, electronic data interchange, warehouse management, RFID, hand-held mobile solutions, online container tracking, e-invoicing and bar coding are a few of the solutions we have developed. Technology has been implemented in cold chain especially for active and passive monitoring of temperature. A recent development that stands out is the yard management automation system providing container handling instructions to Reach Stacker operators and updating container position in the yard and its status – all in real time. We are currently in the initial phase of developing an ambitious integrated facility operating system.
Q With DPD how has the role of CFS transformed?
DPD is ahead of its time when viewed in conjunction with the current infrastructure, and long-established supply chain models prevalent in the country. So, while a container is supposed to be cleared within 24 hours of its arrival, consignees don't really have the expertise and infrastructure (space to hold the container/ cargo, equipment to handle the container/ destuff cargo). While DPD has brought about efficiency in customs clearance process, the overall issues related to end-to-end efficiencies are yet to be addressed.
At APM Terminals Inland Services, we have been addressing our customers' needs by providing specialized and value-added services like palletization, packaging, labelling, end-to-end solutions to customers, skilled expertise for stuffing of cargo in containers – both dry and refrigerated. We are rethinking our business models. For example, at Pune, by attaching a full-fledged warehouse to our ICD, we are enabling JIT for the auto manufacturers specifically, and multiple other benefits for other customers. Similarly, with the set-up of a cold chain facility next to the CFS in Chennai, we are able to fill in a gap for a world class cold chain facility in close proximity to the Port as well as the market – both Chennai and Tuticorin.
Q Tell us about the cold chain facilities of APM Terminals?
Globally APM Terminals operates five Cold Chain facilities at Vado in Italy, Puerto Montt in Chile, Cape Town in South Africa, Ziguinchor in Senegal and the recently inaugurated facility in Chennai, India.
Inaugurated in 2018, this is South India's first integrated CFS cum Cold Chain solutions facility. An integrated temperature-controlled facility spread across 10,000 square meters, it offers multi commodity and multitemperature storage solutions. With a pallet capacity of 6350, the facility features reefer plugs and value-added services like customs clearance, bonded warehousing, cargo palletization, and packaging, transportation logistics to seaports and airports, and on-wheel customs seal verification – for domestic and export-import freight. A blast freezer saves the day for customers mainly dealing in seafood and readto- cook products. By the virtue of being integrated with a CFS, it can also offer services like management of refrigerated containers and container repair.
Q What will be the major trends in inland services in 2019?
New and innovative models of infrastructure attuned to emerging multi modal logistics options aimed at addressing unique region-specific requirements will emerge. (for example, the Freight Village in Varanasi along the river Ganga). Factors like new and varied kinds of products being traded, increased awareness, higher standards, and clear focus on quality and efficiency, will herald an era of specialization; special expertise in handling different kinds of cargo will replace the age old traditional forms. ICDs will grow in significance. Three major trends that will shape the Cold chain industry will be: Enhanced focus on agricultural commodities; demand for a farm level solution
Transparency, visibility and safety will all be infused with Blockchain to achieve better standards and efficiency in temperature controlled movement, handling of chemicals, transit time, planning and scheduling a consignment.