Hapag Lloyd has a lot on offer including direct connectivity from Europe to the Indian eastern hinterland and Bangladesh without transhipment. Capt. Dheeraj Bhatia, Regional Managing Director, ISC- Middle East and Africa for Hapag-Lloyd, tells more about the services on offer and in the pipeline
Q  In the backdrop of lower than expected global economic growth outlook by IMF, what is the current market scenario of global maritime industry in general and Indian shipping industry in particular?
Based on its current forecast, the IMF predicts that the volume of global trade, which is key to the demand for container shipping services, will grow by 2.5% in 2019 compared with the previous year. The institute has therefore cut its forecast from April 2019 again substantially by 0.9 percentage points. Growth of 3.7% is expected in 2020 (April forecast: 3.9%)
IHS Markit expects the global container shipping volume to increase by 3.8% in 2019, once again outpacing the forecast rate of growth for global trade. IHS has lowered its forecast by 0.9 percentage points compared to the last publication in January 2019. For the period 2020 to 2024, IHS Markit is currently predicting an average annual growth of 3.2% in the global container shipping volume. As a result, container shipping will continue to be a growth industry.
According to IHS Markit, the anticipated growth will be spread relatively evenly across the individual trades. The strongest growth is currently expected in the Middle East and Indian subcontinent and in the Intra-Asia trade.
Q Tell us about the connectivity Hapag Lloyd offers from India to the global market? What are the commodities being moved?
We offer competitive services to most trade partner countries of India and have a reliable coverage to other smaller markets as well. We have about a dozen services connecting India to the world. We also like to ensure a good coverage of all commodities and believe in serving the needs of all Indian customers. In recent years we have seen a phenomenal growth in our reefer, hazardous goods and out of gauge cargo. This is also aligned with our focus on niche market segments as per our recently declared Strategy 2023.
Q Tell us about your connectivity into the Indian hinterland?
HL has a very good offering to all Indian cities from various ports. We also run block trains from north India to the west coast. At the moment we are also testing door services within India as an offering to our customers. We believe there are several central and east coast Indian cities that can benefit from service from east coast ports which we are soon introducing.
Q Many economists expected that Indian trade could benefit from the trade war between the USA and China. Did you notice any such progress? How has the trade war impacted Hapag Lloyd and the shipping industry in general?
So far the trade war has not had a significant effect on us. We published our H1 figures on 7th of August – and for Q1 and H1 we can say that we are satisfied with the results.
Indeed there is a lot of anticipation that the trade war could shift some manufacturing to India as well. However, we are yet to see any significant impact in India. Having said that, the Trans Pacific trade out of India is strong year to date, which indicates that demand is building up.
Q Hapag Lloyd has plans to launch a new direct container liner service IEX (South East India – Europe Express) from October this year? Which part of the Indian hinterland benefits from this service? How will be the connectivity/frequency of this service and what cargo will move through this service?
Indeed, we have recently announced 2 unique products from east coast and west coast of India to Europe and South & West Africa respectively. The IEX will be a weekly service and offers direct product from east coast of India to several countries in Europe. With a possible call in Vizag combined with call in 2 other east coast ports, this will be the only service to connect the whole hinterland of Andhra Pradesh, Orissa, Telangana, Karnataka and Tamil Nadu to Europe without Transhipment.
Q Post Cabotage relaxation have you noticed any improvement in coastal cargo movement and transhipment at Indian ports?
I believe the Cabotage relaxation was the right step and this has enabled us to improve our empty container flow using our own ships and also allowed to offer better solutions to our customers at times of operational issues. In the end any efficiency that we can gain will help in reducing the cost of logistics for customers. Hapag has been carrying out some transshipment in India and we are now looking at offering Indian port transshipment to Bangladesh exporters.
Q How is Hapag Lloyd gearing up to comply with the IMO – 2020 regulations?
Early in 2019 we established a brand new, simple and causal formula for bunker costs.
95% of our ships will use compliant fuel as of 1st January 2020
10 ships of Hamburg Express class (13.200 TEU) will be equipped with exhaust cleaning systems – first three ships already out of yards with new systems
One ship ("Sajir" – 15.000 TEU) will be converted to LNG – will go into service in Q3 2020.
Q Do you have any plans for launch of new services/solutions for the Indian market?
Apart from the IEX, we are launching another new service from west coast ports which is again a weekly, direct service to South Africa and some important West African countries. It will offer non transshipment service to certain West African countries ex India.
Q How is Hapag Lloyd serving the Bangladesh market?
Bangladesh is also a very important market for us which has traditionally been serviced via transshipment over Singapore, Malaysia or Colombo. However we intend to change this in coming months with the launch of our IEX service. We are working hard with our feeder suppliers and terminal partners to offer a new route to our Bangladesh customer via east coast of India ports. This will drastically reduce transit time for customer who currently use Singapore, Malaysia and depend on space allocation on long haul service ex Asia towards the west. The IEX service in essence also a service for Bangladesh as it is solely concentrating on east India and Bangladesh markets.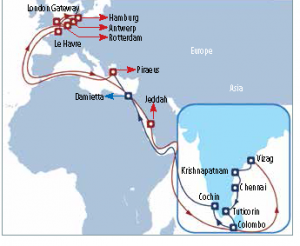 Q Recently there was a news about Hapag Lloyd massively expanding its reefer containers inventory and bringing the entire fleet of reefers online. Could you elaborate on this strategy? Hapag-Lloyd has decided to equip all of its 100,000 reefers with the latest technology for remote monitoring to support its efforts to digitalize the container shipping industry. Main benefits for our customers: Increased cargo security and real-time control, increased cargo quality, reduced costs due to improved supply chain integrity, customized reefer monitoring applications that fit the customers' needs. We see continuously growing demand in exports out of South America – mainly driven by fruits and fresh meat. Moreover, The Indian Reefer exports have seen a higher than average growth every year in the past few years.