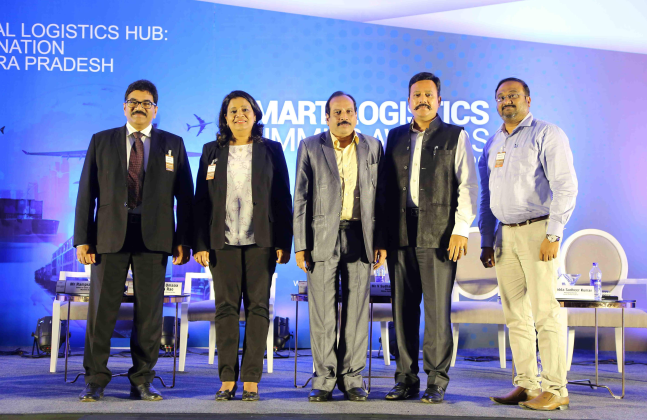 Shippers of major commodities from the state voiced their logistics concerns and improvements needed in infrastructure and connectivity were highlighted
Guntur is the anchor cargo for Krishnapatnam Port," informed Vinita Venkatesh, Director, Navayuga Container Terminal Private Limited. CVR Navayuga Ports also operates the port of Machilipatnam and Krishnapatnam, which due to their proximity serve the Vijayawada- Guntur cargo hub. The third concession agreement is for the port at Astaranga that will attract the cargo from North India and NCR region. All cargo coming from eastern locations like China, Korea and south east Asia will come to Astaranga Port. Navayuga Container Terminal is the largest terminal in AP, its container volumes moved are in fact more than Visakhapatnam Port and it is also the largest transhipment terminal on the east coast. The services coming from China and Korea are actually dropping the boxes in Port Klang and Singapore from where feeder vessels bring them to Kolkata and Haldia. But now mainlines from China and Korea are coming to Krishnapatnam Port, from where boxes are moved by feeder service to Kolkata and Haldia. 85 per cent of all the major commodities, except tobacco, moving from the east coast are via Krishnapatnam Port.
 The port has 2 sailings every week to China and Korea, four feeder services every week connect to Colombo. A door-to-door shipping company called Ocean2Door has been established that moves cargo from the door of the customer abroad to the importer's door in India.
"Andhra Pradesh should be transformed into a logistics hub using the strengths of its coast line," voiced Shivram, COO, Jyothi Granite Exports. To accomplish this vision land side infrastructure such as SEZs need to be developed near cargo generation and consumption centers, connected through rail and road to ensure cargo moves in the shortest possible time and in a cost-effective manner. Warehousing zones should be developed where a lot of value-added activities can happen for the cargo that is being imported or exported. Explaining the scenario of the textile industry, V Sudhakar Chowdary, Managing Director, Mohan Spintex India Limited said, cotton textiles from India are doing good globally and have a very large share. India is the second largest exporter in the world after China. Of the total cotton produced in Telangana and Andhra Pradesh, about 35-40 per cent is exported. Compared to the second half of 2017, in the second half of 2018 there has been a 3 per cent drop in exports. A major competitor to Indian textile is China which has duty free production units in Vietnam, but India has a duty of 3-5 per cent on cotton exports, which make our products less competitive. Another logistics challenge faced by cotton exporters is that cargo is not being loaded onto the intended vessel which is delaying the exports.
"Tobacco production and exports have been a vital contributor to the Indian economy," revealed Mittapalli Umaaa Maheswara Rao, President, The Indian Tobacco Association.
But government initiatives in the form of stricter regulations to discourage tobacco farming due to health issues has put the industry in an adverse position. Earlier tobacco exports from free of sales tax and VAT, but now it has been brought into the ambit of GST, due to which exports have declined from 70 per cent to 30 per cent. He urged the government to remove restrictions atleast on exports of tobacco.