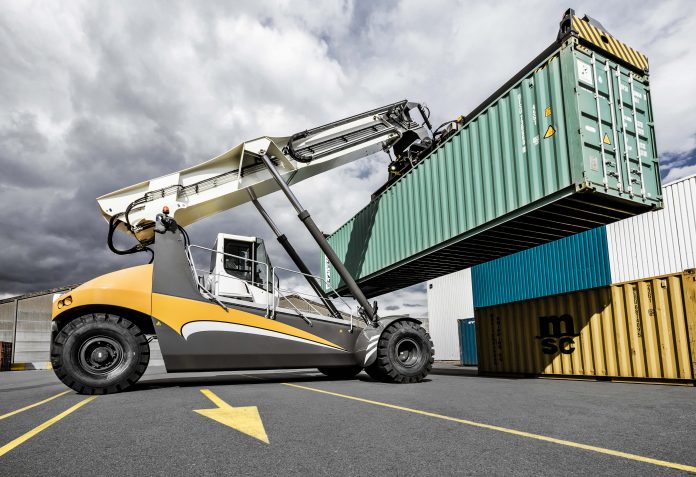 Bothra Shipping Services Pvt Ltd operates the first LRS 545 in India
Latest Reachstacker delivery underlines long lasting partnership between Bothra Group and Liebherr
Liebherr Group already delivered more than 30 different products to Bothra Group in the last 12 years
Bothra Shipping Services Pvt Ltd has taken delivery of a new Liebherr LRS 545 Reachstacker for its Kakinada Port container operation. Furthermore, Bothra is awaiting delivery of a new Liebherr training simulator.
Liebherr has delivered a new LRS 545 Reachstacker to Bothra Shipping Services Pvt Ltd at Kakinada Port. The new Reachstacker is being used at Bothra Shipping Group's busy port for container operation predominantly for the stacking of containers inside the terminal. Bothra Group opted for a Liebherr Reachstacker because of the smooth handling features and the high total economic value of the machine.
Low total cost of ownership
The LRS 545 is designed for highly responsive operation to allow high performance in a relaxed manner. The innovative individual drive concept ensures that, a hydraulic motor independently drives each wheel. Not only is this a more compact solution, it reduces tyre scrubbing and thereby increases tyre life. The reduced wear and tear of the tires strongly contributes to low total cost of ownership. By removing the mechanical gearbox element, the drive of the machine from acceleration to braking is smooth and step less, which provides added sensitivity at low speeds and increases driver comfort.