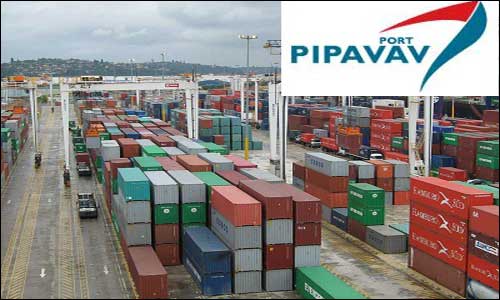 Gateway Rail Freight Ltd has started EXIM operations at its Viramgam Inland Container Depot (ICD) in Ahmedabad, Gujarat on July 26, 2019. The first export train service from ICD Viramgam to Pipavav Port was flagged off by Mr Deepak Kumar Jha, Divisional Railway Manager, Ahmedabad Division of Western Railway. This service carried the first export consignment of Honda Motorcycle and Scooter India Pvt. Ltd for Maersk Line and was cleared by Tiger Logistics India Ltd. In addition, the first export reefer container of Deepkiran Foods Pvt. Ltd, on Evergreen Shipping Line, which was Customs-cleared by JBS Group of Companies, was also flagged off for road movement to Mundra Port on the same day, informed a release.
The flagging off ceremony of the train was attended by Mr Sushant Kumar, Additional Commissioner of Customs, Mr Amit Kumar, Joint Commissioner of Customs, Mr V. H. Bhisht, Assistant Commissioner of Customs,  Mr Pankaj Mudgal and Mr Bharat Hindol representing HMSI. The GatewayRail team, comprising Capt. Shantanu Bhattacharya, Mr Srinivas Reddy, Mr Lalit Lahori, Mr Nandan Chopra, Mr Aditya Gupta, Ms Samta Kamra, Mr Rajguru Behgal, Mr Prabhat Kumar Bhardwaj, Mr Sandeep Kadian, Mr Elroy Rodrigues, Ms Garima Negi and others, were also present on the occasion. The flag off ceremony was hosted by Viramgam Terminal headed by Mr Prakash Veer Tyagi, Mr Ashok Kumar Pandey, In-charge of Rail Operations, and Mr Abdul Farid Khan who looks after Terminal Operations.
Mr Sameer J. Shah, Director, JBS Group of Companies, shared the way forward and the working of the Ahmedabad trade. He also said that with this new ICD of GatewayRail, the trade will have the opportunity to further expand in the outskirts of Ahmedabad, making it similar to the NCR region in North India.
Mr Sachin Bhanushali, Director and CEO of GatewayRail, presented the infrastructure and operational capabilities and shared the growth story of the company. He also updated the trade fraternity present at the event about the Viramgam terminal. Further, he assured the trade of GatewayRail's commitment to offer reliable rail transportation and terminal services.
Mr Samvid Gupta, Joint Managing Director of GatewayRail, gave the vote of thanks to the members of the Ahmedabad trade for their presence at the inaugural function and said that the group will be able to offer its CFS and ICD services across India from 7 CFSs, 4 ICDs and 1 Domestic Terminal under the Gateway Group umbrella. The event was attended by customers, forwarders, CHAs, shipping line and port representatives from the Ahmedabad region.
Salient features
This ICD at Viramgam is very close to Ahmedabad and is strategically located between Mundra and Pipavav Ports. It will be benefitted by the proposed Western Dedicated Freight Corridor. GatewayRail will be operating regular train services for export and import for containerised cargo between the ICD and the port terminals of Nhava Sheva, Mundra and Pipavav. The ICD is fully equipped to handle dry and reefer cargo carried in maritime containers. It is built on a land parcel of 40 acres and is currently equipped to handle 100,000 TEUs per annum. It is strategically located at the new industrial development of Ahmedabad, covering Sanand, Becharaji, Vithlapur and the upcoming Mandal Becharaji Special Investment Region (MBSIR). It has close proximity to NH-8, with excellent links to the road and rail infrastructure of Western India.
The GDL Group is an integrated intermodal logistics service provider having three verticals. It operates Container Freight Stations in Nhava Sheva, Chennai, Vizag, Kochi and Krishnapatnam. GatewayRail, India's largest private intermodal operator, provides rail transport service through it Inland Container Depots at Gurugram, Faridabad, Ludhiana, Ahmedabad and Domestic Container Terminal (DCT) at Navi Mumbai. GDL and GatewayRail together have capacity to handle 2.1 million TEUs per annum and warehousing space of 1.73 million square feet across its 12 Container Terminals. Snowman Logistics Ltd (SLL), its third vertical, is India's leading cold chain logistics company with pan-India presence at 31 locations in 15 cities, the release highlighted.