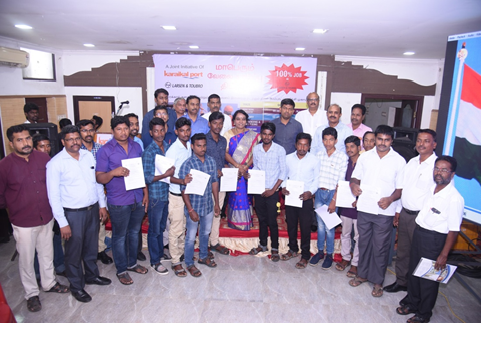 Handed over training selection letters for 213 candidates today.
Karaikal Port in association with L&T Construction Skill Training Institute conducted a selection drive to offer free skill training and employment opportunity for the youth in the regions of Karaikal, Nagapattinam and Nagore. This program is aimed at increasing the employability of youth and to provide them with an employment opportunity at L&T under CSR Program of Karaikal Port.
The selection drive that took place on 04-Jan-2018 in Karaikal attracted more than 500 candidates out of which 212 candidates were selected for the program.
The candidates can upgrade their skills in fields such as Form work carpentry, Bar Bending & steel fixing, Masonry and Electrician courses. The selected candidates will go through a structured training of 600 hours (3 months) at L&T construction Skills Training Institute, Kanchipuram.
Candidates in the age group of 18 to 35 and with a minimum education of 5th standard can apply to this program. Certificate will be issued by CSDCI (Construction Skill Development Council of India) and Course Completion Certificate will be provided jointly by L&T and Karaikal Port Private Limited. After the successful completion of the training, the selected candidates will also be offered employment in L&T.
Speaking on the occasion Mr. GRK Reddy, Chairman and Promoter Director- Karaikal Port, "Through this program, we believe that we have talented youth who can be trained to take up into the expansion plans of the existing industries coming in and around Nagore, Nagapattinam and Karaikal districts."
Mr. K Muralidharan, CEO – Karaikal Port said "We look forward to turn this into an employment-linked skill training program. We are excited to launch this program with L&T as part of our commitment in enabling port-led skill development by up skilling the youth of Karaikal for the region's growth."
Mr. Niranjan Mishra, Principal – L &T Construction Skill Training Institute, Kanchipuram said, "To prioritize the role of youth in our nation's growth, by making them employable, we have partnered with Karaikal Port for empowering Youth in and around Karaikal, Nagore and Nagapattinam districts. We are giving training for four trades namely, Form Work Carpentry, Bar bending, Masonry and Electrician."