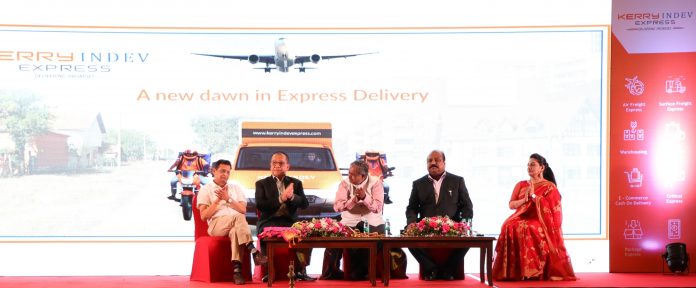 Chennai-based logistics player, Kerry Indev Logistics has launched eight services, each catering to different B2B and B2C segments of Indian market under Kerry Indev Express brand. The pan-India services were recently launched in Mumbai.
Dr. S. Xavier Britto, Chairman, Kerry Indev Logistics, said, "Our aim is to reduce the delivery-cost by atleast 10% in the current competitive environment as our focus is to offer all services under one roof by eliminating the middle men."
"We have pledged to invest Rs 100 crore initially to kick-start 'Kerry Indev Express' – a door-to-door express service in metros and smaller towns of India. Over the next few years, we will invest a corpus of Rs 500 crore for strengthening our last mile connectivity across the country," added Dr Britto.
The eight pan-India last-mile delivery services launched under the Kerry Indev Express brand include: 'Same Day Express' for guaranteed delivery within 6-8 hours in the same city or between designated cities, 'Early Express'  for guaranteed overnight delivery across designated cities, 'Priority Package  Express', for door-to-door delivery of valuable documents and packages, 'Priority Freight  Express Air' for a next day/committed door-to-door delivery  solutions for commercial and urgent  shipments to  major metros and non-metros, 'Priority  Freight  Express Surface' for a day definite door-to-door delivery solutions for commercial and urgent shipments to  major metros and non-metros, 'E-Commerce Business Express' offering to its customers' time-definite deliveries, 'Warehousing Solution Express' for fulfillment centre services and first & last mile distribution services, and 'Critical Solutions Express' for temperature-controlled distribution, passport  & critical  documents, etc.
Kerry Indev Logistics has also planned to raise funds through an IPO after two years to meet its future capex requirements. "Over the next few years, we will invest hugely in setting multiple procurement centres across length and breadth of India and also buy delivery-vehicles of various types in good numbers. We are not going to sub-contract our services to the vendors to control the Express services' delivery-costs," said Dr Britto.  "And, we will focus on the optimum usage of country's inland-waterways to offer swift, efficient and low-cost logistics solutions. Also, India's SagarMala project will continue to play a pivotal role in reducing the logistics costs. However, there is a dire need to have a separate Ministry of Logistics in India for the benefit of our sector," he added.
The Company's newly launched 'Express Service' solutions in India are likely to get immense support from the vast network of Greater China's leading logistics player and a 51% stake holder currently in Kerry Indev Logistics, Kerry Logistics Network – a Hong Kong-headquartered  listed company engaged in third party logistics, freight services, warehouse operations, and supply chain solutions.
Mr Robert Tan, Managing Director – South and Southeast Asia, Kerry Logistics Network, said, "Through our newly launched Express Service solutions, linking each and every part of India with leading Asian nations will be our upmost priority, as every day our 20,000 trucks deliver around total 1.8 million parcels in the Asian economies like Thailand, Cambodia, Vietnam, Hong Kong, Taiwan, Malaysia and Indonesia. Cross-border logistics support at highly competitive rates amongst the Asian countries will be the USP of 'Express Service' solutions in India. Also, Kerry Logistics is committed to developing an overland transportation network for road, rail and intermodal freight services in Asia."
India's eCommerce industry is likely to clock $120 billion turnover by 2020. This is expected to reshape the country's logistics landscape in the years to come. As logistics and e-commerce industries continue to complement each other, the launch of Kerry Indev Express services will also create huge employment opportunities in both, urban and rural areas of the country.