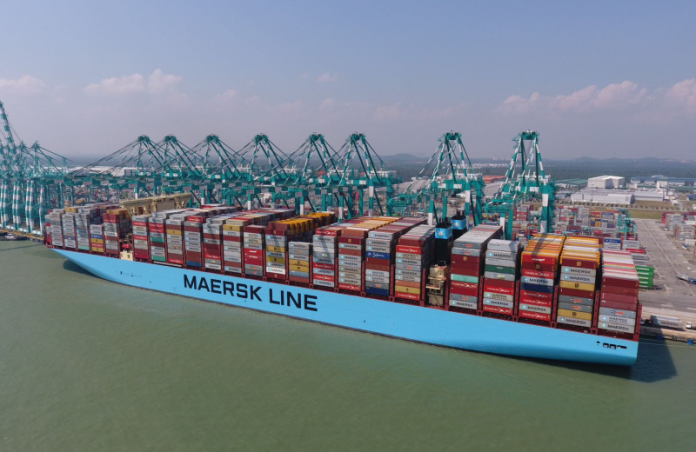 With a load of 19,038 TEU, the Mumbai Maersk sets a world record for highest-ever load and surpasses the mythical 19,000-mark for the very first time – not only for a Maersk vessel, but any vessel in the world.
The second generation Triple-E vessel left the dock of Tanjung Pelepas Port, Malaysia, over the past weekend and sails now into Europe. First stop is expected at Rottendam on September 5th.
The Mumbai Maersk is a 2nd generation Triple-E class vessel with a nominal capacity of 20,568 TEU. The vessel is the newest to enter the Triple-E fleet in May 2018 and is deployed on the Asia-to-Europe service (AE5). The world record load of 19,038 TEU has raised a new bar for Maersk by surpassing Madison Maersk, a 1st generation Triple-E class vessel, which reached 18,215 TEU in 2015. At the same time, Mumbai Maersk overtakes all other reported record loadings from other carriers.
The record-breaking load also marks a sign of progress on one of Maersk's Core Priorities for this year: to make APM Terminals perform again. Tanjung Pelepas is one of the hub terminals where productivity is currently high, also benefitting Maersk Line in line with the integrator strategy.
"Our hubs are currently breaking existing productivity records. This record on most loaded containers during a port stay is one of many illustrations showing that we are well-positioned to become a company of operators who are proud, passionate and world-class at servicing our clients," says Keith Svendsen, Chief Operating Officer at APM Terminals.
About APM Terminals Mumbai
APM Terminals Mumbai, is part of the APM Terminals Global Terminal Network, and is a joint venture between APM Terminals and the Container Corporation of India (CONCOR-A Government of India undertaking). Operating from Nhava Sheva's Jawaharlal Nehru Port (JNPT), APM Terminals Mumbai is India's largest container terminal handling facility in term4,5s of container throughput (TEUs) and represents 18% of India's containerized cargo.