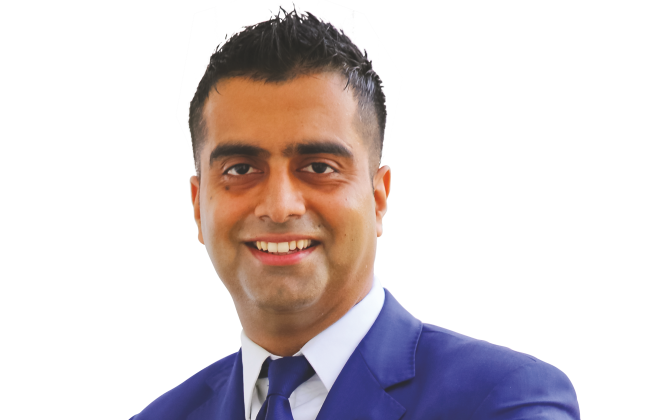 PCS 1x has been rolled out to offer a true single window for the port and maritime community for sharing data and information. Dhruv K Kotak, CEO, Portall Infosystems Pvt. Ltd., details on the tremendous response the platform is garnering from across the industry
The Indian government's vision of Digital India received a major thrust on December 11, 2018, when Portall Infosystems, in collaboration with Indian Port Authority launched Port Community System (PCS 1x) that bridges a long pending gap for a Cloud-based open platform that would enable intelligent, easy, efficient and secure exchange of information between public and private stakeholders. A lot of market penetration through roadshows and interactions is being done to bring more stakeholders on-board. The vision is to deliver the best PCS globally.
What led to the formation of Portall?
Portall Infosystems was formally launched in 2017 after several successful internal IT projects and in just 2 years, it has grown to a company of 100+ employees – Portall produces new platform solutions to create value for all stakeholders in the maritime fraternity. We believe in speed and delivering effective solutions backed by technology.
There is a lot of buzz in the market related to the new PCS and its differentiators, how has the journey been?
Over 27 identified stakeholders have role-based access to the new PCS 1x hosted on Cloud, giving them a better user experience as they interact with the ports, terminals, each other and the end user. It has provisions for translating messages of different standards to facilitate meaningful exchange of data with multiple external systems in required formats. The messages are the via media to execute instructions, requests, approvals, status updates, payments etc., for operational services rendered in the logistics process.
We are constantly upgrading ourselves to be the best in class PCS globally. We collaborated with dbh IT AG, the oldest PCS provider in the world and IBM, for functional and technological expertise respectively. We are aligning PCS 1x to the 2030 vision of IPCSA (International PCS Association)
How is PCS 1x changing the pace of maritime trade? What is its main USP?
Our PCS is robust, highly scalable and flexible which is one of its key USPs. PCS 1x is addressing the way in which information is passed on a real-time basis by integrating with various stakeholder systems bringing speed, transparency and efficiency leading to reduction in errors, faster TAT for every request and response. For instance, JNPT was able to achieve 31 per cent improvement in its request to response of VCN messages between March to May 2019 using PCS 1x.
What is the present status of implementation and usage of PCS 1x? How the stakeholders are responding especially Major Ports?
Today 12 major ports have fully implemented PCS 1x with over 14700 users transacting. Moreover, private ports including Mundra, Pipavav, Hazira, Kattupalli and Dahej have commenced adoption. We have initiated a 90-day onboarding drive to create awareness amongst all the stakeholders under the aegis of IPA. We are conducting roadshows across India to sensitize and create awareness amongst the maritime community. The response has been great so far; more than 100 stakeholders actively participated at each location and many are registered at the live registration counter.
When do you expect full integration and a holistic, seamless interface throughout India?
We have various features, functionalities in our platform which will be released in phases. PCS1x has 100-day, one-year and five-year targets which are being closely monitored. We are constantly meeting expectations to deliver a holistic and seamless interface to the Indian logistics industry. Full integration requires full cooperation from the trade and enforcement by the ministry – both are being worked on.
Is the usage of PCS mandated by Government? If not how can we ensure that all stakeholders in the value chain are on board for seamless usage of Platform? If any of them are left out we will have to still deal with several gap areas?
Yes, absolutely, as per the mandate released by the Ministry of Shipping on 11th December 2018, all ports and terminals in India will implement PCS 1x to make it a true single window for the maritime community. It is anticipated that gaps and improvements might still come up for a project this size. There are clear processes outlined to identify and plug gaps.
How is the data security maintained on PCS 1x? There is a confusion among stakeholders as to who is the custodian of data – is it the service provider or Government?
As per the tender, PCS 1x is audited every 6 months by a government nominated certifying agency. Regular audits and checks are conducted to maintain the security of the application.
The custodian of data is IPA and the thereon the GOI. The CIO, IPA in his recent address at the first roadshow flagged off at Visakhapatnam addressed this concern confirming that GoI assures the trade that the data is secure and every aspect of security is covered.
There is a reluctance from some of the stakeholders especially shipping lines in uploading their invoices on the platform. How are you addressing this?
This has already been addressed as per the inputs from CSLA and various other stakeholders. IPA and office of the Special Secretary Logistics have accepted a suggestion put up by Portall for additional encryption as a service for sensitive/financial information which is being worked on and is expected to release shortly
Different agencies/companies have been using different platforms/ softwares, working in silos. How does PCS 1X connect across these enabling interoperability?
The core objective of the PCS is to weave together the various players of the maritime ecosystem and enable a single communication and document exchange platform, hence enhancing interoperability.
Is the payment gateway enabled in PCS 1X?
Razorpay is connected and live in a few ports, under UAT in others, ICICI pay2corp is under testing as well, others may follow suit in the time to come.
How does PCS 1X connect with Customs EDI?
PCS1x already connects with ICEGATE and exchanges about 8 standard EDI messages; We have asked for additional 11 EDI messages and also for API connectivity which is a real-time interface between the two systems, Recently in the technology committee instated by the IPA, various associations and Portall are working to expedite the critical API connections with Customs and other core stakeholders.
What's next on the horizon for Portall?
An integrated logistics management application empowering Portall users with end-to-end land side visibility; ready modules catering to freight forwarders, shipping lines, CFS, terminals, transporters, importer and exporters. Portall aims to be a one stop marketplace platform empowering all the stakeholders in the maritime trade in the near future.