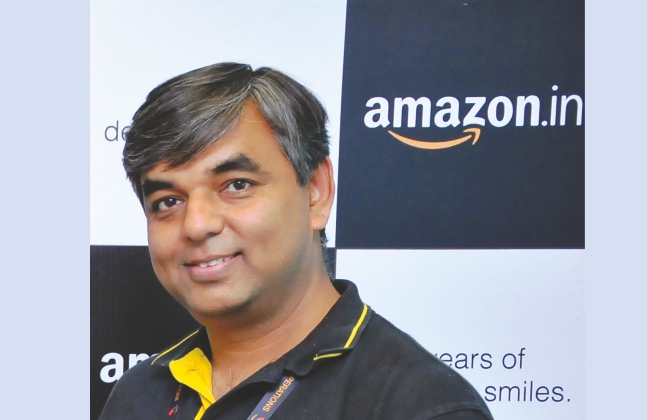 In line with Amazon's vision to transform the way India buys and sells, Akhil Saxena, Vice President – India Customer Fulfilment, is razor-focused at making quicker delivery of products to more pin codes, penetrating into the hinterland across India
Please provide details about Amazon's distribution infrastructure in India?
We started with only one Fulfilment Centre (FC) in Bhiwandi in June 2013 and till the end of 2016 there are 27 operational FCs across 10 states covering a total area of close to 2.5 million sq.ft and a storage capacity of 7.5 million cubic feet. This year we have invested in 14 new FCs which include seven specialized ones specifically for large appliances and furniture category. With 41 FCs across 13 states we have doubled our storage capacity to over 13 million cubic feet to support our exponential growth in the country. We continue to have the largest warehouse infrastructure for sellers in the e-commerce industry across India. This infrastructure has helped thousands of sellers reach millions of new customers and has enabled us to offer faster delivery of products to more pin codes.
Every time a seller uses our Fulfilment Centre, we have seen that their defects rate goes down which brings down their cost structure. The speed of delivery increases resulting in higher conversion and more orders from customers. Hence, we have invested significantly in our fulfilment and logistics capability to enable and empower sellers to serve customers nationally at lower costs. At the same time, we are razorfocused on further expansion of our robust delivery network to be able to make inroads to the hinterlands of India and reach more pin codes across the country. It stands testament to our larger commitment of making deep investments in the country and in turn creating opportunities for employment, growth and revenue generation for the Government.
Q What is your observation about evolution in e-commerce logistics and distribution in India? And how would be the scenario in this segment in the future?
As the Indian e-commerce space is still at a nascent stage with great scope for innovation, we see immense potential for development of logistics and fulfilment infrastructure and distribution network across the country. We foresee thousands of SMEs getting online to leverage the growth of India's flourishing digital economy. Considering that there are a vast number of entrepreneurial SMEs who have never sold online – but have great product selection and are motivated to grow – we will see thousands adopting and adapting to benefit from the digital economy. At the same time, with increasing penetration of internet and growing popularity of e-commerce across even the smaller markets we will continue to witness increased demand amongst customers for faster delivery each time they order a product on an ecommerce platform. The Indian e-commerce space is currently at an inflection point and there is tremendous opportunity for growth.
Q What will be your strategy during post-GST implementation?
 From the GST perspective, we believe it will further enhance the ability of e-commerce industry to support growth opportunities for small and medium businesses by eliminating hurdles in inter-state delivery and subsume the entry tax introduced on e-commerce shipments by some states. However, we will wait to see the fine print for GST implementation, particularly on movement-related documentation, to assess any potential impact on our network.
Q What are the major issues and challenges in logistics and distribution?
 The big challenge is how we bring the same experience that customers have learned to expect from Amazon. com to a market like India without diluting it. India does pose constraints in terms of poor internet connectivity, extreme weather conditions, offloads and the limited last mile delivery footprint. Since our launch in India in 2013, we have been investing heavily towards improving our fulfilment and transportation capabilities that overcome these challenges to support the growing base of sellers and offer an unparalleled shopping experience to buyers. We are India's largest online store today with over 100 million products across hundreds of categories. When we launched in June 2013, we had only 100 sellers on our platform. Today, over 1,80,000 sellers in India sell on Amazon.in and the number is increasing every day!