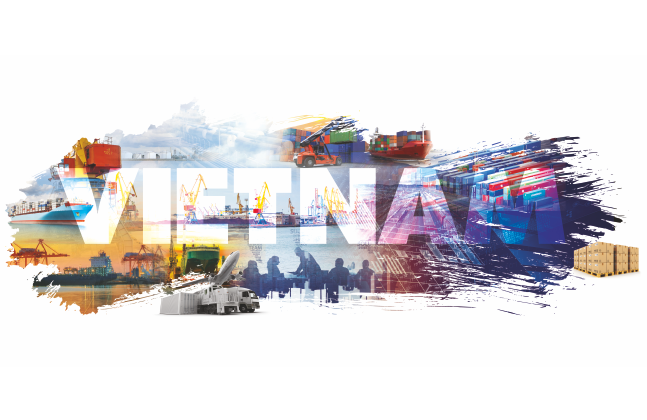 Vietnam's shift to a market economy has transformed the country from one of the poorest in the world into a lower middleincome country. With stable economic growth in place, huge investments are planned in infrastructure. Vietnam now is one of the most dynamic markets in Southeast Asia region
Today Vietnam is buzzling with activity, its economy growing at 6-7 per cent rivals China and this ASEAN nation can manufacture anything from Nike sportswear to Samsung smartphones. The country has robust exports matching its GDP in value terms. But, Vietnam was not always as it is today. When the 20-year Vietnam War ended in 1975, it left the country in a very anaemic state.
Then came the inflection point in 1986 when economic and political reforms under Ðôi Mói were launched fuelling rapid economic growth that transformed what was once one of the world's poorest nations into a lower middle-income country. Between 2002 and 2018, more than 45 million people could rise over poverty and GDP per capita increased by 2.5 times, standing over $2,500 in 2018.
In the medium-term, Vietnam has a very positive economic outlook. After reaching a peak at 7.1% in 2018, real GDP growth may slightly decelerate in 2019 due to weaker external demand and continued tightening of credit and fiscal policies, but it is projected to stem around 6.5% in 2020 and 2021. The country has remarkably maintained its inflation stable at single digits for seven consecutive years, trending towards 4%.
A manufacturing hub
What makes Vietnam a manufacturing hub? Wages are low and demographics are favourable, a large and growing workforce, the country is politically stable and geographically close to major global supply chains. Japanese, Korean, European and American businesses are setting up shop in the country.
By 2017, Vietnam was the largest exporter of clothing in the region and the seconder largest exporter of electronics (after Singapore). During the first 10 months of 2019, the industrial production index increased by 9.5 per cent compared to the same period in 2018, with manufacturing and processing industry up 10.8 per cent. While global trade is witnessing a slowdown, Vietnam's trade soared to 190 per cent of GDP in 2017 from 70 per cent in 2007.
Key economic regions
The Northern region includes provinces of Hanoi, Hai Phong, Quang Ninh, Hung Yen, Hai Duong, Bac Ninh and Vinh Phuc. This region is best positioned for China+1 manufacturing (a strategy wherein manufacturing in China is supplemented with few production units in Vietnam). Labour cost is lower than China, resulting in investments by heavy manufacturing and petrochemicals.
The central region includes the cities Da Nang, Thua Thien-Hue, Quang Nam, Quang and Binh Dinh. The region offers investors with less competition compared to northern and southern regions. Da Nang has emerged as hub for sea food, food processing and manufacturing.
The Southern region comprises provinces of Binh Duong, Binh Phuc, Long An, Ho Chi Minh City, Tay Ninh and Dong Nai. This region has recorded the most (793) FDI projects till 2017. This region is economically diversified and MSMEs find easy small and large scale investments. Ho Chi Minh City has become the hub for start-ups and tech entrepreneurs.
How Vietnam could turnaround its economy? The answer lies in three pronged approach – the country embraced trade liberalisation, it has complemented external liberalization with domestic reforms through deregulation and lowering the cost of doing business and finally, Viet Nam has invested heavily in human and physical capital, mainly through public investments.
Trade liberalisation
Various free trade agreements have been signed in the past 20 years making Vietnam a signatory to 16 bilateral and multilateral FTAs. Thus it shares the top spot with Singapore among East Asian countries for being a member for bilateral and multilateral FTAs. It joined the ASEAN free trade area in 1995, FTA with the US in year 2000, joined the WTO in 2007. Further ASEAN agreements followed with China, India, Japan and Korea, and in 2018, the amended Trans-Pacific Partnership came into effect. The vision behind these agreements was primarily to lower the tariffs imposed on both imports and exports to and from Vietnam.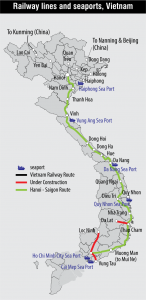 Domestic reforms
The year 1986 opened the gates for foreign companies to enter Vietnam through enactment of the first law on foreign investment. The law has been amended several times, making it proinvestor while limiting administrative bureaucracy to better facilitate foreign investment into Vietnam. These efforts did not go unnoticed. In the World Economic Forum's Global Competitiveness Report, Vietnam rose from 77th position in 2006 to 55th in 2017. In Ease of Doing Business rankings of the World Bank, Vietnam rose from 104th place in 2007 to 68th place in 2017. The country has progressed on everything from enforcing contracts, increasing access to credit and electricity, paying taxes and trading across borders.
Government's resolution for developing Vietnam's marine economy by 2030:
Sea-based industries will contribute about 10 per cent and the economy of the 28 coastal provinces and cities will make up 65-70 per cent of the country's GDP.
By 2030, Vietnam will successfully develop six marine economic sectors, placed in order of priority: tourism and marine services; maritime economy; exploitation of oil and gas and other marine mineral resources; aquaculture and fishing; coastal industry; and renewable energy and new marine economic sectors.
Vietnam will build and operate integrated seaports, international transshipment ports and special-use ports; complete logistics infrastructure and transportation routes linking seaports with localities across the country and other countries. It will develop a shipping fleet to strengthen supply chains.
Shipbuilding and repair, petrochemical refining, energy, mechanical engineering, processing and supporting industries will be developed.
The northern sea and coastal area (from Quang Ninh to Ninh Binh province) will be further developed, with Hai Phong and Quang Ninh to become a centre of marine economy, and Quang Ninh a national tourism centre connected with major international tourism centres in the world.
In the northern and coastal central region (from Thanh Hoa to Binh Thuan province), Vietnam will develop deep-sea international transhipment seaports equipped with industrial, oil and gas, electricity, renewable energy and clean industry complexes.
In the sea and coastal area of the southeast region (Ba Ria-Vung Tau province and Ho Chi Minh City), international container seaports, seaport logistics services, maritime safety assurance services and oil and gas exploitation and processing, allied industries and petroleum services will be developed.
In the southwest region (Tien Giang, Ca Mau and Kien Giang provinces), Phu Quoc island will be built into an international marine tourism center. Gas processing, gas-fired electricity generation, renewable energy, aquaculture and fishing, logistics services, and fishery infrastructure connected with major economic centers in the world will be developed.
Transport Strategy 2020
The plan forecasts total cargo volumes to reach 2.09 billion tonnes by 2020, of which 65-70 per cent will be moved by road, 1-3 per cent by railway, 17-20 per cent by inland waterway, 9-14 per cent by sea and 0.1-0.2 per cent by air.
Maritime infrastructure
Vietnam has 45 seaports with a total capacity of 470-500 million tonnes per year. Major ports in Vietnam include Hai Phong, Da Nang, Qui Nhon, and Ho Chi Minh City, in addition to a number of smaller ports, which takes the total count to 320. 80 per cent of exim container movement is transhipped through smaller ports and so shippers loose approximately $2.4 billion each year for not using deepwater ports. The government has a vision for seaports to handle 200 million tonnes of cargo by 2020 and double that volume by 2030. The World Economic Forum has ranked Vietnam 80 among 139 countries on the quality of port infrastructure. The country ranks lower than China, India, Thailand, and Sri Lanka.
The distribution of cargo among ports is uneven as 90 per cent of total freight is handled by two port groups in Hai Phong and Ho Chi Minh city. Ports in Ho Chi Minh City handle about 55-60 per cent of the total throughput in Vietnam, northern ports handle 25-30 per cent and Central ports handle just over 10 per cent of containerised trade. Thus, northern and central ports operate below capacity while the southern ports are over-burdened with shipments and congested.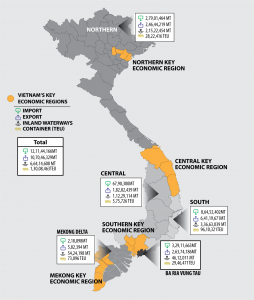 According to Bui Thien Thu, Deputy Director of Vietnam Maritime Administration, Vietnam's seaport system is currently divided into six groups with 45 ports, including 272 wharfs, two seaports of type IA (international gateway port); 12 seaports of type I (regional ports); 18 ports of type II (local general ports) and 13 ports of type III (offshore oil ports). Vietnam's seaports own about 92.2 km of wharfs, with a total capacity of over 500 million tons per year.
Currently, most of the regional major ports: Hai Phong, Da Nang, Ba Ria – Vung Tau and Ho Chi Minh City, have been upgraded to accommodate ships of 30,000 DWT. Many ports such as Cai Mep – Thi Vai (CM-TV) accommodate ships of 194,000 dwt. Cai Mep – Thi Vai port handles goods for Dong Nai and Binh Duong provinces, which are major manufacturing hubs in the South, and is popular on routes to the US and EU thanks to its deep-water capabilities. Major ports in Vietnam can be classified under north, central and southern regions.
North Vietnam
Hai Phong (aka Lach Huyen Deep Sea Port) and Vung Ang are major ports handling international container traffic in north Vietnam. In May 2018, the Haiphong International Container Terminal (HICT) – a deep-water port has been developed to accommodate large container ships, reducing the need for transshipment in northern Vietnam. The port allows for direct shipping between northern Vietnam and the US and EU markets.
The second phase of the port is expected to be completed by 2020. Previously, containers heading for Hai Phong or Vung Ang required transhipment via Singapore or Hong Kong. Avoiding this transhipment saves one week time along with international freight transport cost. The port is connected to the Hanoi-Haiphong expressway, the Tan Vu Lach Huyen Bridge, Cat Bi International Airport and its close proximity to China helps companies that use northern Vietnam as a China+1 destination.
The Lach Huyen port accommodates container ships of up to 8,000 teus. The port has 2 berths with six million tonnes of cargo handling capacity a year. The second phase of construction is scheduled for completion by 2020 and will increase the port's capacity to 30 million tons a year. Upon completion, the port will enable direct exports from northern Vietnam to the US and European markets, as well as eliminate transit through Singapore or Hong Kong. Northern Vietnam has become a hub for the electronics, automobiles and machinery sectors. The Deep C industrial zone near the port has already attracted 80 companies.
Central Vietnam
The major ports in Central Vietnam are the Quy Nhon and Da Nang ports, the latter being a deep-water port. In addition, the region has nine minor ports as well.
The Da Nang port handles the majority of the traffic in the central region, which links Vietnam to Myanmar, Thailand, and Laos. The port's proximity to the central city of Da Nang is an added advantage; the city's infrastructure is developing rapidly as it has become a hub for high-tech industries.
The Quy Nhon port is mostly used for transporting goods from Mekong Delta and western Vietnam, along with transhipping goods heading for Cambodia. The port infrastructure in the central region does not currently match the northern and southern regions, but it is poised for further development.
Southern Vietnam
The Ho Chi Minh City area consists of a network of ports with the Saigon port currently the 26th biggest container port in the world and the fifth biggest in ASEAN. This follows the Port of Singapore, Malaysia's Port Klang and Tanjung Pelepas, and Thailand's Laem Chabang in ASEAN rankings.
Ports in Ho Chi Minh City are the main gateway for the region, accounting for 67 per cent of the total throughput of all Vietnamese ports. The Cai Mep-Thi Via Port (Cai Mep) is a deep-water port located around 80 km south of Ho Chi Minh City. Cai Mep mostly handles goods for Dong Nai and Binh Duong, which are major production centers in the region, and is popular on routes to the US and EU because of its deep-water capabilities. Despite being a deep-water port with seven terminals, Cai Mep functions at only 30 per cent capacity, due to a large number of smaller ports in the region.
Smaller ports handle major chunk of trade
Smaller ports take away 80 per cent of the exim traffic, resulting in idle capacity at major ports. Some of the smaller ports are overburdened with traffic resulting in congestion and delays.
Maritime trade
Vietnam has a trade surplus with Western countries, but a growing deficit with its Asian neighbours. Vietnam is the second largest trading partner of EU after Singapore in ASEAN, with trade in goods worth about $56 billion and $4.5 billion in services, annually. Vietnam's containerised trade with EU is set to grow further through 2020 as the FTA comes into effect eliminating 99 per cent of Customs duties between the trade partners. About 71 per cent of duties on Vietnam's exports to EU have been removed with the remaining being phased out over a period of 7 years. 5 per cent duties on EU exports to Vietnam have been removed and the remaining will be phased out over a period of 10 years. As per IHS Markit's forecast Vietnam-EU trade will grow 3.3 per cent in 2019 over the previous year, 3.1 per cent in 2020 and about 4 per cent in 2021. Vietnam's exports to EU averaged 63,360 teus per month in 2018 and have averaged 66,696 teus in the first four months of 2019.
Having obtained duty-free access to EU, now Vietnam is competing against Bangladesh for apparel exports. "We are going to face tough competition as Vietnam has become a parity of us in the same market," said Mustafizur Rahman, a distinguished fellow of the Centre for Policy Dialogue. Bangladesh will face even tougher competition once it fully graduates from the LDC bracket in 2027 as the duty benefits would be withdrawn then. Exports to the EU will then face 12 per cent duty but Vietnam will continue to ship to the trading bloc at zero duty.
Road projects
Currently, Vietnam has nearly 1,000 km of expressways, and expects to build another 900 km by the end of 2021. Between 2021 and 2025, the government aims to build an additional 2,000 km of expressway. The North- South Expressway is a key project for the Ministry of Transport that has 11 sections that will stretch 654 kilometers from Nam Dinh Province near Hanoi to Vinh Long Province to the southwest of Ho Chi Minh City. Another crucial project is the construction of the Ho Chi Minh (HCM) Road project that connects Cao Bang with Ca Mau, with some $903 million required to finish the work by 2020.
Major projects set for development between 2016 and 2020 include new expressways to China – including connections between Hanoi and Lang Son, Van Don and Mong Cai, and Hanoi and Cao Bang – as well as connections to Cambodia on the Long Bing-Chrey Thom bridge route. Additional routes are planned for connections between Vietnam and Laos, Cambodia and Myanmar. A range of new routes have already opened along economic corridors between 2011 and 2015, including strategic connections between Hai Phone, Hanoi and Kunming, Hanoi and Nanning, and Hanoi and Shenzhen.

Improving rail infrastructure
Vietnam's proposed North-South High-Speed Railway is expected to improve transport quality for nearly half of the country's population. This 1,545 km rail line connecting Hanoi to Ho Chi Minh City with 20 stops may cost more than $58 billion. About 85 per cent of rail transportation in Vietnam will be on this railway line to be operational in 2020. It will reduce travel time from Hanoi to Ho Chi Minh City from 34 hours to 6 hours.
Master plan for dry ports
By 2020, dry ports will be able to clear at least 15-20% of containerised cargo, with an annual capacity of 4.035-6.845 million teu, including 720,000-1.81 million teu in the northern region, 65,000-175,000 teu in the central region and 3.25-4.86 million teu in the southern region. By 2030, the figures will be raised to 25-30% of the transportation demand and an annual clearance capacity of 12-17.6 million teu, including 2.75-4.82 million teu in the northern region, 350,000-630,000 teu in the central region and 8.9-12.15 million teu in the southern region.
The northern region plans to develop six dry ports in the coastal economic region, the Ha Noi-Lao Cai economic corridor, the Ha Noi-Lang Son economic corridor, Ha Noi's northwestern economic region, Ha Noi's southeastern economic region, and the Ha Noi-Thai Nguyen-Cao Bang economic corridor.
The central and central highland regions plan to develop six dry ports in the road 9 economic corridor, the Da Nang-Thua Thien Hue economic region, the Road 19 economic corridor, the central highlands region, the Nghi Son economic zone, and the Road 8 and Road 12A economic corridor.
The southern region will have three dry ports in Ho Chi Minh City's northeastern economic region, HCM City's southwestern economic region, and the Mekong Delta region. Total investment for development of dry ports will be VND9-15 trillion ($396-660 million) by 2020 and approximately VND20-22 trillion ($880-968 million) for the 2020-2030 period.
Till 2020, dry ports will be developed along the transport corridors connected with big gateway seaports in the northern region (Hai Phong port) and the southern part (HCM City Port, Cai Mep-Thi Vai Port), and some dry ports connected with trans-boundary freight corridors. Priority will be given to the dry ports linked to two modes of transportation, located near industrial parks, export processing zones, the planned first-class logistics centers, and large international border gates.
Industrial clusters
1,500 industrial clusters covering 49,000 hectares will be developed by 2020 and beyond. Consumer electronics-focused cluster will be set up in southern Binh Duong Province, visual electronics industries in Thai Nguyen, Bac Ninh, Bac Giang, Ha Noi and Hai Duong in the north, and information technology and other related services in Ha Noi, Ho Chi Minh City and Da Nang.
Textile and garment industries will come in the northern provinces of Thai Binh, Nam Dinh, Ninh Binh and Bac Giang and garment manufacturers will be in Ho Chi Minh City and the central region. The aquatic processing clusters will come in the Southwest, and clusters for processing seafood and agricultural products in coastal, central highlands and the northern midlands.
Tourism clusters will include Hai Phong-Quang Ninh marine ecological tourism cluster, Da Nang- Thua Thien Hue-Quang Nam leisure and entertaining tourism cluster, Khanh Hoa-Binh Thuan marine tourism cluster, Binh Dinh-Phu Yen-Ninh Thuan marine and nature tourism cluster, Ho Chi Minh City-Ba Ria-Vung Tau marine and urban entertainment tourism sector and Phu Quoc Island tourism cluster.
The capital city HÀ NÔI will have 159 industrial clusters spread over a total area of more than 3,200ha by 2030. About 138 industrial clusters with an area of more than 2,620ha will be developed by 2020, this includes 52 newly established zones spanning 590ha. Five existing industrial clusters having a total area of 45.4ha will be expanded and 21 new ones, covering 536ha, will be established during the 2021 to 2030 period.
The five northern districts of the city —Sóc Son, Mê Linh, Ðông Anh, Long Biên and Gia Lâm will attract projects related to electronics and information technology, engineering, automotives and production of new materials, besides pharmaceuticals and cosmetics.
The southern districts of Thuong Tín and Phú Xuyên will attract projects in high-tech farming and supporting industries, especially those serving the textiles and garments, footwear, mechanical engineering and electronics sectors. Districts in the western areas of the city, such as Hòa Lac, Xuân Mai and Mieu Môn, will focus on bio-industries for agriculture, hi-tech industries, construction materials and hi-end furniture production.
Vietnam currently has 807 industrial clusters covering more than 26,500 hectares of land, 680 of which have become operational, drawing 11,800 projects.