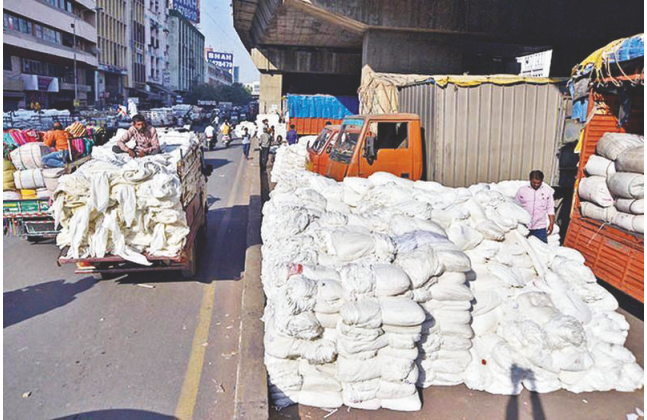 Even though the cost of moving textiles by rail is half of that by road, but still road remains the preferred mode due to efficiency and certainty in service
Gujarat is known as "Textile state of India," "Manchester of the East" and "Denim Capital of India."
The state has more than 1500 medium and large textile units and the textile market in the state is estimated to be around $25 billion by 2017. Ahmedabad alone is home to about 225 textile processing units with an estimated annual turnover of `18,000 crore.
Gujarat is at an advantageous position in the textile industry over states like Tamil Nadu, due to its position as the largest cotton-growing state. Cotton is grown on 16 per cent of the total cultivated land in the state. The state accounts for 33 per cent (largest) of cotton production in India. Gujarat is also the largest producer of denim (65 per cent) in the country and 3rd largest in the world, with a billion metre capacity. The state is also the largest manufacturer of man-made filament fabric (38 per cent) and man-made fibre (31 per cent). It is also the 2nd largest manufacturer of cotton fabric, producing over 390 million metres/annum and manufactures 30 per cent of the country's woven fabric.
Large fabric process houses are concentrated in Ahmedabad (250) and Surat (450). Gujarat is the leading technical textile manufacturer, contributes 25 per cent to the country's technical textile output and has 1000+ units worth $3 billion. Clusters of processing units are located at Surat, Ahmedabad (Narol) and Jetpur. Following the announcement of the Textile Policy in 2012, the state has increased its spindle capacity by 10 lakh units.
Advantage Gujarat
 Being the top cotton producing state in the country Gujarat produced 12.5 million bales in FY15. Premium quality of collton – Shankar-6 and BT cotton are commonly cultivated here. Of the total cotton produced, 90 per cent is sent to other states. Hosiery yarn makers make garments and sell it to top retailers such as Walmart and Macy's in the US. Almost the entire wool produced in the state is procured by other states such as Haryana, Punjab and Rajasthan for processing.
Surat – The textile processing hub
Bikes, trucks, vans and cars ferrying around colourful fabrics are a common sight on the streets of Surat. There are nearly five lakh powerlooms in Surat, which consumes yarn of about four lakh metric tonnes in preparing the grey fabrics. About two crore meters of grey textile is manufactured daily in Surat.
Exports
 India exports $6 billion worth of synthetic fabric per year, which is used worldwide – in Europe and the United States for "wrinkle-free" school and hotel uniforms, and by the garment hubs of Bangladesh and Vietnam in high-street fashion. Gujarat contributes 12 per cent to India's total textile exports and 60 per cent of the total cotton exports. Surat alone accounts for 40 per cent exports of fabrics from Gujarat, generating revenue of more than `500 crores.
 Elaborating on textile movement, Jitendra, Vakharia, President, South Gujarat Textile Processors Association says, "Majority of the exports consist of synthetic textile, while 10-15 per cent of the cotton produced is also processed and sent to garment industry mostly to Delhi, Mumbai, Kolkata and Chennai. Other markets include Uttar Pradesh, Bihar and Karnataka. Road transport is the predominant mode of logistics. Exports out of India mainly go to Dubai, Afghanistan, Indonesia and Europe. Most of the exports happen from Mumbai port and few from Kandla."
Road logistics
Daily about 1000 trucks loaded with textiles move out of Surat alone for distributing within India. It costs between `300-500 for moving one parcel of textiles weighing 60-70 kg from Surat to various destinations in India. Explaining the logistics details Ramlal Chaudhury, CEO, Mukesh International says, "For moving a parcel from Surat to Delhi there are two types of services: Express service and normal service. Express service delivers within 26 hours and it charges `4-6 per kg, while the normal service charges `3-5 per kg. For moving from Surat to Chennai `400-500 is charged per parcel. One truck can carry about 200-250 parcels.
Rail logistics
Rail service is very fast and the cost of moving goods by rail is half when compared to road, but the quota allotted by railways for moving textiles is insufficient and further needs to be improved, reveals Ramlal. Further there is always a chance of pilferage and theft while moving goods through rail, so exporters mainly prefer to move by road. Railways is mainly used for transporting textiles to Mumbai.
 It costs `5 per kg for moving one parcel from Surat to Mumbai through rail and it is `80 for Chennai. But for moving to long distances like Chennai rail is not preferred as there are multiple stop points en-route which create the gap for misplacement and theft of goods. About 40 tonnes of textile is moved by rail on daily basis from Surat.
Logistics by ship
Textiles are not moved by ship, but raw cotton reaches to either Tuticorin or Cochin ports from Gujarat. The Southern Indian Mills Association (SIMA) has urged the Union Government to relax Cabotage rule and permit foreign flag vessels to transport cotton, so that the freight charge could be decreased by 50 per cent of the existing cost.
The steep increase in truck freight has made transportation of cotton by road unviable. The current road freight fare for transporting cotton from Gujarat to Tamil Nadu is `865 per bale of 170 kgs each. On the other hand, Indian vessels charge between `590-730 per bale for transporting cotton from Gujarat to Tamil Nadu, which is higher than the fare of `433 per bale for transporting cotton from West Africa to Tamil Nadu.
 "Currently, the mills are spending `85,000 to transport 100 bales by lorry from Gujarat to Tamil Nadu, whereas, China is able to transport 150 bales of cotton from Gujarat to Shanghai at $100-$350 using empty cargo vessels returning in the same route," the SIMA Chief, T Rajkumar said.
He further adds, "Tamil Nadu produces only 500,000-600,000 bales of cotton per year against its annual requirement of 12.0 million bales, while Gujarat, which has 2.75 million spindles, consumes only around 1.5 million bales a year out of its annual production of over 10.0 million bales. To fill the demand-supply gap, Tamil Nadu mills procure over 10.0 million bales of cotton from other states, especially from Gujarat and Maharashtra." Almost 50 per cent of the cotton used for textile manufacturing in Tamil Nadu is purchased from Gujarat.
 Duty on bunker and other taxes are the major components that increase the shipping cost for Indian ships. To resolve the issue a joint memorandum has been presented by SIMA and INSA to the Ministry of Shipping to provide duty free bunkers for Indian flag vessels for carrying cotton on Indian coasts.
The dilemma with water transport
According to Karthik Durai, Director of Texprenuers Forum, transit by seas is difficult because there are not enough Indian containers. Further, it takes 25 days for the cotton to reach the mill, while the traders have to pay the ginners within 21 days. This delay in time forces them to transport cotton by road most times.
Calculating the cost difference, Karthik Durai says, if Cabotage is relaxed, the textile industry would save almost `250/bale. "Tamil Nadu purchases 70,00,000 bales from Gujarat every year, which translates into saving of about `175 crore." However, certain textile mills in Tamil Nadu have started using the shipping route for transporting cotton from Gujarat. In 2014 about 1200 containers were transported via sea.