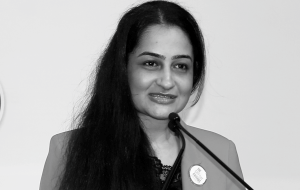 Sanjam Sahi Gupta, Director, Sitara Shipping Ltd and founder President of WISTA India, has been invited to be part of the Advisory Network to the High Level Panel for a Sustainable Ocean Economy. She is the only Indian in the grouping and has been selected for her role as a change maker.
The Advisory Network is composed of a broad-based group of like-minded individuals from a variety of sectors who will have a transformative and long-lasting impact on the welfare of the ocean and all those who depend on it.
The Panel consists of 14 leaders of coastal states at different stages of development. It includes the Presidents or Prime Ministers of Australia, Canada, Chile, Fiji, Ghana, Indonesia, Jamaica, Japan, Kenya, Mexico, Namibia, Norway (co-chair), Palau (co-chair) and Portugal. The UN Secretary-General's Special Envoy for the Ocean is a supporting member. The Panel is supported by a global group of scientists, a network of business and civil society leaders, and a dedicated secretariat.
The aim of the Panel is to create a new, shared understanding of the current and potential future state of ocean economy and ecology. The Panel will generate a set of pragmatic policy, governance, technology and investment recommendations and proposals in order to build a sustainable ocean economy. The Panel has the determination to trigger, amplify and accelerate worldwide ocean action in governance, technology, industry and finance, said a release.