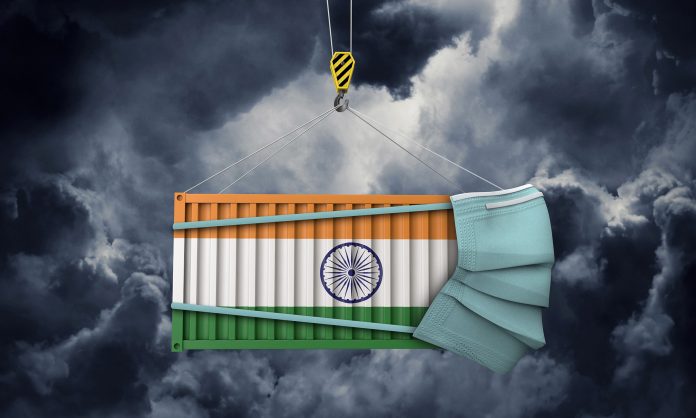 The COVID-19 pandemic has partially paralysed the logistics and supply chain, but the industry is still deterred to ensure supply of essentials continues 
The world is witnessing an unprecedented crisis, but it has brought an unprecedented focus on logistics and supply chain. The financial, societal and business disruption has seen demand drop across the board, including at ports, trucking and shipping industry, almost anywhere you look. World Trade Organisation has predicted the world trade to fall by up to 32 per cent this year. CRISIL has drastically cut the GDP growth forecast for India for 2021 fiscal to 3.5 per cent from the earlier 5.2 per cent. But shipping and logistics is the lifeline to global consumers and as per directives from the Ministry of Shipping, Government of India, the port sector has been declared as essential services, for maintaining of supply chain link within the country.
There are serious concerns regarding the overall earnings of Indian shipping companies in the first quarter of 2020. There has been a sharp drop in the dry bulk cargo movement since the third week of January 2020.  Indian port operators are experiencing a drop in cargo volumes since February start and no one is certain about turnaround time. Cargo movement at ports has seen a sharp drop of around 60 per cent in the last few weeks because of a huge fall in industrial production in the country. Ports across India are operating at capacities less than 30 per cent. The Centre's move to waive demurrage charges during the lockdown is acting as a disincentive for importers to figure out ways to move cargo.
Amid a scarcity of workers, cargo cannot be unloaded from ships, and goods can't be transported from ports to town due to a shortage of trucks. The CBIC has issued a directive for round-the-clock customs clearance at ports. Container shipping lines are idling vessels at a record pace, resulting in growing numbers of boxes being removed from trade network, as they go on cutting sailings on all major trade lanes.
Decline in evacuation at ports
At India's busiest container gateway – JNPT about 89,000 containers are lying at some 34 CFSs of which 9,000 containers have been granted out of charge by the Customs, but they are still not cleared due to lack of transport, factory closure or non-receipt of delivery order. According to traders the Mumbai-Pune Expressway – a major lifeline for movement of cargo is barricaded at Kalamboli.
For essential commodities like pharmaceuticals and agri products JNPT has created additional space because importers are not lifting material from CFSs. "The Customs department has notified ICDs belonging to CONCOR under the JNPT, giving the port more room to stack its containers. At JNPT, around $700 million of active pharmaceutical ingredients (API) and intermediates are blocked and another $300 million of finished goods are lying to be shipped.
Jawaharlal Nehru Customs House in Nhava Sheva declared ICD Mulund & ICD Tarapur as 'Extended Port Gate' of JNPT to help evacuate DPD boxes. Owned by Concor and Viraj Group respectively, the two ICDs are strategically located for importers in Mumbai and industries based in Gujarat. CONCOR shall also help in transshipping containers and supply rakes for moving containers en bloc by rail. CONCOR shall move the DPD/DPE containers from all terminals of JNPT to ICD Mulund for delivering to the Importer. The delivery shall be made to the importer at ICD Mulund only after Out of Charge (OOC) is given at JNCH. JNPT shall also coordinate with terminal operators in effectively utilizing the extended port gate. The Customs has also approved 43.27 hectares of land at JNPT as integrated centralized parking zone for loading and unloading of imported goods. Customs has advised CFSs to move OOC containers to empty yards or non-bonded areas for creating more space.
On a given day, APM Terminals Mumbai saw total gate activity of nearly 3,000 teus, with imports at 1,375 teu and exports at 1,624 teu, which is 60 per cent of normal gate productivity. DP World Nhava Sheva's combined gate numbers hit 1,758 teu on a given day in April, mostly imports. DP World Cochin's (Vallarpadam Terminal) gate movement pegged at 1,000 teu, which is 80 per cent of normal levels. PSA Chennai terminal saw 2,400 teu gate moves on a given day.
At least 50,000 containers are reported to be lying orphaned at CFSs and private container terminals in Tamil Nadu with no trucks available to transport them. All the ports operated by APSEZ, in addition to Gopalpur Port, Karaikal Port and Gangavaram Port have declared force majeure.
Updating on the state of affairs at Kolkata Port Trust, Chairman, Vinit Kumar said, "As of now we are operating at 70 per cent of our capacity. On the shipping side cargo operations are running down by about 20 per cent. There are challenges in storage and movement of containers and in organising labour. The issues is factories are also closed right now. Substantial movement is happening through rail." Visakhapatnam Port has recorded a 30 per cent shortfall in cargo handled in the first 10 days of April, compared to the same period in 2019.
Railways takes the lead in moving essentials
To address the snag, ports are also encouraging transportation of goods by railways. The national carrier has been operating freight trains since the suspension of passenger trains during the lockdown. Commodities such as coal and petroleum are no more a priority for railways as food grains are being unloaded faster because government-owned agencies move them for supply to the public distribution system. The railways loaded 1.71 million tonnes of food grains, flour and pulses, up 148 per cent over the 690,000 million tonnes during the same period last year. A similar drop in loading and unloading was seen in petroleum and iron and steel, where loading dropped by 63 per cent and 45 per cent, respectively. Indian Railways has waived demurrage, wharfage, stacking, stabling, detention and ground usage charges till May 3 for those using its freight services, treating the period as a force majeure. From April 1 to 12, to supply essential commodities for domestic consumption and for farmers, railways had transported 36,724 wagons-food grain, 861 wagons of sugar, 1,753 wagons of salt 606 tanks of edible oil and 14,317 wagons of fertilizer.
Specialised train services
South Central Railways is operating "Jai Kisan" special freight trains to ensure speedy delivery of food grains across the country. Regular freight train consists of 42 wagons loaded with 2,600 tonnes of food grains, but the special train will consist of 84 wagons loaded with 5,200 tonnes of the commodity. The North Central Railway has launched a helpline for placing freight service orders to ease supply chain. The pilot project SETU will make it possible to place orders of any size, for any item and it will be delivered even in the remotest part of the country. This is a customised delivery service and any one can place an order by calling the SETU helpline and a progressive reference number will be issued to the customer to track the shipment. On the first day of the project SETU delivered 40 tonnes of goods. The Konkan Railway operates Ro-Ro service wherein loaded trucks are carried on flat rakes to avoid congestion on the roads. In a rake, approximately 44 loaded/ empty trucks will be moved. During the lockdown the Ro-Ro model came to the rescue of many transporters in the Konkan region.
Road logistics goes off the road  
Briefing on the status of road logistics, AV Vijaya Kumar, Chairman, FFFAI said, "Absence of drivers has ensured that all road movements are only 10 to 15 per cent of the normal. Until last week a staggering amount of loaded trucks were abandoned on the roads by drivers as their movements was severely curbed and they had no access to food and shelter. Many drivers have left for their hometown for personal safety, there is a crunch of manpower to operate the trucks. Unless the drivers are able to travel back to cities to operate the vehicles this crisis will persist."
"The Indian trucking industry deploys more than 8 million drivers and 12 million helpers. As a baseline, 30 million people are directly employed by the trucking industry and more than 150 million people depend on it for their bread and butter. With road side food joints and restaurants, which are the lifeline for truck drivers, being closed why should the drivers be on the road to risk their lives?" asks Harpreet Singh Malhotra, CMD, Tiger Logistics.
The damage to truck owners during the first 15 days was about 3,500,200 rupees, which is an average of 2,200 rupees per truck per day. "More than 90 per cent of the country's crossover trucks are off when the roads are off because truckers are only moving basic goods. Even if this lockdown is removed, it will take at least 2 to 3 months for truckers to touch a normal value in earnings," said Novin Gupta, Secretary General, Indian Motor Transportation Congress.
Over two-thirds of India's heavy duty trucks and nearly 90 per cent of its entire road freight capacity are likely to remain idle during the lockdown. With most non-essential industrial activity coming to a halt during the lockdown, demand for freight transport has plunged. According to the Indian Foundation of Transport Research and Training (IFTRT), the lockdown has taken out over 75 per cent of road freight demand out of the picture. "60 per cent of the road cargo pie comes from the manufacturing sector, another 10-15 per cent from infrastructure and export-related activity. These sectors are hardly operating now," pointed out S P Singh, senior fellow, IFTRT.
As trucks are charging rentals for return load as well, the rentals for essential items like fruits and vegetables have shot up by 75-85 per cent against the rates prevailing till March 15. The rentals have risen despite waiver of toll fee, motor vehicle taxes, deferment of equal monthly instalments on truck loan and third party insurance policy cover on vehicles.
Customs goes digital
CBIC has taken a number of measures to facilitate and expedite the Customs clearance process, making it more automated. These measures include the facility to clear goods on the basis of an undertaking (not bond), acceptance of electronic Country of Origin certificate, etc. These steps complement the earlier reforms unrolled as a part of Turant Customs such as online query module, eSanchit, web-based goods registration, electronic processing of DGFT-issued licenses, machine release of imported goods based on Customs Compliance Verification, and electronic transmission of PDF-based first copy of Bill of Entry (BoE) to Customs brokers and registered importer.
The Board has now decided to enable electronic communication of PDF-based final eOoC (electronic Out of Charge) copy of BoE and eGatepass to the importers/Customs brokers. This electronic communication would reduce interface between the Customs authorities and the importers/Customs brokers and also do away with the requirement of taking bulky printouts from the Service Centre or maintenance of voluminous physical dockets in the Customs Houses. The Final eOoC copy of BoE and eGatepass copy will be emailed to the concerned Customs broker and/or importer, if registered, once the Out of Charge is granted. The eGatepass copy will be used by the Gate Officer or the Custodian to allow physical exit of the imported goods from the Customs area.
Highlighting the difficulties faced by Customs Brokers, Karunakar Shetty, President, BCBA revealed that original Bill of Lading and other required documents are not readily available with the Customs brokers as many importers and their representatives are located at different areas within and outside Mumbai. A mechanism must be created for submission of documents digitally as this can enable smooth facilitation of trade. The Customs broker profession is more of a field-oriented operation for facilitating cargo clearance, but abiding by the lockdown filing of documents, submission of Customs documents and duty payments are all being done through online modules. There has been a paradigm shift in the way of working across the chain towards adopting digitalisation and trust-based working.