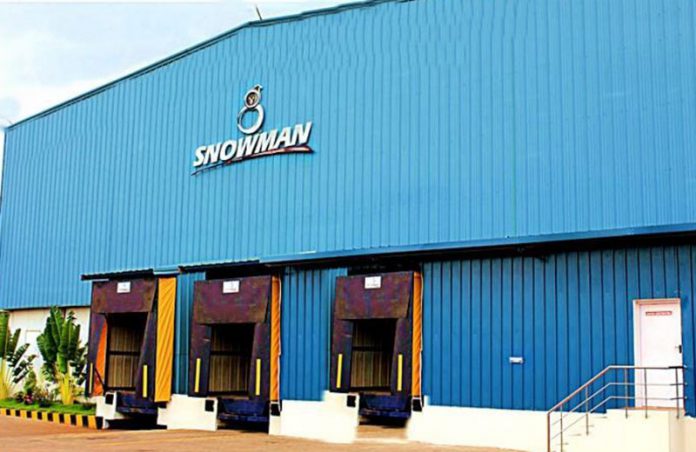 Snowman Logistics Ltd, India's leading cold chain and integrated temperature-controlled logistics service provider inaugurated its new temperature-controlled warehousing facility at the Gateway Distriparks Logistics Park at Krishnapatnam, Andhra Pradesh. The facility has a capacity of 3,600 pallets in temperature control and an additional 10,000 sq. ft of dry warehousing space, along with related infrastructure that includes seven handling and loading bays, G+5 racking systems, blast freezing, variable temperature chambers, technology integration and modern handling equipment. Another key feature is a dedicated room for value-added services relevant to the seafood export industry.
Further, as part of the 48-acre Gateway Distriparks Logistics Park, customers of Snowman will be able to avail of services such as Customs clearance, empty container procurement and port pick-up and delivery at the same location, resulting in cost saving from reduced transportation and enabling ease of business for all export and import activities. This will be a unique proposition to the industry and, among others, will service the flourishing seafood export market prevalent in the region.
With the addition of this new facility, the total capacity of Snowman Logistics has now increased to 1,07,200 pallets, as part of its ongoing expansion strategy.
Commented Prem Kishan Gupta, Chairman, Snowman Logistics Ltd: "Snowman strongly believes in creating state-of-the-art infrastructure, and our Krishnapatnam warehouse is an initiative that reinforces our commitment towards our valued clients. Our endeavour is to continue to expand our cold chain logistics network, providing our customers with efficient, cost-effective solutions, which will empower them to focus on enhancing their product and service quality. With the addition of the Snowman facility to the Gateway Distriparks Logistics Park, we are in a position to offer end-to-end solution to exporters and importers of temperature-controlled products. The resultant synergies will help unlock value for shareholders of both companies as well."