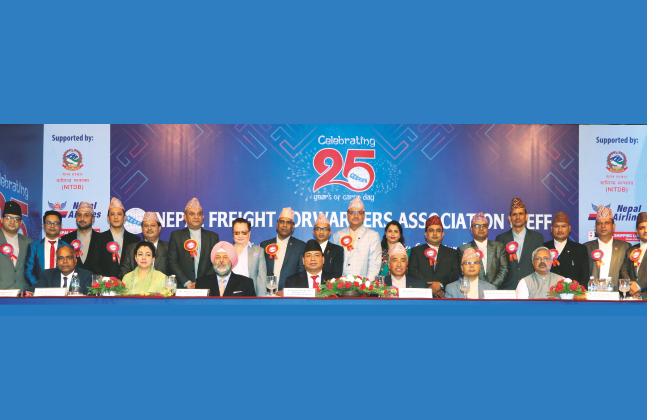 The role of freight forwarders in development of trade was once again brought to the fore on the 25th NEFFA Cargo Day
Nepal Freight Forwarders Association (NEFFA) celebrated its 25th Cargo Day on July 29, 2019 in Kathmandu. The program was chaired by President of NEFFA Mr. Prakash Singh Karki. Rt. Hon'ble Vice-President of Nepal Mr. Nanda Bahadur Pun graced the occasion as Chief Guest. The Vice President acknowledged contribution of Freight Forwarders in development of trade. Despite being dependent on seaports of neighbouring country, the freight forwarders are making humongous effort to make a difference from which whole nation should be inspired. The government is making tremendous effort to increase exports through revision of Multimodal Act, development of warehousing and CFS, Inland waterways and ECTS. He also insisted that the government should give concessions and privileges to the freight forwarder companies to compete with the international market.
On the occasion, the NEFFA Annual Award 2019 for its member category was awarded to Mr. Pramod Prasad Pandey, Managing Director of Kumari Air Freight & Ex-Board Member of NEFFA for his untiring contribution for the development of the industry. Similarly, the
NEFFA Annual Award for government and non-government category was awarded to Mr. Bhisma Raj Bhungana, Ex-Executive Director, Nepal Rastra Bank for his contribution and encouragement for the development of logistics industry, export and import of the country. Mr. Pushpa Raj Acharya – President, Society of Economic Journalist of Nepal for his contribution in media coverage of cargo trade fraternity and Mr. Ram Bahadur Thapa, Ex- Officer of National carrier Nepal Airlines Corporation were presented a "Certificate of Appreciation" for their contribution and support to Cargo fraternity. Similarly, Mr. Bukar Omerogul – Vice President Cargo Sales Middle East & South Africa, Turkish Airlines was presented a "Token of Appreciation."
The NEFFA Annual Award 2019 for airlines carrying highest outbound load of cargo from Nepal for first, second and third position was awarded to Qatar Airways, Cathey Pacific Cargo and Thai Airways International PCL respectively. The award for off line airlines was awarded to Emirates Sky Cargo. Presenting his welcome note, Mr. Prakash Singh Karki highlighted the revision of Multimodal Transport Act, Cargo Legal Liability Insurance Act, Value Added Tax and TDS problem in Nepalese Cargo Industry. Mr. Karki emphasized the need to construct CFS, warehouses, MMLPs and develop inland waterways in Nepal connecting Indian inland waterways NW1 and to review Trade & Transit Treaty and Railway service Agreement.
Mr. Manjeev Singh Puri, Ambassador of India to Nepal addressed the august audience about Indo Nepal relation having its uniqueness and assured Indian support for growth of Nepal trade. Mr. Kedar Bahadur Adhikari, Secretary, Ministry of Industry, Commerce and Supplies (GoN) highlighted the role of freight forwarders in development of logistics sector, supply chain, export and import of the country and efforts made by government for the development of this sector. Similarly, the program was addressed by President of Federation of Nepalese Chamber of Commerce, Mrs. Bhawani Rana, President of Confederation of Nepalese Industries, Mr. Satish Kumar More and Chairman of Federation of Freight Forwarders Association in India, S. Ramkrishna Rao.
The second session had a panel discussion on "Logistics Transformation & Opportunities for Future," wherein trade experts explored the current scenario of the logistics and way forward. The Third session saw certificate distribution to the participants of Dangerous Goods Regulation – Recurrent & Initial Category 3 organized by the association.