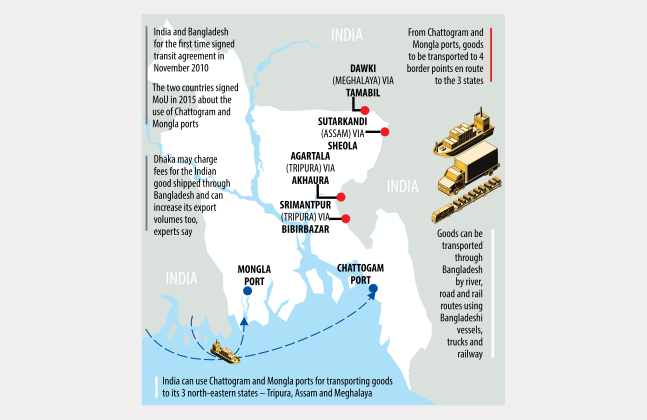 As Bangladesh opens its Chattogram and Mongla Ports to India, the landlocked north-eastern states of Assam, Meghalaya and Tripura will now have access to open sea trade routes
India has been working strategically to connect its north-eastern region with the rest of the country through Bangladesh. During a recent visit to India, Prime Minister of Bangladesh, Sheikh Hasina agreed to allow Indian trade use Chattogram and Mongla ports. This enables India to carry freight using Bangladesh's river, rail lines and roads. As per the SOP, goods that reach Chattogram and Mongla sea ports, will be carried to Agartala (Tripura) via Akhaura; Dawki (Meghalaya) via Tamabil; Sutarkandi (Assam) via Sheola, and Srimantpur (Tripura) via Bibirbazar. Thus, the landlocked Assam, Meghalaya and Tripura states will be able to access open sea trade routes through Chattogram and Mongla ports.
India is developing the infrastructure needed to carry freight through Bangladesh, avoid lengthy detours through road and rail for connecting north-eastern states, saving on time and money. Tripura will be connected to Chattogram Port through the Feni Bridge over the Feni River in Sabroom town of South Tripura and Ramgarh in Khagrachhari. India is constructing the roads and railways to Sabroom as part of its massive development works in the northeast.
Experts say that Bangladesh should try to reap as much benefit of the new regional connectivity as possible. The improved connectivity can also help Bangladesh, which is located between South and Southeast Asia, to become a regional hub and growth centre. Dhaka may charge fees for the Indian goods shipped through Bangladesh and can increase its export volumes too.
India has so far provided three lines of credit (LoCs) worth $7.5 billion, and majority of the money is meant to develop infrastructure needed for the connectivity through Bangladesh. Bangladesh is in the process of constructing a bay container terminal in Chittagong Port, further developing Mongla Port, and building four-lane highways for Ramgarh- Baruerhat, Cumilla-Brahmanbaria- Sarail, and Ashuganj river port-Sarail- Dharkhar-Akhaura land port routes. Using India's line of credit, Bangladesh is also establishing an inland container river port in Ashuganj, doubling the rail lines from Khulna-Darshana Junction and upgrading the metre gauge lines to dual gauge lines from Parbatipur to Kaunia. Indian economic zones in Mongla, Bheramara and Mirsarai and an IT Special Economic Zone in Keraniganj are also being developed.
The river protocol
The first transit agreement between both countries was signed in 2010. In 2015, India gained access to four river ways in Bangladesh which could connect Kolkata and Murshidabad to Assam, Tripura and Meghalaya. In 2016, Kolkata-Ashuganj- Akhaura river route became operational, but till date as many as 13 cargo vessels sailed on it as the connectivity infrastructure such as roads and ports were not ready. In the recent visit of Prime Minister Sheikh Hasina, the two countries decided to utilise a river route from Murshidabad's Dhulian to Tripura's Sonamura via Rajshahi. Under the 2015 river protocol, vessels were allowed to carry a maximum of 2,000 tonnes of cargo. But now larger ships would ply the waterways, increasing the trade volume and reducing logistic costs.