Infrastructure and capacity at land and seaports is being increased. Time and cost of import-export trade clearance will be reduced by 30 to 40 per cent
Bangladesh has demonstrated remarkable development performance over the past few decades, with consistent growth averaging 6% a year since 2000. The country has attained 'lower-middle income status' in 2015 and is on the run for graduating into a 'developing country' by 2026. The grand vision is to become a 'High-Income Country' by 2041.
Bangladesh's stellar development so far has been primarily export-led. Over the years, Bangladesh has become an important player in the global textile and ready-made garments value chain.
Records of Bangladesh's exports show an annual average growth of about 10.25% since 2001. The target is to achieve $100 billion worth of RMG exports by 2030. This requires uninterrupted supply chain in terms of raw material procurement and assured shipping sched[1]ules for exports. There is no room for consignments missing shipping targets due to port congestion or disruptions in supply chain.
Bangladesh's port sector is in the cusp of massive expansion that prompts stakeholders to suggest bigger private-sector involvement to ensure efficiency in operation of the seaports. The country's ports have a combined capacity to handle around 4 million TEUs, which is expected to rise to more than eight-million teus by 2026.
"After the engagement of the private sector, we have seen improvement in operations in Chittagong port," said Dr. Mustafizur Rahaman, Distinguished Fellow, Centre for Policy Dialogue. Presently, Chittagong seaport alone dominates the port sector by handling 97 per cent of the country's export-import cargoes. The port's present capacity is around 4.0 million TEUs, and with the construction of the Bay terminal, the capacity will expand by over 2.0 million TEUs. And the commencement of Matarbari deep-sea port will add another 2.5 million TEUs to the capacity. Mongla seaport is also having two modernisation projects under which it is going to have another six jetties for trade handling.
Mongla Port is gradually flexing its capacity to welcome larger ships, such as the MV Tokyo with 8-metre draught (the first of its size) that berthed at the port last year. Mongla is now set to become a key player after the opening of the Padma Bridge, which establishes direct 170km road link between the capital and the seaport. The port is being upgraded to make it a regional trading hub for India, Nepal and Bhutan. The port has a capacity to handle 0.1 million TEUs with 50 berthing facilities, 153 cargo-handling pieces of equipment and 38 assisting vessels. The port will be able to handle 24.9 million tonnes of goods in 2030 and 47.4 million tonnes in 2040.
Payra Port Authority has also taken up expansion project to increase its 80-metre jetty to 600-metre one. Completion of the ongoing dredging project would allow ships with 40-50 thousand DWT for berthing in the seaport.
"Chittagong Port was once plagued by labour unrest, but now the same port has advanced three steps in a year and became world's 64th busiest port in terms of annual throughput of containers in 2021. It was ranked 87th in 2014," recalled Mahbubul Alam, Presi[1]dent of Chittagong Chamber.
The 2022 edition of Lloyd's List's One Hundred Ports showed the Chittagong port handled a total of 3,214,548 TEUs of containers in 2021, up from 2,839,977 TEUs in the previous year, posting 13.2-per[1]cent year-on-year growth in container handling.
Cargo handling by the port posted 13-percent year[1]on-year growth in 2021 as the port handled a total of 116.6 million tonnes of cargoes in 2021, up from 103.2 million tonnes in the previous year.
To increase the capacity of the Chittagong port, last year, Saudi company RGST was selected for construc[1]tion of the Bay Terminal beside the Chittagong Port.
The new facility will feature a 600-metre quay and will be able to handle three vessels simultaneously.
The Bay Terminal, capable of handling domestic and regional cargo passage in the Bay of Bengal area, can help increase Chattagram Port's capacity from the current 3.2 million TEUs, to the expected 5.6 million TEU containers by the year 2036.
Streamlining the exim mechanism
The Bangladesh Export Processing Zones Authority (BEPZA) has hit an all-time high growth in its journey of 40 years in the fiscal year 2021-22. Exports & investment increased by 30.4% and 20%, respectively. Bangladesh is going to start moving exports to India by rail. Imports through rail from India saw a sharp rise in the last two years. In the first 10 months of fiscal 2021- 22, the Bangladesh Rail brought in 29.92 lakh tonnes of goods from India. Earlier this year, India lifted the restrictions on importing goods from Bangladesh via trains, and Bangladesh Railway (BR) fixed the shipping costs. Sri Lanka has already allowed Bangladesh to use the Hambantota port.
Bangladesh- Sri Lanka annual trade volume currently stands at $61 million. The Customs authority under the National Board of Revenue (NBR) is going to introduce 'business process reengineering' mechanism with the support of USAID to curtail the number of import-clearance steps in sea, air and land ports. Time and cost of im[1]port-export trade will be reduced by 30 to 40 per cent once the reengineering is completed, officials said.
USAID is providing technical assistance to the NBR and already has submitted a report by sorting out the unnecessary steps occupying import-export process.
A Time Release Study-2022, conducted by Customs officials revealed that importers have to complete the import-clearing process by passing through – 32 steps at Chattogram seaport, 28 steps at Benapole and 25 steps at Hazrat Shahjalal International Airport.
During fiscal year 2013-2022, the number of im[1]port bills of entry processed by CCH registered a 161.1-percent rise. In FY 2022, imports worth $ 73.3 billion and exports worth $ 37.6 billion were pro[1]cessed through CCH.
However, manpower and infrastructure have not been developed on that scale to manage such large volumes of export-import goods. Influx of appropriate digitalisation along with skilled human resources will expedite import/export clearance, while bringing down the cost.
Rising inflation
The forwarding charges for each import bill have increased from $20 in 2010 to $35 in 2013 and it currently stands at $55 per import bill. Rising fuel charges is causing this ripple effect which pushed the rate increases by the Bangladesh Inland Depots Association (BICDA) for diesel-linked service charges by 25%. Importers are the primary payee of the additional forwarding costs, which will raise the price of imported goods at a consumer level, while the export industry will also suffer, as raw material sourcing will cost more. Businesses have also been hit hard by rising trucking costs, as the majority of transport runs on diesel, which has seen a 42.5% price rise.
Bangladesh has also been in the spotlight recently for emerging as an important transhipment hub for connecting the north-eastern states of India.
Connecting India's northeast
A transit agreement between Bangladesh and Bhutan has been finalised enabling Bhutan to use Mongla seaport and Banglabandha and Sonarhaat land ports for moving its cargo. Bangladesh will impose a transit fee on Bhutanese vehicles for using the ports as per standard practices.
During a visit of Prime Minister Sheikh Hasina to India in 2019, a SOP (Standard Operating Procedure) was signed to operationalize the agreement for transhipment of good to northeast states via Bangladesh.
There are eight approved routes for transit of goods, namely Chittagong/Mongla port to Agartala via Akhaura, Chittagong/Mongla port to Dawkivia Tama[1]bil, Chittagong/Mongla port to Sutarkandi via Sheola, Chittagong/Monglaport to Srimantapur via Bibirbazar and vice versa on all four routes.
The first trial movement on the route Chittagong-Akhaura-Agartala was successfully conducted in July 2020 wherein four containers, two each of TMT steel and pulses, were delivered at ICP Agartala from Kolkata through Chittagong Port. On September 3, CJ Darcl Logistics flagged of cargo ships from Kolkata Port. The cargo ships are scheduled to follow Kolkata – Chattogram – Sheol & Tamabil- Chattogram-Kolkata route as part of the trial run.
Post unloading at Chittagong Port, the goods will be sent to the state of Assembly road through the Sheola land port in Sylhet. India is eager to begin regular tran[1]sits between Kolkata and key cities in its northeastern states through the ports in Bangladesh as it would cut the 1,200 KM distance by about half.
A similar transhipment trial was done on September 7 by cargo vessel named Trans Samudera that arrived at Chittagong port carrying an Indian transit container to be transported to the northeastern state of Assam via Bangladesh. The trial run was undertaken by Tata Steel and CJ Darcl Logistics Ltd on the Chittagong-Sheola-Sutarkandi route.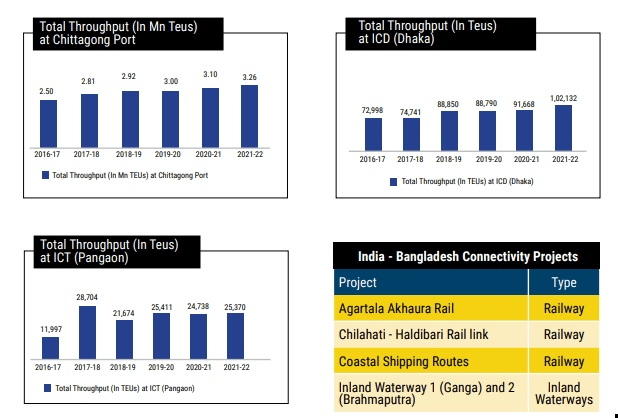 For more such insightful articles read our South Asia Container Market Report 2022 at the below link: