Growing beyond transhipment, Sri Lanka plans to evolve into a full-fledged maritime hub where partly finished goods can be developed for re-export, ship repair services and maritime arbitration services can be offered
During the past few years Sri Lanka has been through a double whammy effect of the pandemic, followed by the political and economic turmoil. But the Port of Colombo, which caters mainly to transhipment cargo has always been almost entirely insulated from Sri Lanka's domestic issues, be they political, security or economic. Transhipment volumes over Colombo have grown at a historical CAGR of above 9% over the past 15 years. In this backdrop, the Port of Colombo has clearly charted out its growth plans and intent through the currently ongoing development of the West Container Terminal by Adani Ports led Consortium and the East Container Terminal by the SLPA; transhipment volumes over Colombo will continue to grow, particularly given the significant growth trajectories in South Asian economies led by India.
Disruption at the Colombo Port due to the pandemic and economic crisis saw certain maritime traffic diverting to Indian ports temporarily. The International Container Transhipment Terminal (ICTT) in Kochi, Kamarajar Port Limited and VOC Port had all reported increase in container traffic in the past few months.
However, the Sri Lanka Ports Authority was quick to bring the port operations back into sync. Ted Muttiah, Chief Commercial Officer, SAGT shares, "The Port of Colombo consists of 3 terminals: CICT, the latest and the only deep draft facility in South Asia, SAGT is the first private terminal that was established in 1999 and of course, Jaya Container Terminal (JCT) which is a government operated terminal. All the 3 terminals, like many in the region and globally did, at the outset of the pandemic, had some disruptions, but the 3 terminals currently are working in close operational collaboration and have now normalized the port operations in Colombo. The disruptions were mainly because containers were not moving as importers and the truck drivers could not clear them, as they were in the lockdown areas. Due to these reasons some container lines also skipped calls at the port temporarily, but all of it is now a distant past." To facilitate trade, the Sri Lanka Ports Authority waived demurrage charges, storage charges and rent levied from shipping lines, consignees, importers and exporters With a stable government in place the island nation is busy flexing its maritime infrastructure to get ready for the future cargo growth. "The government wants more public-private partnerships (PPP) to take place enabling the private sector to invest in state sector and earn benefits," opined Minister of Aviation and Shipping, Nimal Siripala de Silva. He added, "In the port of Colombo while we have our own two terminals, another one is being built at the ECT, and then there is this WICT, which we have given to Adani Group as a joint venture. The other terminal is SAGT which is jointly done with John Keells. We have another terminal also of JCT as JCT5. We have to invest $75 million towards Eastern Terminal (ECT) development. We have a road map on how to find Dollars and ensure that the ECT becomes a reality. For the JCT, we are investing another $400 million to expand the capacity and bring in automation."
The sunny days are back in Sri Lanka as business in 2021 was good with the Port of Colombo (PoC) handling its all-time highest volume of 7.25 million TEUs in the calendar year, a YOY growth of almost 6% over 2020. This increase was mainly on the back of a 5% growth in transhipment volumes, which represent[1]ed 84% of total throughput, primarily to/from India and Bangladesh and a 10% growth in domestic cargo, driven by a surge in imports. 59% of transhipment is coming from Indian market, lower than previous year share of 70% due to increased direct callings at west & east coast ports of India. The year 2022 has yielded a mixed bag, with volumes growing steadily until April 2022 and thereafter beginning to taper slightly on the back of an easing in global demand.
Sri Lanka's container transhipment volumes fell 4.5% from a year ago to 4,83,070 TEUs in June 2022 (Total containers handled in June fell 9.3% to 577,082 TEUs) as domestic imports also fell, as the economy was contracted to stabilize a soft-peg which collapsed due to earlier money printing. The Colombo Port saw volume increases of about 6% in 2021, while transhipment volumes grew by 4.2% to 5.85 Mn TEUs. In early 2022, Colombo Port began phase two of its Eastern Terminal extension which will allow it to handle the largest container vessels.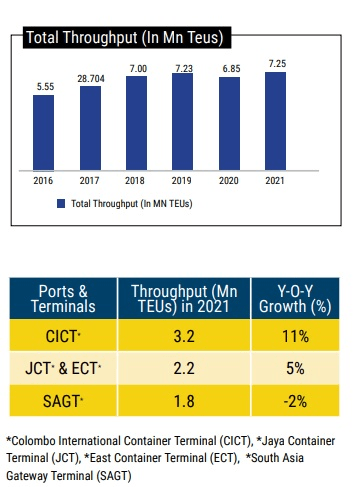 Feeder services get costly
As freight rates continue to rise with rising oil prices, feeder services get costly. Southern India shippers — predominantly tethered to foreign transhipment in the absence of sufficient direct mainline connections out of home ports — are facing a new challenge: rocket[1]ing feeder charges at Sri Lanka's Colombo Port. As reported in February 2022, average feeder fees from Cochin or Tuticorin to Colombo have doubled in recent weeks, hitting $200 per TEU, as compared to $95 per teu a few weeks ago. Feeder and short-sea carrier sources attributed the increase to high charter costs because of deteriorating vessel turn times caused by port slowdowns and rising fuel prices. Sources said feeder vessels are incurring an average waiting time of two to three days at Colombo.
Other factors constraining feeder shipments from India and timely removal of containers at Colombo include the tightening foreign exchange situation in Sri Lanka after the local rupee sharply depreciated against the US dollar, while internal remittances — mostly generated by the country's mainstay tourism industry — declined amidst the pandemic disruption.
The same is the scenario with Bangladesh. Raw material from Colombo is shipped to Bangladesh and mostly apparel exports from Bangladesh are shipped to Europe and US via Colombo Port. As the freight charges have shot up the feeder business has become very lucrative.
Ocean Network Express (ONE) has announced the start of a new feeder service between India, Sri Lanka and Singapore. In January 2022, the Ceylon Shipping Corporation started a container feeder service between Colombo and Bangladesh and this will be followed by a second service between Colombo and Oman. Ceylon Shipping Corporation (CSC) Chairman Sudhammika Wineendra said they have already approved a MoU to be signed with the Bangladeshi Shipping Corporation soon. Talks are in progress with the Oman Ambassador in Sri Lanka to launch a feeder service from Colombo to Oman for containerised cargo. Two container ships that could carry around 1,000 to 1,500 TEUs will be hired for this operation.
Soon RFP's will be invited in this regard. Bangladesh-based container ship operator HR Lines Ltd has also launched the Colombo-Chattogram feeder service with two container vessels initially with a capacity of 1,454 TEU each.
Few years back Qatar-based Milaha had started direct feeder service between Sri Lanka and Bangladesh.
Called the BCX service, it operates two vessels with a capacity of 1,200 TEUs, following a Colombo-Chittagong-Colombo rotation with a transit time of five days.
Reforms to lift the economy
As the new government headed by President Ranil Wickremesinghe came into power he focused on debt-restructuring in collaboration with the IMF A National Economic Policy for the next 25 years is being prepared to bring down the public debt to GDP ratio to less than 100. He said focus on logistics and nuclear energy will be required to revive the bankrupt economy. The FTA between Sri Lanka and India will be revived and upgraded to a comprehensive economic and technological partnership. The Sri Lankan Government has decided to open the fuel import and retail sales market to companies from oil producing nations. The Ceylon Petroleum Corporation (CPC) will be the service provider for logistics, stocking and distribution with a service fee charged from the companies.
With infrastructure upgrade plans in place Colombo Port plans to increase its container handling capacity to 14 million TEUs in 2025-26. The existing capacity at Colombo Port is 8 Mn TEU, to which 6 million TEUs will be added by 2025 by developing the East and West container terminals with a depth of 20 meters and having Quay Cranes of 26 across reach. Another 10 Mn TEUs will be added in the North Port which will give a total of 24 million TEUs capacity at Colombo Port by 2040.
The port of Colombo looks forward to position itself as an international flow centre where you can bring partially completed goods and finish them off in Port of Colombo within the customs-controlled area and then re-ship them out. So, this is re-shipping of transit for re-export. The port also has potential for ship repair and maintenance operations, without the need for a ship to get into a dry dock. Maritime arbitration is another aspect, Singapore has done a wonderful job in that regard as to providing maritime arbitration.
All of these factors contribute to positioning a location as being an effective maritime hub, and not just a transhipment hub.
For more such insightful articles read our South Asia Container Market Report 2022 at the below link: