With a stable government in place focusing on industrial and infrastructure development, Nepal is looking forward with a renewed hope for better logistics facilities in its hilly terrain, to bring down its logistics cost and make exports more competitive in the global market
Sitting in the lap of the mighty Himalayas, logistics has not been easy for this landlocked nation with a hilly terrain. A recent UNESCAP report reveals that the cost of logistics in a landlocked country is 15 per cent higher than the coastal countries and many of the senior logistics professionals and bureaucrats in Nepal bear witness to this fact. "Our logistics cost is very high, it shows that we are very week in logistics infrastructure. We need joint ventures to develop logistics infrastructure in Nepal. We are trying to initiate our government to make the policy for the logistics development. We need joint ventures in this sector," avers Ashok Kumar Agrawal (Temani), Chairman, Road and Transit committee, FNCCI Kathmandu.
The high logistics cost has directly impacted the international trade of Nepal which has seen trade deficit grow over the years. Nepal's trade deficit with its major trade partners – India and China has been growing Y-o-Y as high logistics cost makes their exports less competitive. Nepal's exports to India in 2017-18 were `46,604.8 million, while imports from India during the period were `8,09,814.2 million. Similarly exports to China were valued at `2,437.8 million, while imports from China stood at `1,59,636.3 million.
A major factor for the slow pace of logistics infrastructure development in Nepal has been the political instability, points out Temani. "Due to political instability the economy has suffered from last several years. The local development elections was pending from last 20 years and the same situation has been for the parliament elections due to making process of new constituency in the country."
With a stable government in place, the first Nepal has enjoyed in over a decade, there are hopes that more jobs will be created, new industries will be set up, and infrastructure – such as roads, airports, and hydropower projects – will be built. And Prime Minister, Khadga Prasad Sharma Oli (K P Oli) known as a "man of his words" is ready to deliver. The focus will be broadly on four areas: agriculture, energy, tourism, and infrastructure development. On the infrastructure front the new government plans to construct and upgrade highways and build railways.
The global Logistics Performance Index (LPI) report prepared by the World Bank last year shows a marked improvement in customs procedures, trade logistics quality, tracking system and timeliness of delivery that has put Nepal at 2.51 on the LPI as compared to 2.38 in 2016. The country's index in customs efficiency was improved to 2.29 from 1.93. However, the improvement in quality of trade and transport related infrastructure has been a bit slow with a fall in index to 2.19 from 2.27.
An array of initiatives are being taken by the government to improve the logistics infrastructure. The landlocked nation is surging ahead with plans to create a national shipping line. Prime Minister, Khadga Prasad Sharma Oli recently opened the Nepal Ship Office in Ekantakuna just to the south of the capital Katmandu, near the banks of the 600 km-long Bagmati River. Going by Oli's vision the Nepal flag will soon be seen moving in oceans across the globe. Three years ago, during his first stint as Prime Minister, K P Oli had voiced his vision of "Ships flying the Nepali flag will sail in the Indian Ocean and the Pacific Ocean." Oli aims to buy ships for riverine trade through the mountainous country for onward shipment through Indian ports, likely by rail connections.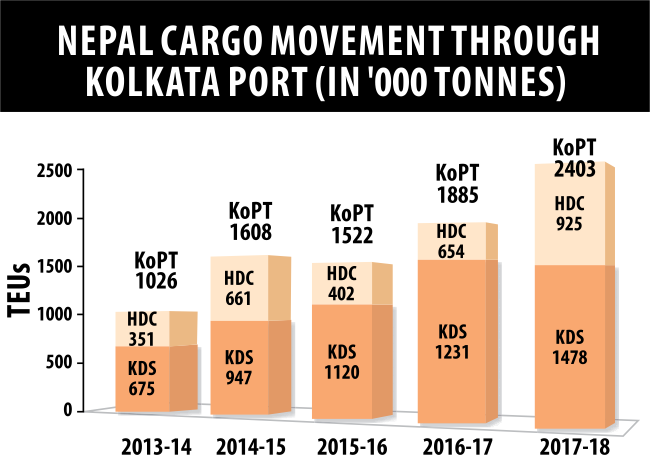 Giving a brief overview on the movement of Nepal cargo from third countries through Indian ports, J Bhandary, MD, Translog-Ship Pvt Ltd says, "Total inbound logistics towards Nepal coming from third countries is around 90,000 teus per anum, of which around 30 per cent is coming through Vizag Port and the remaining 70 per cent through Kolkata Port. Maersk Line has recently started providing connectivity from Vizag Port up to ICD Birgunj and is offering assurance to not have any contradetentions until the cargo reaches to ICD Birgunj. Maersk is offering a five day free time for importers to return the containers at ICD Birgunj and this proposition is very attractive for importers in Nepal. Earlier, containers moved through road from Indian ports to Nepal and in the process the free time was getting exhausted resulting in extra charges for the importers."
"Now Kolkata Port has come forward with ECTS wherein a similar sort of service that Vizag offers is being given to importers. This has made the role of CHAs in Kolkata redundant – there are about 44 CHAs operational in Kolkata currently. Moreover, the ECTS is going to eat into the business of the road transport operators as well, over a period of time, sparing a few operations like project cargo, reefer containers and LCL, but major cargo are going to be moved by CONCOR. In future, all the third country shipments coming to Nepal will be moved by CONCOR, until some private rail operator steps in. But CONCOR has to improve its services as well because if sufficient rakes are not moved then containers get piled up in Kolkata and Vizag Ports. The single gauge line from Muzaffarpur to ICD Birgunj needs to be made double gauge to expedite movement of cargo. From Muzaffarpur to Raxaul the double gauge line is under construction."
Earlier, about 2000 containers per month moved from Indian ports to Nepal, but with the ECTS facility the number may go up to 5000 containers. Making a rough calculation of the number of rakes required Bhandary says: even if one rake moves 90 containers, for moving 5000 containers per month atleast more than 50 rakes is required per month. In this scenario atleast two rakes have to be moved per day, as compared to the current scenario of one rake daily.
Trade through Kolkata Port
Historically, Kolkata Port has always been the major partner in handling overseas trade of Nepal. Kolkata Port shares more than 90 per cent of Nepal's third country traffic in volume terms. Of the total trade happening through Kolkata Port, around 98 per cent accounts for imports, mainly fertilisers, Iron and steel, vegetable oil, pharmaceuticals, rapeseed, rice, peas, electronics and chemicals. Exports mainly consist of woollen carpets, garments, leather goods, sesame seeds, niger seeds. In the year 2013-14 about 10,26,000 tonnes of Nepal cargo was handled at Kolkata Port (675000 tonnes at Kolkata Dock System and 351000 tonnes at Haldia Dock Complex). These volumes increased to 24,03,000 tonnes (14,78,000 tonnes at Kolkata Dock System and 9,25,000 tonnes at Haldia Dock Complex), marking a 134 per cent growth during the period and a CAGR of 23.7 per cent.
Kolkata Customs has notified a new simplified procedure for movement of Containers by rail from Kolkata to Nepal. The facility, which was first adopted at Visakhapatnam Port is being extended to Kolkata Port on request from the Govt. of Nepal. Under this system, the Indian Customs have waived the requirement for a Nepal's importer of filing a Customs Transit Declaration (CTD) at Kolkata Customs. The entire documentation for transit of container is provided by the shipping line and the Nepal traders are not required to interface with Indian Customs. Hence, the import for Nepal's traders becomes a seamless process, which only begins by filing a declaration at the Nepal. This process is similar to transhipment of containers from a Port to any Inland Container Depot. The new process greatly reduces time and the end-toend cost for Nepali traders (roughly per container savings of $200). The predictability of dispatches are also higher.
Facilities offered at Kolkata Dock System for Nepal cargo
Nepal-bound containers get a rebate of 10 per cent on composite box rate.
Rail-bound Nepal containers get 20 days storage free time.
Rent free period of 10 days after landing for Nepal road containers
Break-bulk Nepal cargo gets a week free time after last landing date.Major shipping lines have extended benefits like 14-21 days detention free time for Nepal with free drop off at ICD Birgunj.
Additional 35,000 sq.mt area being developed at container terminal to ease pendency of containers.
Special Nepal customer care cell with a nodal officer for close cooperation with Nepal trade
Direct Port Delivery allowed for Nepal containers.
Electronic Cargo Tracking System(for GPS tracking, intermediary free environment for transshipment of Nepal rail boxes from Kolkata implemented from 15th February 2019 which brings down the dwell time, detention and improve logistic efficiency.
Facilities offered at Haldia Dock Complex for Nepal cargo
Transit storage Plots for Nepal bound cargo allotted up to 180 days without any penal charges
No demurrage/penal charge for occupancy beyond 180 days, provided Indents for cargo movement by rakes are filed after observing necessary Port & Customs formalities, at least 7 days before expiry of plot license. Such benefits not extended to the Indian importers/ exporters.
Concessional box rate for haulage & terminal charges (50 per cent discount in the existing haulage & terminal charges).
Extension of free time up to 20 days for storage of rail bound Nepal import containers and upto 10 days for road bound Nepal import containers.
Proposed to increase free time up to 20 days for storage of road bound Nepal import containers. Kolkata Port has allotted 4886.15 Sq. m land at CGR road in the vicinity of N S Dock for Nepal Transit Warehousing Corporation Ltd. to develop CFS. About 6985 Sq m. of open land has been allotted at Haldia Dock interior zone. Hardstand / Bare land is also allotted inside the dock for transit storage of Nepal bound cargo.
Visakhapatnam Port
Movement of Nepal traffic through Visakha Container Terminal started in June 2017. While imports to Nepal are happening on a regular basis, exports are yet to kick start. The terminal handled 2171 teus in 2017 and 15093 teus in 2018. Major commodities imported include food products, pulses, machinery, steel, electricals, chemicals, cashew, garments, seeds, wood, glass, building material, oils and fuels, furniture and ceramics.
"The focus is on infrastructure development and to minimise cost, time and risk of trade by introducing smart logistics services. Ships flying the Nepal flag will sail in the Indian Ocean and the Pacific Ocean soon. Nepal has recently established a vessel registration office as well."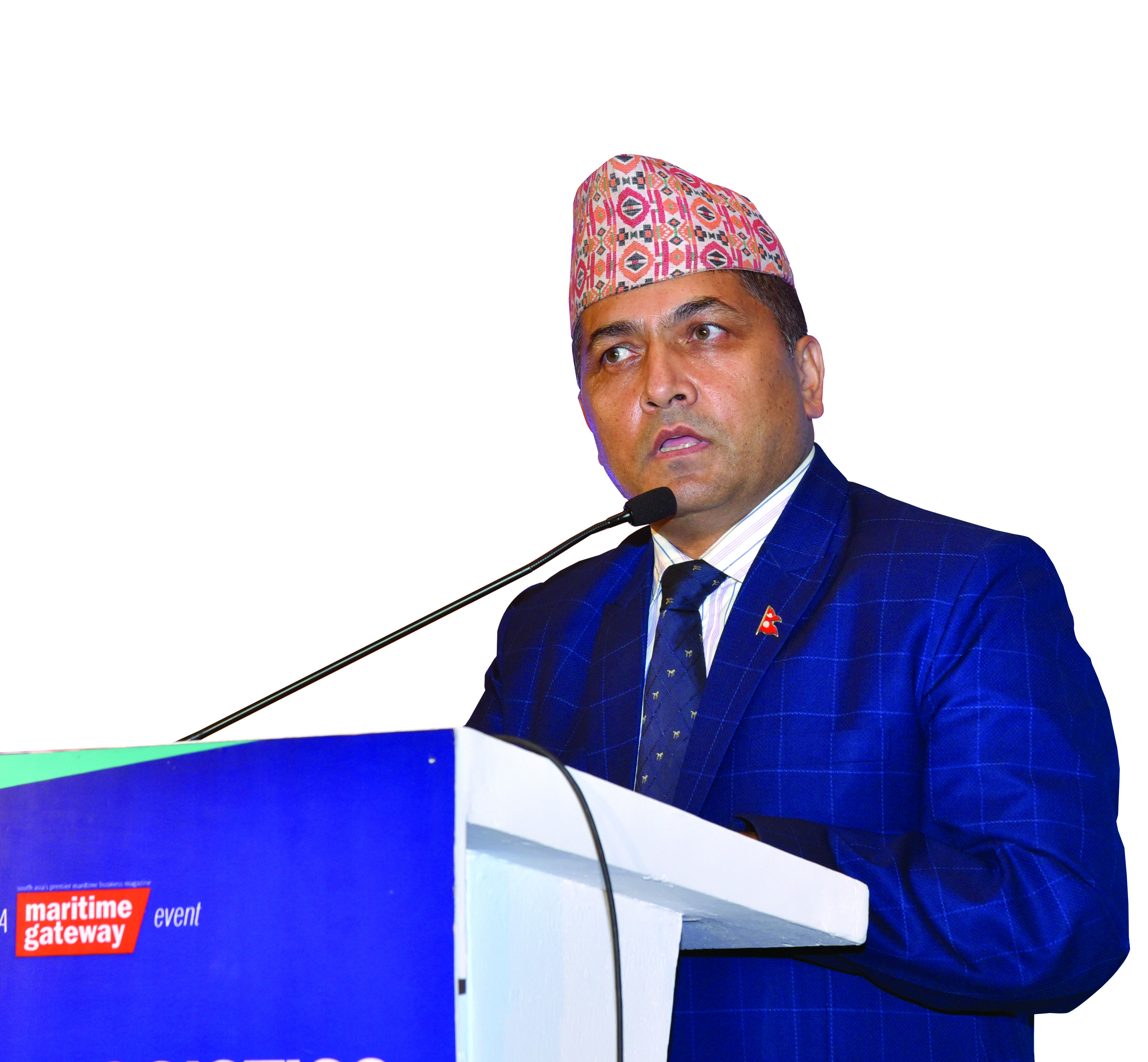 "The logistics cost of Nepal is very high compared to other landlocked countries. To make logistics smart India and Nepal are connecting their waterways. Indo-Nepal trade transit treaty and railway service agreement are being amended. New logistics act will be developed. While road and rail services are being planned for better connectivity, new CFS and ICD are being planned to meet the growing cargo needs and to reduce congestion at the existing dry pots."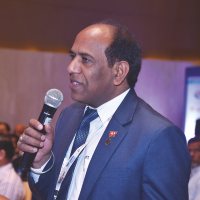 "Nepal government has established a trade facilitation committee, as far as Customs are concerned the revision of stamp act is in process. The government aims to have atleast one CFS in each state. In addition 9 ICDs are planned in locations including Lhasa, Tatopani on the China border."
With 2 on dock rail-sidings at VCT, import containers are loaded on rakes to ICD Birgunj creating a seamless movement to the Nepal trade.
Engine on load facility offered for Nepal rakes
With post document receipt the rail turnaround time is average 3 to 4 hours
Modern equipment at VCT facilitates faster turnaround time of vessels
Direct B/L to ICD Birgunj (Nepal) is offered by lines via Vizag for a seamless movement
One point contact offered by shipping lines
Unwarranted detention and demurrage charges eliminated Exclusive port road connectivity connecting Visakhapatnam Port and the National Highway and Vizag is on the golden quadrilateral. Well established rail connectivity from VCT to ICD Birgunj (Nepal) where the rakes are provided by CONCOR. Transit time is only 4-5 days to ICD Birgunj. Direct main line services are available from / to China, Korea, Philippines & Jebel Ali.
In addition to Kolkata and Vizag Port, in a recent joint secretary level meeting, Nepal has requested access to other ports on the west coast including Mundra in Gujarat and Dhamra in Odisha to facilitate trade with other nations. While India has given a positive reaction to the proposal but a concrete agreement is yet to be made.
Services offered by CONCOR
CONCOR has dedicated rakes, terminals for moving Nepal cargo and the CTO has taken new initiatives like the ECTS with the help of Customs, reveals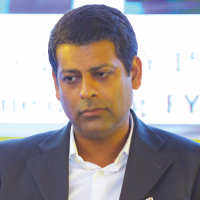 Syed Abdul Rahman, IRTS Group General Manager, CONCOR – Eastern Region. "CONCOR has no dearth of rakes and our main focus in the eastern region is to clear Nepal container on priority. Currently even the turnaround time has reduced for rakes. Earlier there were restrictions on the movement of rakes due to congestion issues in the route, but they have been brought down to minimum as railways has reduced the loading in conventional railway wagons and are promoting container loading."
"Further expanding services to Nepal, CONCOR started a new service to Biratnagar last year and from March 2019 onwards atleast three rakes per month will move to Biratnagar regularly. Without opening Biratnagar and diverting some containers from Birgunj to Biratnagar there is little possibility of increasing the service, because Birgunj is already saturated. Earlier we used to load 30- 35 rakes per month for Nepal, but after movement started from Vizag Port the two ports together load about 45 rakes for Nepal. So trains to Birgunj have increased from 35 to 45 which has resulted in congestion at Birgunj. So to serve Nepal better we need to divert cargo to Biratnagar."
Infrastructure development in Nepal
Improving connectivity to Nepal a new railway line is being constructed connecting Janakpur in south-eastern Nepal to Jay Nagar in Bihar. It is expected to bring down the logistics cost for Nepal. The Kathmandu – Terai/Madhes Fast Track Road Project will reduce the time for connecting Kathmandu to Terai region from 4 hours to one hour and will also cut the logistics cost for moving commodities. An Outer Ring Road is being planned that connects all the three old cities in the valley with the newly formed municipalities. Of the total length of the Outer Ring Road, 35.08 kilometres will lie in Kathmandu, 15.80 km in Lalitpur and 21.05 km in Bhaktapur.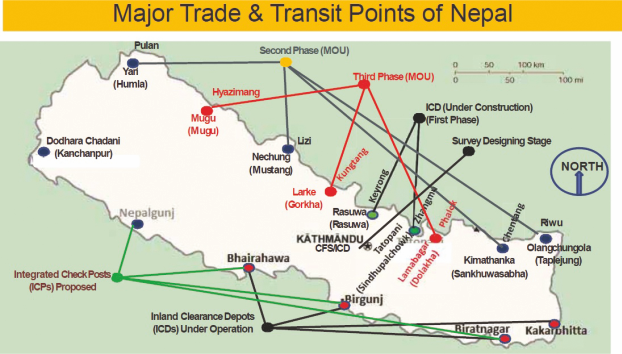 Upcoming dry ports
To meet the demands of growing cargo movement an international dry port is being developed in Chovar, Kirtipur municipality. It will ease congestion in existing dry ports. A new dry port is being constructed in Rasuwagadhi on 8.5 hectares of land. It will comprise integrated inspection building on 5,000-square-metre, cargo warehouse covering 750 square metres and parking lot for 315 freight vehicles, separate terminals for import and export and two appraisal sheds of 2,080 square metres. Another dry port is being developed at Chobhar at a cost of $22 million which is part of the Nepal-India Regional Trade and Transport Project and will be ready by January 2020. It will reduce traffic congestion at ICD Birgunj and other ICDs at the bordering towns as the containers can directly be ferried to Chobhar with the help of electronic cargo tracking system (ECTS) and the customs clearance process will be carried out at Chobhar dry port. The dry port will have the capacity to accommodate 626 containers of 20-foot each, parking facility for 205 trucks, loading and unloading facilities, and six warehouses.
The proposed Dodhara Chadani dry port is located in Kanchanpur district of Province 7. With expansion of industrialisation in Uttaranchal of India and proximity of Nepal's proposed dry port with railway line and Asian Highway on the Indian side, this infrastructure is expected to be critical for the far western region of Nepal. Around 70 hectares of land will be acquired for the project. The Nepal Intermodal Transport Development Board has started groundwork for the construction of ICD at Korala, Mustang on the Nepal-China border.
Unlocking inland waterways
Nepal has more than 6000 rivers with cumulative length of 45,000 km which can be used to connect to international waters. But lack of institutional and physical infrastructure has left inland navigation as an untapped sector. All rivers in Nepal drain into Ganges and are a part of Ganges River Basin. Connecting Nepal's waterways to Indian waterways can open a new alternative trade route. Detailing on inland waterways connecting to Nepal,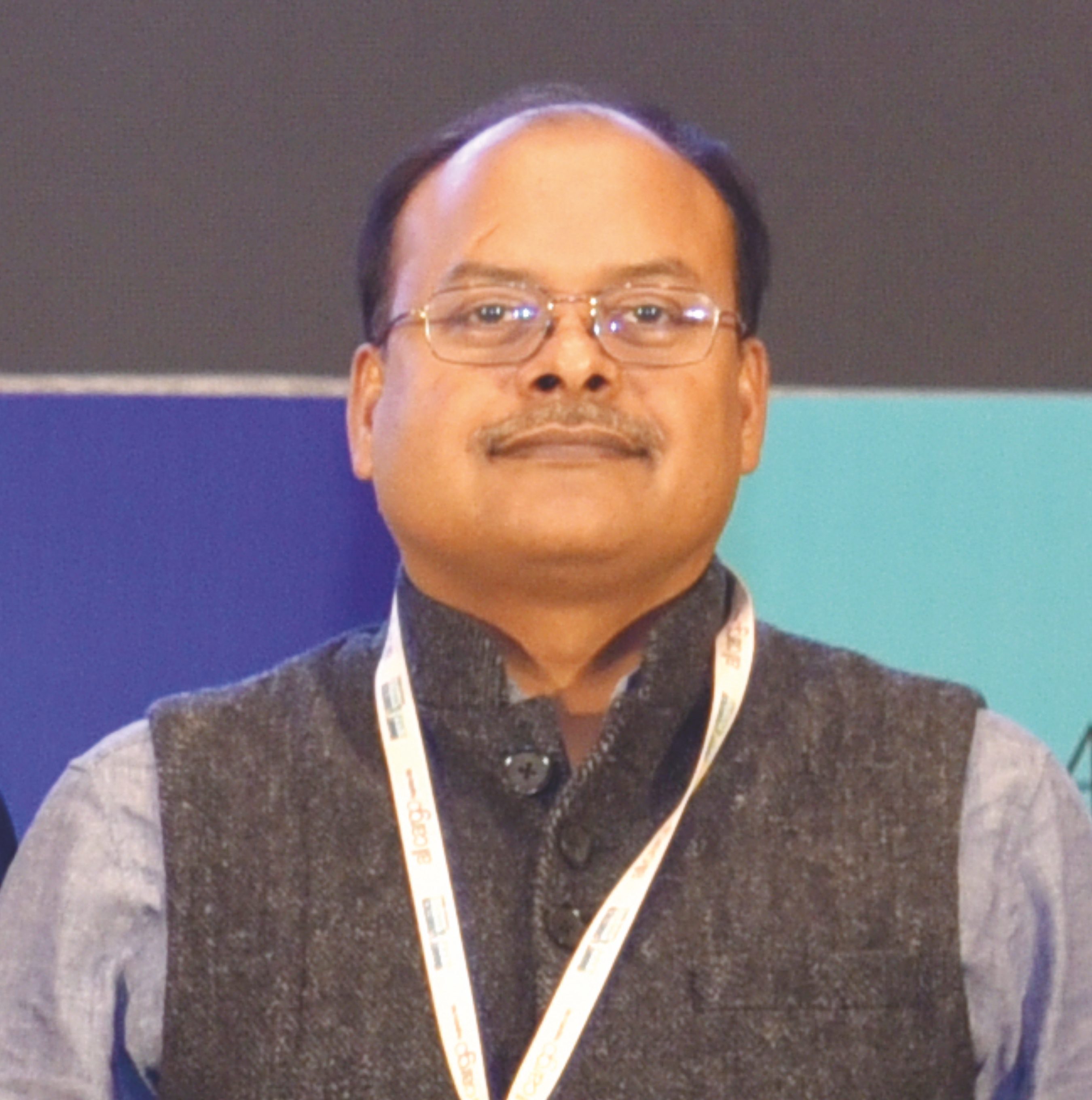 Shashi Bhushan Shukla IRS, Member (Traffic), IWAI says, "IWAI is developing NW-1 Ganga – Bhagirathi – Hooghly waterways from Haldia to Varanasi at a cost of Rs.5,369 crores. This project involves developing a terminal at Kalughat which will be at the Nepal side for handling containerised cargo. Most of the containers which are today going from Kolkata or Haldia by road to Birgunj and Biratnagar, they can move through waterways seamlessly upto Kalughat and from there it can be taken to Nepal. So it will reduce not only the Customs requirements and detention, but also the logistics cost. Until Kalughat is in operation, Sahabgunj terminal which is going to be operational in May 2019, can also be used for containerised cargo movement to Nepal. The terminal at GR Jetty can also handle containerised cargo. To ensure round the year movement of cargo, up to Sahebgunj 3mts draft will be maintained from Kolkata or Haldia. IWAI has invited private sector participation in not only operation and management of terminals, but it has also come out with a land leasing policy wherein operators will be given land on lease for warehousing and storage facilities, they will operate the vessels and develop jetties on their own investment."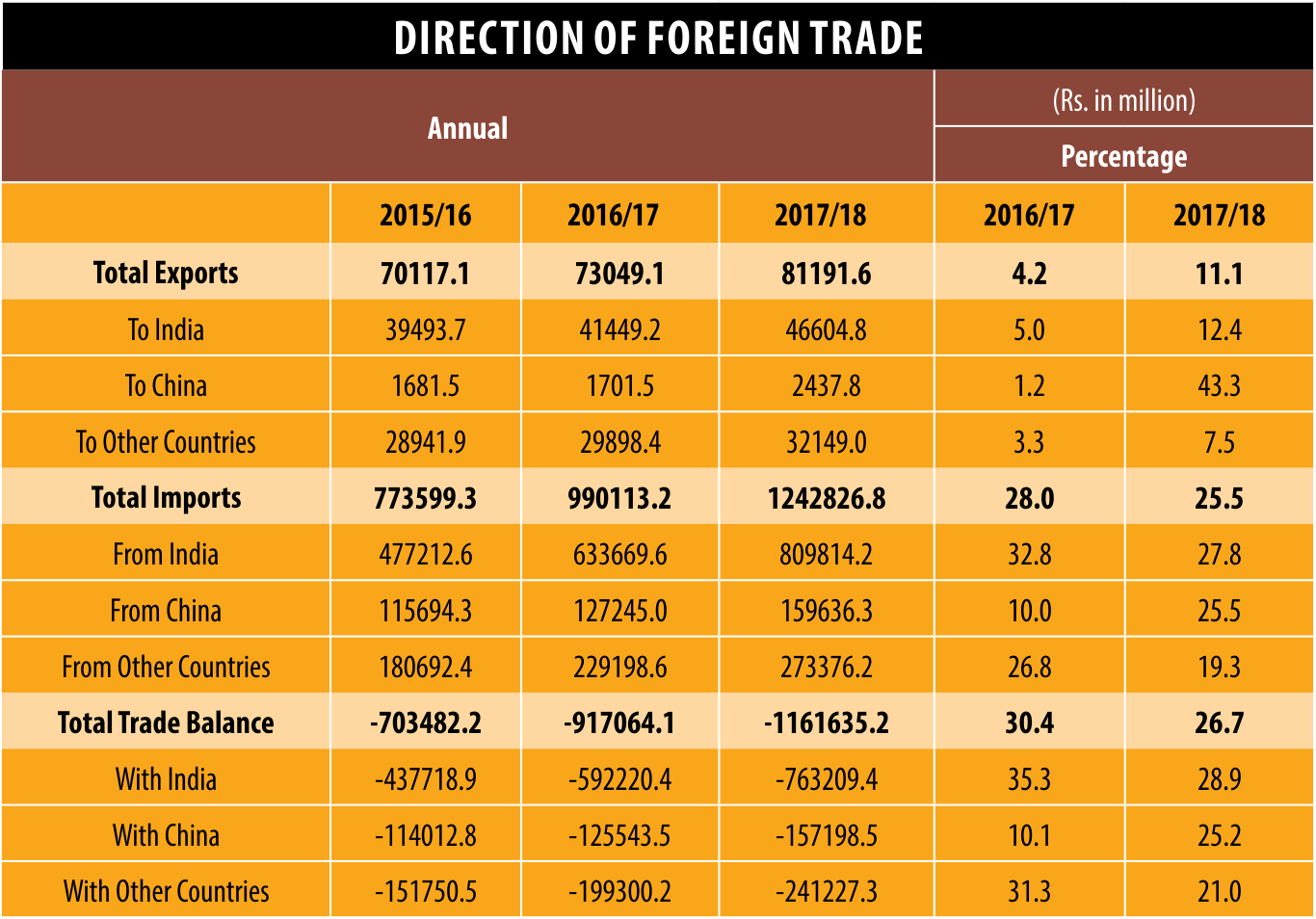 Government initiatives
The government has decided to set up the Nepal National Single Window (NNSW) and converge it with the regional single window to interchange data and information for paperless trade facilitation. Similarly, the Exim Code has already been implemented. Initiatives in customs modernization such as ASYCUDA World and ASYCUDA++ are also moving ahead side by side. Now all these initiatives need to be integrated with the regional mechanisms in order to ensure a smooth flow of logistics.
Nepal government is taking a number of initiatives for ease of doing business says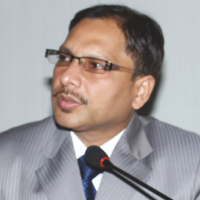 "A major focus has been to develop domestic raw material based industries like cement, Argo, sugar mill, hydroelectricity etc. Banking processes in Nepal have been streamlined a lot to facilitate trade, especially policies have been framed to provide easy business loans. A single window policy has been implemented for granting all approvals and providing information. The government is very proactive in attending to the needs of the private sector and in this context Taxation system has been made easy and transparent. Import and export policies are being tuned to provide maximum benefit to the traders."
Trade finance
Three factors play key role in smooth movement of trade: Seamless movement of goods, flow of information and flow of finance. While we've been emphasizing on seamless flow of goods, the other two factors have been quite neglected. Even among them, the flow of finance is the most neglected one which is particularly due to the existing foreign exchange control mechanism. Traders often face problems in transferring Indian currency to make payments to Indian suppliers because of the recurring shortage of INR in the domestic banking system. "There is a need for establishing a mechanism which would enable traders to transfer additional money to suppliers and freighters during noticeable fluctuation in foreign exchange rates after receiving permit from the Nepal Rastra Bank," suggests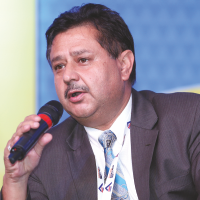 issues India's transshipment mechanism requires Nepal to use Indian trucks and railways to import goods. Sometimes it takes weeks for Nepal-bound cargo containers to reach the ICP at Raxaul from the Kolkata Port using rakes provided by Concor. "Even in Nepal movement of cargo takes a beating due to narrow roads which are not properly maintained and worn out condition of old bridges. The government is currently focusing on improving the road sector by broadening the roads and creating bypass wherever required to ease traffic flow," shares Rajan Sharma. Lack of proper vehicles for moving cargo, inadequate handling equipment at the dry ports and insufficient warehouses for both normal and perishable cargo further add to the woes of the shippers. A proper mechanism for movement of logistics is lacking, so heavy trucks within the city block roads. Most of the cities lack intermodal transportation system.
Service at inland ports/ dry ports
Quality of service at inland ports and dry ports is not up to the standard as regards to space management, availability of handling equipment, cleanliness and maintenance of the facilities, pollution control, labour management issues etc. "Actually the ICDs were made with a very short vision of handling containerized cargo, but they are also handling more of loose or dirty cargo as the volume has increased. More dry ports are required to be developed in the western region," suggests Rajan Sharma.
Integrated Check Posts (ICPs)
The ICP's developed for immediate clearing of cargo using automated systems have come into operation in a traditional manner resulting in mismanagement. Issues including lack of parking space, lack of equipment, small size of warehouses delay the movement of cargo at the ICPs.
Exporters complain for lack of proper place for appraisal of goods, re-packaging, mishandling. There is also shortage of trucks, railway rakes and shipping containers. Due to this mismatch in the demand and supply of railway rakes many times exports fail to meet the delivery deadlines. Further, perishable commodities and those with expiry dates are lesser in volumes and so they are not moved on priority basis by CONCOR.